Anxiety Disorders at Work [THA 246]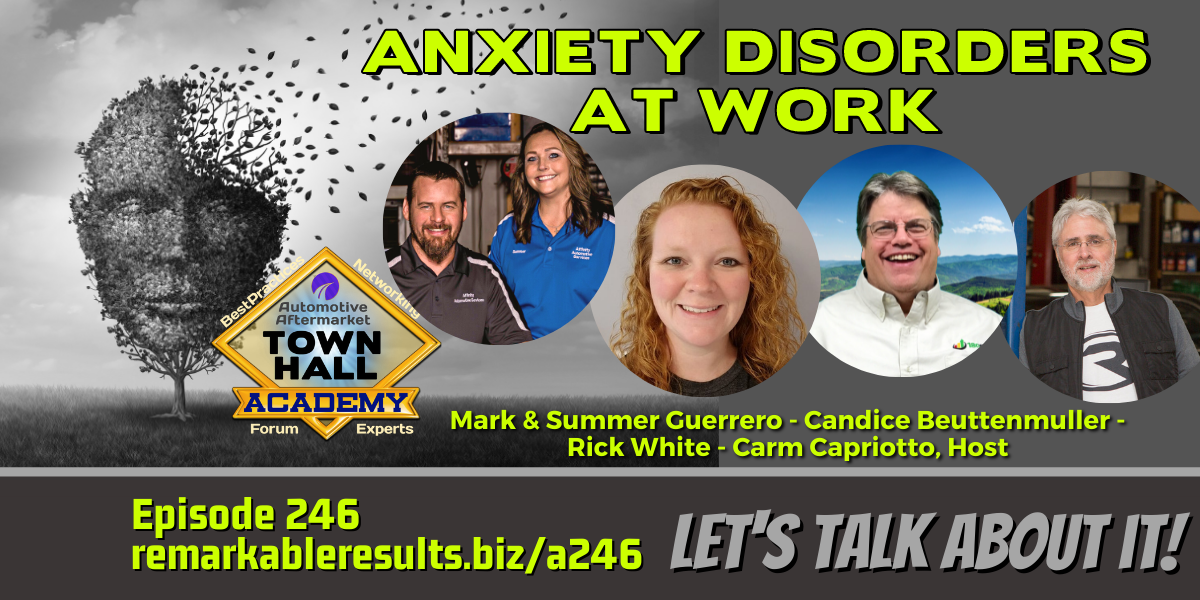 Mark Guerrero has 27 years in the automotive industry, is President and part-owner of Affinity Automotive Services, established the business in 2007. He is currently on the USD 259 advisory board for automotive technology, and WSU Tech advisory board member, serves on MWACA mechanical committee. Mark is also the MWACA Wichita Chapter President, focused on keeping up with technology in the automotive industry and building future technicians.
Summer Guerrero,  Vice President and part-owner of Affinity Automotive Services over 25 years in Public Service and Customer service, Background in Fire Fighting and EMS Currently Vice President Executive Board Member of Midwest Auto Care Alliance,  serves on the MWACA communication, and MWACA magazine advisory board, is passionate about educating and helping others personally and professionally. 
Candice Beuttenmuller co-owns TJ's Alignment and Repair in WaKeeney, KS with her husband, Jesse. Together they not only own but operate the full-service repair shop, with Candice on the front counter service writing, and Jesse in the bays turning wrenches. To make it truly a family affair, their 2 boys, Odin, 10, and Ezra, 5, help in the shop daily with keeping washer fluid jugs full, greeting customers, and starring on the business Facebook page in their Friday Funny videos. Candice's family is originally from rural western Kansas where TJ's Alignment and Repair is located. The Beuttenmuller's purchased the existing shop in April 2017. While Jesse had the mechanical background for working on vehicles, Candice admits the most experience she had with vehicles before they purchased the shop, was checking the oil in her own vehicle and changing a flat tire. Candice had experience in the service industry as a waitress but never dreamed that experience would transform into owning a repair shop.
Rick White, President and Lead Coach for 180BIZ, an auto repair shop training and business coaching company. He also owned and managed several successful automotive repair shops. Early in his career, Rick got his arm stuck under a vehicle while working underneath it. He managed to get out safely but it was a wake up call to him and for all of us as well. This is everyone's concern. There are too many distractions like cell phones, tablets, lackadaisical attitude of it never happening, not focused on job at task, talking to tech next to them and a whole lot more. We need to follow lift maintenance schedules religiously and document every procedure in order to check work properly.
Rick White's Previous Episodes HERE.
Key Talking Points
What is anxiety? It is a whole spectrum. Anxiousness can be positive, happy, and excited. Anxiety can have a negative outlook and be a chemical imbalance. Anxiety can be isolation which can lead to depression.   

Brain function- to keep you alive, conserve energy. Hardwired to look for threats. 

What causes it? A lot of it is self-induced. It's a focus issue and something we create. Don't fear stack, live in the present. Don't let your needs affect your team. 

Everyone deals with anxiety every day, most don't call it anxiety- "being in the weeds." 

Future tripping and catastrophizing–

helps cope and squash the anxiety. 

Be aware of the mental and physical pains of your team- noticing and addressing immediately to help change their mindset instead of waiting and losing production. Open communication with the entire team. Be empathetic and intuitive. Everyone is an iceberg. Be a resource for your team.

Every time you say yes you are saying no to someone else- help and serve your customers in a healthy way. 

CIA- what can you do during an anxiety event. Control, influence, acceptance

Reach out for support- coach, network peers, and other people that are in similar situations to change your mindset. 

The Coffee Bean book– don't let life change you, be the change. 

What are some things that can be done to dial it down- anxiety is an indicator to pay attention to. What's real? What is fear stacked? Take emotion aside and align your expectations with reality. 

"Joy shared is magnified, a burden shared is halved."
Connect with the show:
Check out today's partners:

This episode is brought to you by Shop-Ware Shop Management. It's time to run your business at its fullest potential with the industry's leading technology. Shop-Ware Shop Management will increase your efficiency with lightning-fast workflows, help your staff capture more sales every day, and create very happy customers who promote your business. Shops running Shop-Ware have More Time and generate More Profit—join them! Schedule a free live demonstration and find out how 30 minutes can transform your shop at getshopware.com

Are you seeing auto shops in your area get hundreds of 5-star Google reviews and are you feeling left behind because your shop only has a few?
Hey look, Broadly is your answer to getting more online reviews. With more reviews, your business will rank higher in search results — and that means more customers coming into your shop every day.
Broadly helps you automatically request reviews so that your customers can promote your business with just one click. When you immediately ask for a review after service, when the experience is still fresh in their mind, you're more likely to get a 5-star positive review. Plus, asking for feedback makes your customer feel valued and more connected to your business. Isn't that what you want a connected customer? See how Broadly can help grow your auto shop.  Visit www.getbroadly.com/chat to learn more.