Implementing EOS with Barry Barrett: Four Shop Owners Share Their Success [RR 686]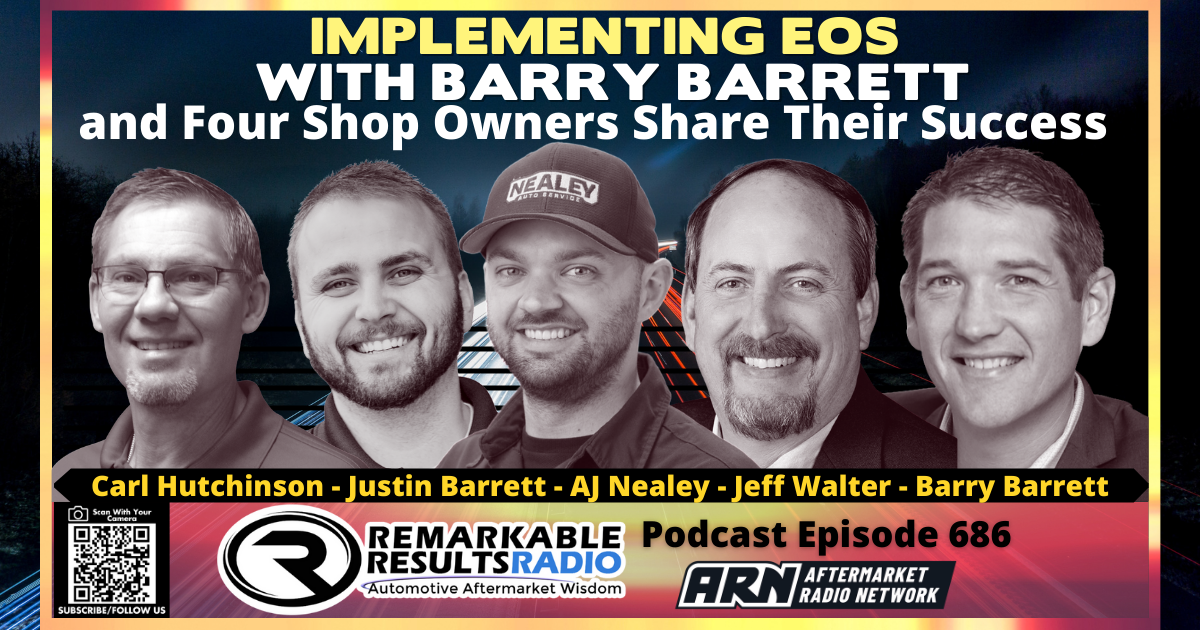 Carl Hutchinson, Complete Automotive, Springfield, MO has been in the car industry since 1982, but has worked on vehicles long before that time. He has a passion for engineering, for understanding how vehicles operate, and how to repair a customer's concern. Earlier in his career, Carl started working at a GM Dealership, then went to work at independent repair facilities as a technician and eventually became a service advisor. Carl's experience in the automotive industry led him to his current position as co-owner with Maureen Hutchinson of Complete Automotive in Springfield MO., where he works every day to provide high-quality, valuable service to all customers. Carl is an Alumni with Ozarks Technical Community College, Springfield MO Campus. He currently sits on the Automotive Advisory Board with Ozark Technical Community College, a member of South East Rotary, and a member of the Springfield Midwest Auto Care Alliance chapter. Carl has his Master ASE Certification, L1 and Service Advisor certification and is an AMI Graduate.
Listen to Carl's previous episodes HERE
Justin Barrett is the owner and operator of Barrett Automotive, Cornelia, GA. He is excited about the future of this industry with autonomous vehicles and the role the independent repair shop will play in that arena, and with the changing landscape how we are going to have to be nimble and adapt to stay relevant. Leadership is something that is extremely challenging to him but rewarding when done right. He had some leadership failures and wins which are adding to his growth in that area. His biggest challenge right now is the same thing that he is working on and that is building a great team. In the last 18 months, he had gone from leading himself and one other to leading 6 and still adding to keep up with growth.
Listen to Justin's previous episodes HERE
AJ Nealey got the mechanical bug at a young age playing with Legos. The bug quickly escalated to wrenching on his own car in high school, to his first full-time job as a technician and also to a racing career. He started Nealey Auto Service, Edgewater, MD, out of his one bay garage in 2011 after his racing career came to an end. After he married his wife, Stephanie, in 2014. AJ and Stephanie decided to focus all energy and resources to grow Nealey Auto Service. It all started with taking RLO Training's Guerilla Shop Management course. Since then, they have grown to a 9 bay facility with 8 employees and have increased sales a total of 1172% since then.
Listen to AJ's previous episodes HERE.
Jeff Walter, Zimmerman's Automotive Tire Pro, Auto Sales and Service, Mechanicsburg, PA
Barry Barrett, a Certified EOS Implementer. As an EOS Implementor in his company, Business With Purpose, brings dedicated support to Leadership and Sales teams in all types of organizations, helping them structure the six key components of their business to make it operate with the best processes for their specific industry, using the EOS Model. Barry's energy is contagious no matter if he is in a session with a client, giving a keynote address, or rolling up his sleeves in a workshop. Barry is a business coach with his positive mental attitude, incredible work ethic, and determination for excellence, his results-oriented approach is matchless. Barry is driven, caring, and passionate; traits that he uses to help his clients grow their businesses in a positive way.
Find Barry's other episodes HERE.
Barry Barrett Contact info HERE 
Key Talking Points
EOS Life- Getting time back and living the life you want to live. Do what you love, with the people you love, make an impact on the world, be appropriately compensated, and have time for other passions. "Get stuff done system with a cohesive leadership team that executes."

Being involved in every aspect of the business to getting systems in place and building a team- what are your strengths to move your business forward? 

Having an Integrator to help free the Visionary to cast the vision and grow the business- unload some of  the duties and questions that filter to you as an owner, the Integrator holds the other employees accountable

Your leadership team trumps your ideas as an owner- they often have a bigger vision than you 

Expanding seats- growing to a second location    

The leadership team solves its own issues without input from owners 

Building a cohesive leadership team changes the game for scalability 

Self-implementing at first- start with traction first instead of vision, have buy-in with your leadership team at the beginning. Then bring in a certified implementer    

Do your employees know where they stand in the business and how their actions affect the big picture.

Being more efficient, not adding more cars- a small investment for a huge internal return  

20 Groups is an industry-specific software, EOS runs that software. You should have 20 groups/coaches for a long time and be able to graduate from the EOS process within 2 years. 

Favorite EOS tools- structured format of L10 Meeting, right people right seat, VTO (vision, traction, organizer), to-do lists

Connect with the show:
Check out today's partners:

This episode is brought to you by AAPEX, the Automotive Aftermarket Products Expo. AAPEX represents the $740 billion global automotive aftermarket industry and has everything you need to stay ahead of the curve.  The Virtual AAPEX Experience 2020 is in the record books. Virtual AAPEX lived up to presenting leading-technical and business management training from some of the industry's best and brightest. Now set your sights on the homecoming in Las Vegas in 2021. Mark your calendar now … November 2-4, 2021, AAPEX // Now more than ever.

This episode is brought to you by Shop-Ware Shop Management. It's time to run your business at its fullest potential with the industry's leading technology. Shop-Ware Shop Management will increase your efficiency with lightning-fast workflows, help your staff capture more sales every day, and create very happy customers who promote your business. Shops running Shop-Ware have More Time and generate More Profit—join them! Schedule a free live demonstration and find out how 30 minutes can transform your shop at getshopware.com/carm