Jimmy Lea's Top 7 Proven Marketing Methods [RR 687]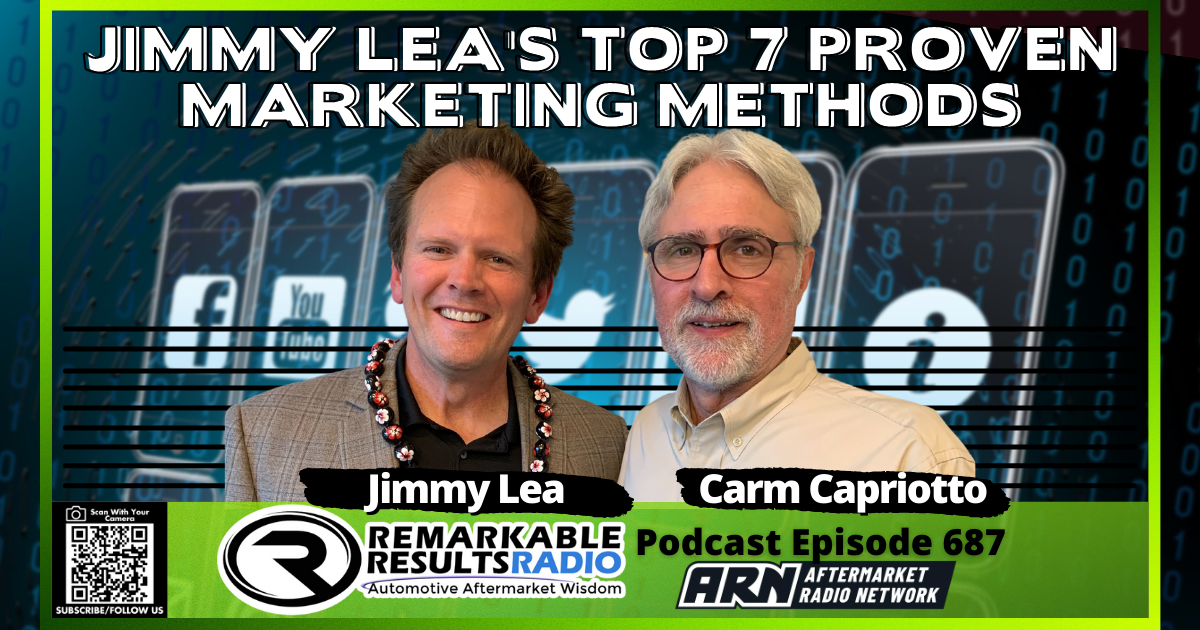 Jimmy Lea, KuKui Evangelist with more than 15 years experience in sales and business development for software-as-a-service, financial services as well as hardware products, Jimmy embodies the fabric of the independent automotive industry.
Key Talking Points
You must exist digitally, google is the godfather of the internet  

70% of all searches are done from google, 90% are done from a smartphone 

Currency/trust- when google has "trust" in you, you will be in front of the pack 

Organic- the amount of content and keywords on your website

Website- pay attention to the homepage, the header, "above the fold at the top," logo is top left (brand recognition), your reviews next to logo (credibility), phone number (call to action), schedule an appointment button (generational button)

Reviews- set it up right, let customers know what they can expect, give a description of the vehicle

Postcards- it will never go away, design it big and bold to get the recipient's attention. Retention (thank you, service/repair reminders) and acquisition postcards. 

Where is your market? Instagram? Facebook? 

Social media- engaging every single day, there is no perfect time to post on social media. Build a habit first. 

Technician testimonials- appeals to customers and future technicians 

Don't stop marketing- especially when you're busy. 80% building relationship 20% selling.

Texting- text marketing, one to one texting reminders/thank you/ask for reviews, webchat texting
Connect with the show:
Check out today's partner:

NAPA Autotech Training helps your technicians keep their skills sharp and their NAPA Know How up to date. It's the highest quality technical training that covers almost every vehicle system and every make and model. NAPA Autotech is presented by experienced instructors who are ASE master certified technicians. Even after a class is over, techs can access course information online with ClassPass. So when questions come up later they can get the answers. AutoCare Center owners who have taken advantage of Autotech Training say that well-trained technicians are helping to increase their shop's repair capability and raise bay productivity. That results in fewer comebacks, more satisfied shop customers, and reduced technician turnover.
Learn more about NAPA AutoCare and the benefits of being part of the NAPA family by visiting www.NAPAAutoCare.com.