Hiring Dealership Technicians [THA 247]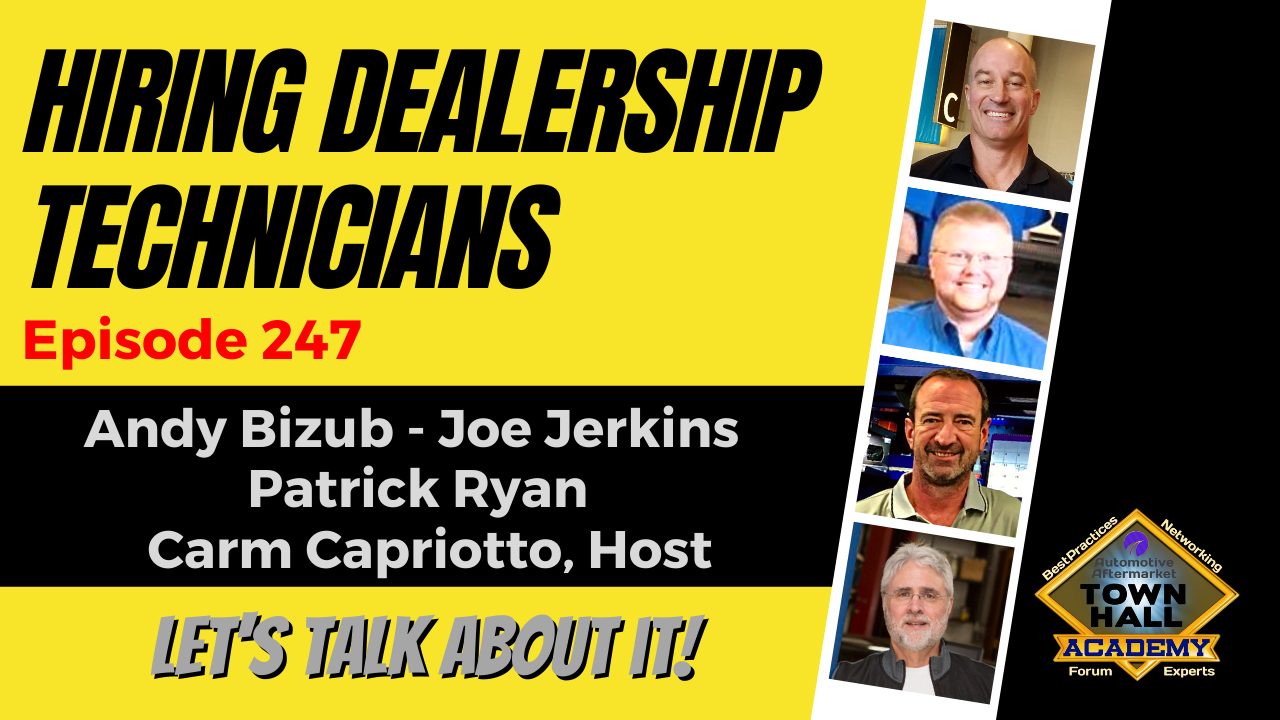 Andy Bizub, Midwest Performance Cars in Chicago is also a native of Chicago. His first career was 25 years as a commodity trader. He entered the professional auto industry in 2014 by acquiring a failing shop in downtown Chicago that he was a customer of and started a turnaround. Andy now has two locations. He bought his first car at age 19, a 1972 Triumph Spitfire, which was the start of his gas, oil, and automobile obsession.
Listen to Andy's previous episodes HERE.
Joe Jerkins, Owner Westside Auto Pro, Clive, IA. Joe has been in the Automotive Industry since 2007 when he joined a tire and mechanical repair chain store after spending multiple years in grocery store management.  He did not know anything about the industry and had no mechanical background but had a passion for helping people and sales.  After having spent some time there, he joined a dealership as a Service Advisor and quickly rose to the number 1 advisor based on sales at his dealership.  An opportunity as a Service Manager arose at a local repair facility and Joe decided it was time to get back into management as he was getting his legs under him in the automotive world.  After his second child was born, Joe sought an opportunity at his hometown dealership to run the Fixed Operations including Service, Body and helping oversee Parts.  In 2013, after realizing that there was a lot of "wrong" in this industry, generally speaking, he decided it was time for one last try with a shop he knew nothing about called Westside Auto Pros.  Joe was hired as the Service Manager and after a couple of years his title changed to General Manager.  In 2018, Ron Haugen, the owner at the time, and Joe decided to accelerate their 5 year plan of purchase and by October 1st of that year, Joe was the brand new owner of the already successful Westside Auto Pros.  Westside Auto Pros continues to grow its repair shop as well as its towing and roadside assistance department.
Patrick Ryan, Technician, Eagle Automotive, Columbine Hills, CO, 4 Locations
Key Talking Points
What is important to dealership technicians transitioning to independent- make it apparent the technician matters in your business. If they quit at the dealership it wouldn't be noticed. They were "just a number." Minimal and sometimes decreasing benefits.
Interviewing dealership tech- discuss your team culture and environment. Many techs bounce from dealership to dealership because they are still finding "their place."Don't view working at multiple places as negative necessarily. Show them a path for all ages of your technicians. Don't have a "cookie-cutter" interview process for all your hires.
Career change- wanting to grow and be challenged, feel appreciated.
Millennials/Gen Z- raised with no gravity "everything is great." Introduce gravity a little at a time. Be taught instead of blocked. Be guided.
The owner needs to be vulnerable- voice it to your team
Break down stereotypes of large dealerships
Technicians will check your social media prior to applying and read customer and employee reviews- promote your shop is a great place to work
Connect with the show:
Check out today's partners:

This episode is brought to you by Shop-Ware Shop Management. It's time to run your business at its fullest potential with the industry's leading technology. Shop-Ware Shop Management will increase your efficiency with lightning-fast workflows, help your staff capture more sales every day, and create very happy customers who promote your business. Shops running Shop-Ware have More Time and generate More Profit—join them! Schedule a free live demonstration and find out how 30 minutes can transform your shop at getshopware.com

Are you seeing auto shops in your area get hundreds of 5-star Google reviews and are you feeling left behind because your shop only has a few?
Hey look, Broadly is your answer to getting more online reviews. With more reviews, your business will rank higher in search results — and that means more customers coming into your shop every day.
Broadly helps you automatically request reviews so that your customers can promote your business with just one click. When you immediately ask for a review after service, when the experience is still fresh in their mind, you're more likely to get a 5-star positive review. Plus, asking for feedback makes your customer feel valued and more connected to your business. Isn't that what you want a connected customer? See how Broadly can help grow your auto shop.  Visit www.getbroadly.com/chat to learn more.

Find Remarkable Results on Your Favorite App HERE