Supply Chain: Getting Parts to Market Post Pandemic Part 2 [RR 694]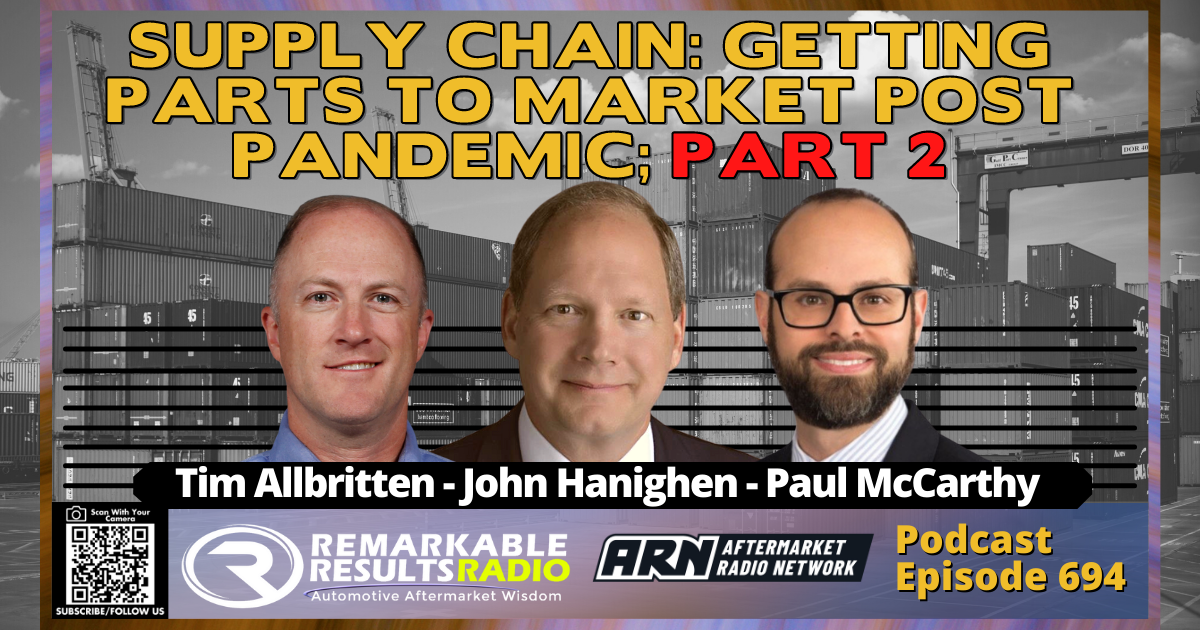 Tim Allbritten, Director, Business Development and Market Research at BG Products
John Hanighen, CEO at Cloyes Gear and Products
Paul McCarthy, AASA President. Paul has over 23 years of experience in the automotive industry. Prior to joining MEMA, Paul led the Automotive and Industrial Products Strategy Practice at PricewaterhouseCoopers (PwC). He consulted at dozens of automotive suppliers, eight of the top ten global automakers, and at private equity firms and financial institutions. His past leadership roles include heading PwC Germany's Automotive Strategy advisory practice and leading global forecasting and analysis for a prominent vehicle forecast service, Autofacts. Paul has an MBA from Duke's University's Fuqua School of Business.
Find Paul's other episodes HERE.
Key Talking Points
It started month 1 of the pandemic 

Brand names won't risk quality 

Every day is a new challenge for manufacturers 

When is it back to normal? Recast the question "when does it get better?"

Improving fill rates and collaboration up and down the supply chain

Data planning is essential for forecasting and making better decisions 

Allocation- always have the "recipe" 

Pricing- packaging costs, inflation, supply/demand, raw material pricing by SKU. More questions are being asked which requires more pricing knowledge and transparency. 

Container pricing- $1,500 to 18,000. Airfreight has also increased. 

Economic trends- travel is increasing

It's a demand problem not a supply chain problem- it is a good problem, heavy dependence on the automotive industry. 
Connect with the show:
Check out today's partners:

This episode is brought to you by AAPEX, the Automotive Aftermarket Products Expo. AAPEX represents the $740 billion global automotive aftermarket industry and has everything you need to stay ahead of the curve.  AAPEX 2021 is in the record books and lived up to presenting leading-technical and business management training from some of the industry's best and brightest. Now set your sights on Las Vegas in 2022. Mark your calendar now … November 1-3, 2022, AAPEX – Now more than ever.

This episode is brought to you by Shop-Ware Shop Management. It's time to run your business at its fullest potential with the industry's leading technology. Shop-Ware Shop Management will increase your efficiency with lightning-fast workflows, help your staff capture more sales every day, and create very happy customers who promote your business. Shops running Shop-Ware have More Time and generate More Profit—join them! Schedule a free live demonstration and find out how 30 minutes can transform your shop at getshopware.com/carm