Do We Earn Enough Respect? Charlie Marcotte and Dustin Brown [THA 250]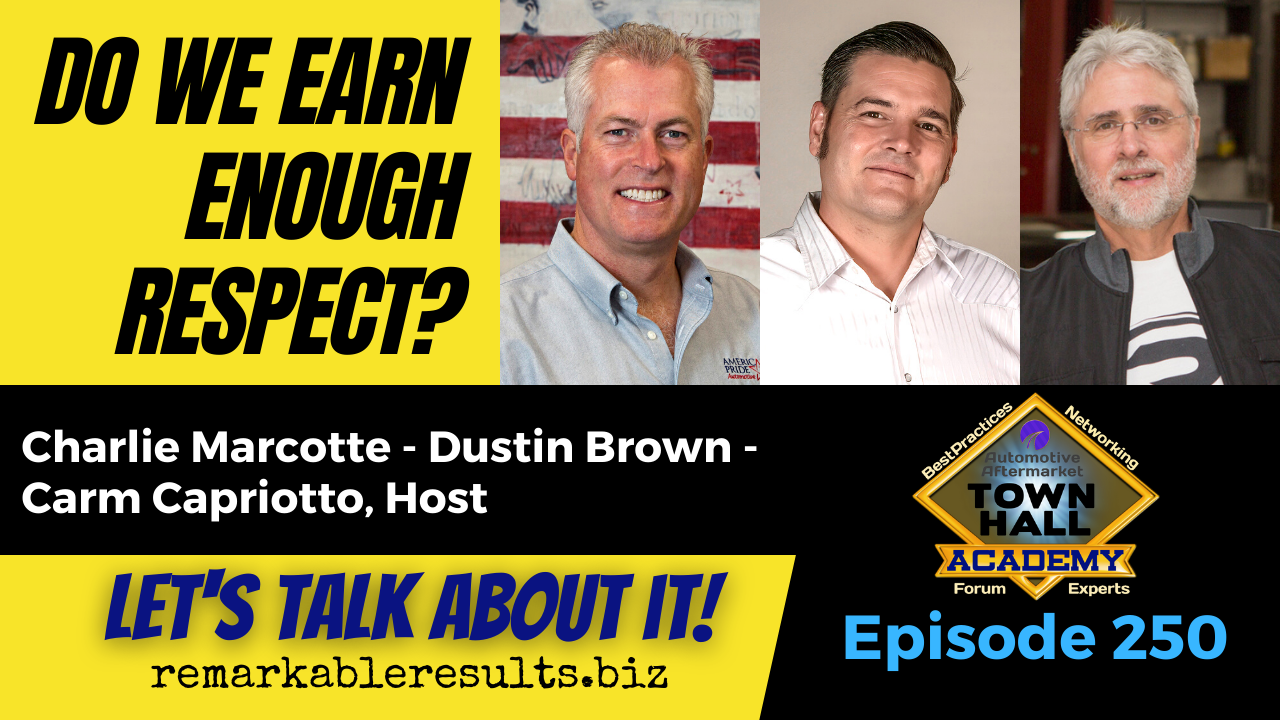 Charlie Marcotte is the owner of American Pride Automotive and Founder of Transportation Matters. After serving in the U.S. Army, Charlie and his wife Diane moved to Virginia in 1988 and started their family in 1992. Putting food on the table was the primary goal that started Charlie working on cars (illegally) from a 10′ by 20′ storage unit. A strong work ethic and love of cars allowed those humble beginnings to flourish into American Pride Automotive, with 4 locations serving the Virginia Peninsula. The family unit has always been Charlie's driving force, with three successful children and a bouncing baby Grandson: Life is Good. Building a solid business is a point of pride for Charlie, but his true passion is Transportation Matters. The transportation Matters mission drives positive social change while delivering a competitive advantage to the independent automotive repair industry—the same industry which has provided Charlie with so much opportunity.
Listen to Charlie's other episodes HERE
Dustin Brown, Brown Auto Experts, 3 Locations in New Mexico, Albuquerque, Village of Los Ranchos and Rio Rancho. Dustin and Nolan Brown are brothers that are third-generation mechanics. Their father Donald started Browns Automotive in 1982.
Key Talking Points
Connect your brand to your community

What has your contribution been during your entire career?

Owning a business and supporting your community go hand in hand- hiring, retention, comebacks, customer relationships, word of mouth growth

Transform your reputation in the  industry- break the negative stereotype

Charlie Marcotte is 7 years into a 10-year goal of donating $320,000 to local non-profits, he is proud to say that we are ahead of schedule. Success came from the process.

Charlie developed a program called

State Inspections for our Community

. In VA, they have an annual safety inspection, the cost to the customer is only $20. For each State Inspection they perform, they set aside $5 to be given to a local NPO, they call it "making the mundane, meaningful".  

American Pride is Facilitating the gift of a 2015 Ford Escape to the Williamsburg House of Mercy. One of their great fleet customers, Signature Stone, needed a transmission for their '15 Escape. It's an expensive transmission and in the end, it didn't make sense to repair it but the rest of the car was in great shape. Charlie reached out to WHOM and asked if they had a family who could use reliable transportation, with the ability to maintain it – they did. Charlie reached out to a friend, Matt Lacy who owns Lacy Auto Parts, and suggested he donate a transmission, he did. He had their crew install the transmission at no charge. To make this donation a wise business strategy, Charlie will have a film crew coming to the shop to interview all 4 parties. 

Video content- keep it simple with a cell phone, quick and natural. It is real and intimate content. Don't overthink it. 

Dustin's primary charity is the Albuquerque Christian Children's Home. In the past, they were involved with many organizations such as Road Runner food bank, Coats for Kids, Toys for Tots, and Breast Cancer awareness foundation. 3 years ago they decided to stay focused on one local charity and provide support to them throughout the year. This has ensured the collections stay in the community. Consumable drive with customers started this month and will go to the end of the year (Paper/Plasticware, toilet paper, dishwashing, and laundry detergent, and so on, Things the home goes through all year long). Don't just give back during the holidays, it needs to be done throughout the whole year.

Dustin recently completed a training room: The goal is to get involved with local car clinics for new drivers and basic vehicle education such as tire pressure, changing a spare, and checking fluids. With a new training area, they hosted their first tech training event with the help of NAPA. It is also for technicians in the community to do more hands-on training. New driver clinic- changing tire, oil etc.

Inspiration is followed by perspiration 

Family Service Day- free automotive care and repair paired with the local church, helped over 1,000 families
Connect with the show:
Check out today's partners:

This episode is brought to you by Shop-Ware Shop Management. It's time to run your business at its fullest potential with the industry's leading technology. Shop-Ware Shop Management will increase your efficiency with lightning-fast workflows, help your staff capture more sales every day, and create very happy customers who promote your business. Shops running Shop-Ware have More Time and generate More Profit—join them! Schedule a free live demonstration and find out how 30 minutes can transform your shop at getshopware.com

Are you seeing auto shops in your area get hundreds of 5-star Google reviews and are you feeling left behind because your shop only has a few?
Hey look, Broadly is your answer to getting more online reviews. With more reviews, your business will rank higher in search results — and that means more customers coming into your shop every day.
Broadly helps you automatically request reviews so that your customers can promote your business with just one click. When you immediately ask for a review after service, when the experience is still fresh in their mind, you're more likely to get a 5-star positive review. Plus, asking for feedback makes your customer feel valued and more connected to your business. Isn't that what you want a connected customer? See how Broadly can help grow your auto shop.  Visit www.getbroadly.com/chat to learn more.