Short Term Goals WILL Change Your Behavior – Bob Cooper [RR 693]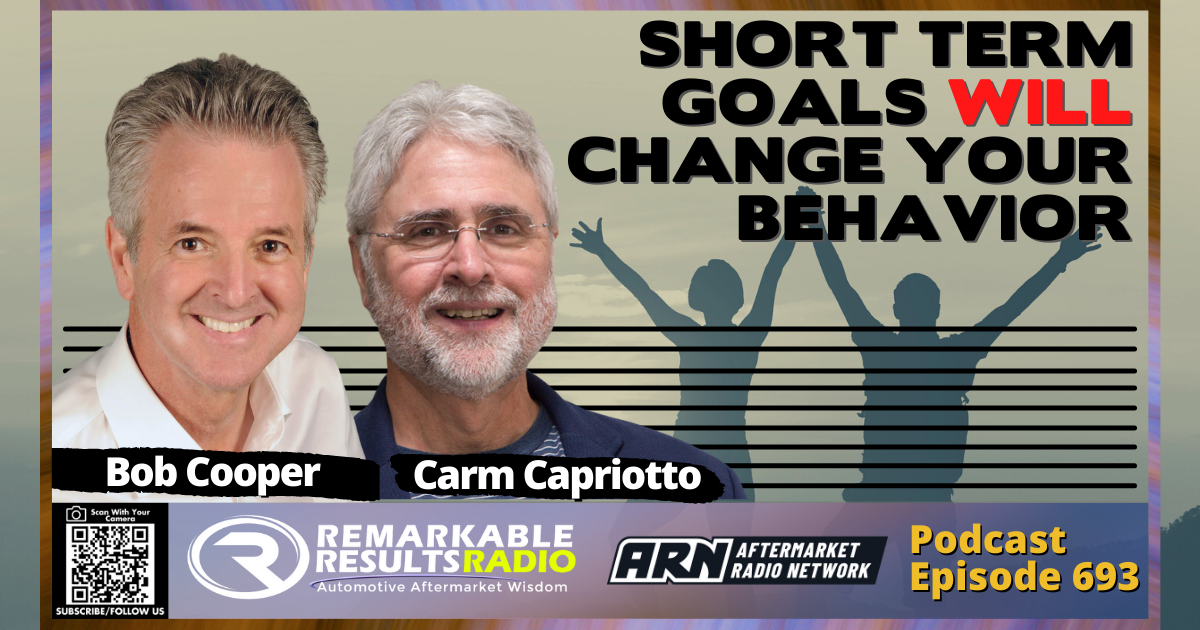 Bob Cooper, Founder/President of Elite Worldwide Inc. A native Ohioan, Bob started his career as a technician in a struggling, Cleveland Ohio shop that he later purchased and build into one of the most successful shops in America. As a successful shop owner and experienced drag racer, in Cleveland, he started a second business and began doing performance driveline work for many of the nation's top fuel racers. It wasn't long after he and his family sold their Cleveland home and businesses, loaded up their race car, and moved to southern California where he developed shops that gained national recognition.
Having a passion to help other shop owners, in 1990 he founded Elite; the industry leader in helping shop owners build more profitable, successful businesses, that allow them to reach their personal goals, and elevate the industry at the same time. Bob was one of the first to predict the dealership's plan to target the service business, he predicted the trend toward maintenance, the explosive growth in remanufactured components, and the trend in leasing. He is also the creator of the most commonly used sales procedures used by the top service advisors in America.
He has been nominated for entry into "Who's Who in American Business", he is a member of the prestigious National Speakers Association, he is recognized as one of the nation's leading authorities on both personal and career success, and he is committed to the principle of never putting money ahead of people. In addition to speaking at many of the major industry events, he has spoken worldwide to many Fortune 500 companies, private banking groups, universities and the United States Army.
Listen to Bob's other episodes HERE
Key Talking Points
Why we all need to have clearly defined goals- establish your goals for the next year. Only 3% have defined goals. People that have goals are happier, healthier, and live longer lives. They earn on average twice the income vs the people who don't have goals. Most people don't know what they don't know- 97% of people talk about their day-to-day lives and don't talk about goals. People also don't know how to set goals, fear of failure and fear of rejection. 

We are born with 2 genetic fears- falling and fear of loud noises, all other fears are developed fears. Many are faced with a fear of public speaking, which is a developed fear as well.  

Was the day successful or not successful with reaching goals

Short-term goals are not used for economic gain- the purpose is to change the behavior of people. Make yourself wonder what you could do differently to reach the goal next time. Short-term goals should be daily goals. In order for short-term goals to effectively influence behavior, they only need to be reached 51% of the time.

Monthly goals- the problem is you're only rewarded for hitting that goal once every 30 days. You also risk slowing down if reaching the goal early or giving up if not close to hitting goal. 

Increasing sales 15% – set daily sale goals and daily car count goals, always make sure they are tracked in descending not ascending way. If your goal is $5,000 for the day and you sell $1,500, draw a line through $5,000 and rewrite $3,500. It is a new adjusted goal. Goals should always be in front of you instead of what you've accomplished. 

Write your core beliefs, what are the things that are most important to you? 8-10 core beliefs. Look at it 2-3 days later and constantly work on it for the next month. You cant set effective goals if you don't first know who you are as a person. Share your goals with a spouse/someone who fully supports you, find the common goals together. "Give up goals" can be shared with everyone.  

Hiring employees is like getting married. Getting married is easy, staying married is hard. Don't let your employee "fall out of love" with what they are doing.

Don't be afraid to set breathtaking goals, realistic goals for short-term and mid-term goals. Long-term goals should be life-changing/inspiring.

"Given the difference in creativity and intelligence, I will always opt for creativity. Because anything mankind can imagine, mankind can create." Albert Einstein

Goal Setting Checklist found HERE
Connect with the show:
Check out today's partner:

The NAPA Smart Sign, previously known as Digital Menu Board, gives your shop a professional, state-of-the-art look and feel. It's a great way to educate and inform your customers about needed repairs and service, plus increase awareness of your current promotions. NAPA AutoCare Center that have installed a Digital Menu Board found one out of five consumers ask for a repair or service they've seen on the board. Targeted promotions resulted in double-digit increases. You choose the content from a library of auto care service and repair topics. The latest NAPA national promotions are downloaded to you automatically. And with the Digital Menu Board it's easy to change your services, prices, and video content anytime you'd like. Talk to your servicing NAPA store to find out more.