Automotive Service Councils Educational Foundation [RR 695]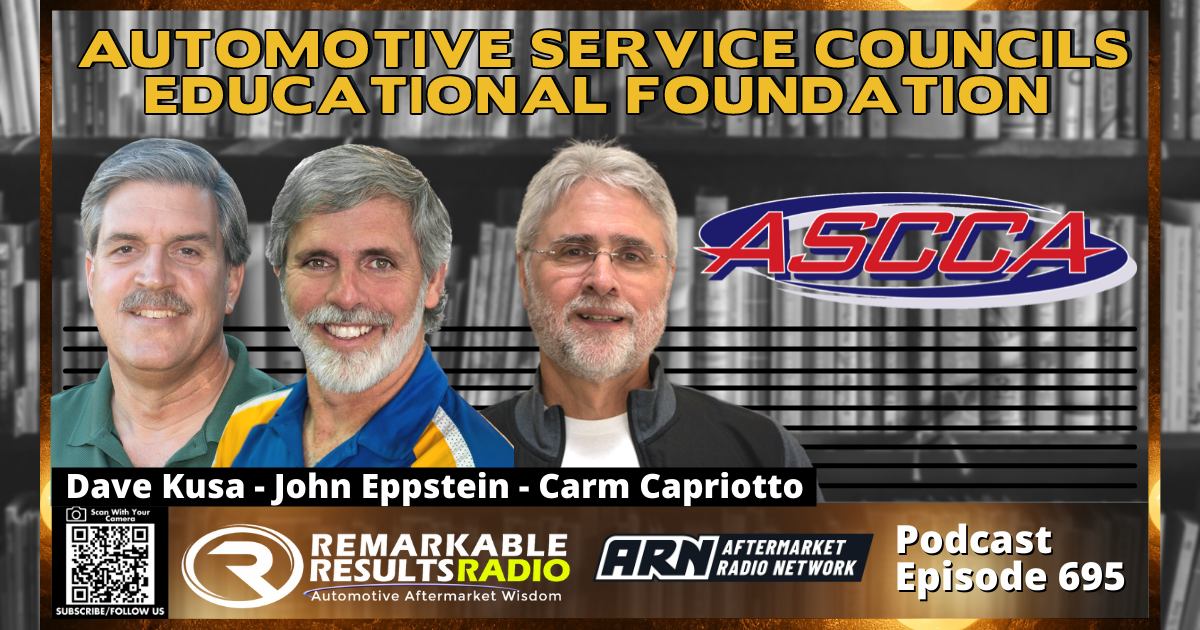 John Eppstein, owner of John's Automotive Care, San Diego CA has been in business since 1998. The business is a complete general automotive repair and a smog test station. John's Automotive Care has been relocated twice; the last move was in 2003. John has been in the automotive industry since 1985. He is the Immediate Past President of the B & G Clubs of East County where he's worked since 1996. He is also a member of a local NAPA BOG group. John's been a member of ASCCA's Chapter 24 for over 12 years during which time he has served as secretary, vice president and chair of the Meetings Committee. John's Automotive Care is also currently an ASC Educational Foundation Cars for Careers donation site for San Diego, CA. Listen to John's other episodes HERE
Dave Kusa is the owner of AutoTrend Diagnostics in Campbell, CA. Dave is very active in Chapter 42 and currently serves as a board member and chapter representative. He has also helped several new shops become ASCCA members. Dave advocates with local legislators on behalf of small businesses and their employees. He contributes to TeamTalk and is a huge resource for members. He was ASCCA's past president. Look for Dave's other episodes HERE.
Key Talking Points
Purpose – Raise funds and money to support and encourage technical education and training for the automotive industry through scholarships, endowments, career development and other industry inspired programs.
Vehicle donations from customers that go to auction- "cars for careers" Example- transmission/engine repairs. You are able to donate a vehicle  no matter where you are, it's not limited to only California
Low overhead- about 75% of the money coming in from the vehicle donation program gets put into funds. Volunteer-based foundation. You don't need to be a shop owner to be included in the board of trustees (tax advisor, grant writer etc)
Last year they awarded 28 scholarships to 16 deserving students for a total of $23,500. To date, this is the largest amount awarded in the history of the Foundation.
Schools involved – community colleges across California such as Cuyamaca College, Skyline College, Rio Hondo College, San Diego Miramar College, Citrus College, Chabot College, UTI
Vetting process – Scholarships are awarded to students who fill out applications at https://automotivescholarships.com/ all applicants that meet basic requirements are then scored by a panel of automotive professionals and winners are picked from the highest scoring applicants.
Opportunities to create a scholarship- John has started a scholarship with his business. He will match whatever his employees put into it. There are also one time scholarships for smaller amounts.
Connect with the show:
Check out today's partner:

Since 1989 TRACS has been the industry's leading shop management system. And in the last 30 years it's gotten better and better. Today TRACS Enterprise offers even more of the features AutoCare Center owners want—things like a powerful interactive scheduling calendar, faster and streamlined work flow, plus streamlined parts ordering and purchasing options. And there's more—Punch-out to Mitchell ProDemand, mobile VIN capture, and multi-shop capabilities. That means you can count on TRACS Enterprise to help drive your success today and well into the future.
Learn more about TRACS Enterprise and the hundreds of other benefits the NAPA family has to offer. Talk with your servicing NAPA store or visit www.NAPAAutoCare.com.