Are You Grateful 365 Days a Year? – If Not, Why? [RR 696]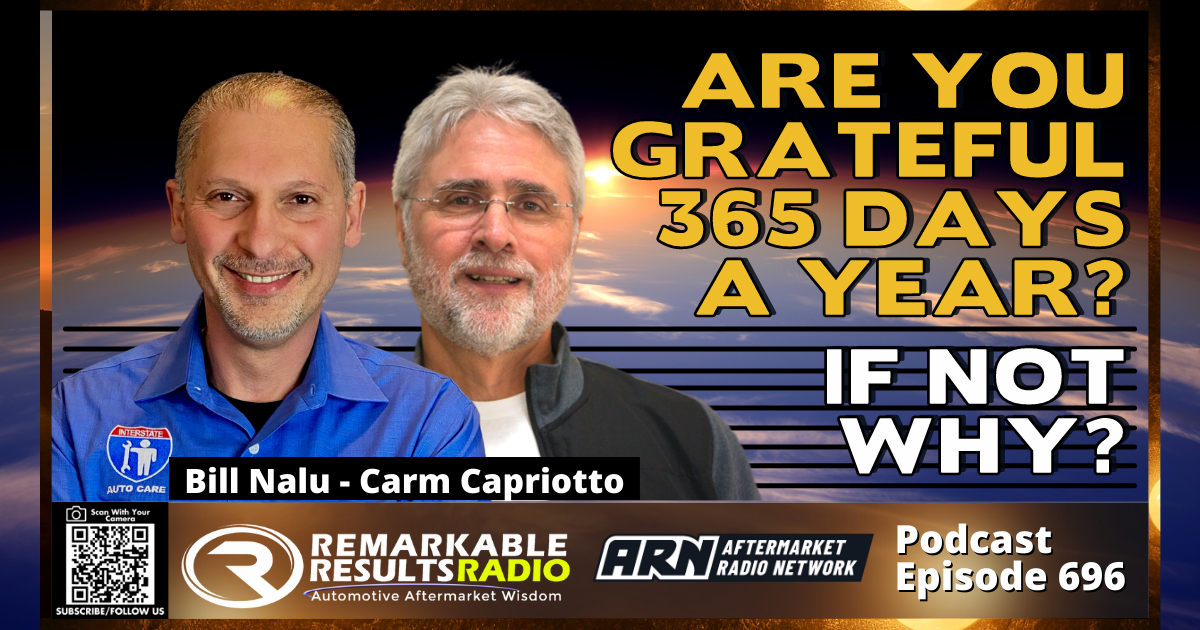 Bill Nalu is President of Interstate Auto Care in Madison Heights, Michigan and has been in business for 30 years. He collaborates with industry professionals, in building today's "high-tech/old-fashioned" customer service system. Bill has been a big contributor to the podcast and he currently serves on several industries and educational advisory councils including AutoValue/Bumper to Bumper, Dorman Industries, and Cardone. Listen to Bill's previous episodes HERE.
Key Talking Points
What are you grateful for? The world isn't ending. Stop comparing yourself to the content coming at you. 

When you make a decision to move forward, don't turn around and second guess yourself

Leadership comes through gratitude

Hire compliments to yourself

Suffering comes from judgment 

"Air smells the best and freshest after a hard rain"

Awareness- isn't that you're having a thought, but that you are aware you are having a thought. That is your consciousness. 

Learn from other people's second chances before you have to be the one to learn from your second chance. You must have balance. 

Compassion- there's more going on in people's lives than you know about

If you want respect, respect someone into respecting themselves

Consumerism- willing to pay extra 

Do you hire for work ethic attitude? Do you love what you do for a living

Suffering comes from judgment- wean yourself off of the judgment that you have centered around you, judgment that comes toward you, and judgment that you place on yourself  

The grass isn't always greener 

Book "Who not How" LINK
"Every Life Has a Story" Chick Fil A LINK 
Connect with the show:
Check out today's partners:

This episode is brought to you by AAPEX, the Automotive Aftermarket Products Expo. AAPEX represents the $740 billion global automotive aftermarket industry and has everything you need to stay ahead of the curve.  AAPEX 2021 is in the record books and lived up to presenting leading-technical and business management training from some of the industry's best and brightest. Now set your sights on Las Vegas in 2022. Mark your calendar now … November 1-3, 2022, AAPEX – Now more than ever.

This episode is brought to you by Shop-Ware Shop Management. It's time to run your business at its fullest potential with the industry's leading technology. Shop-Ware Shop Management will increase your efficiency with lightning-fast workflows, help your staff capture more sales every day, and create very happy customers who promote your business. Shops running Shop-Ware have More Time and generate More Profit—join them! Schedule a free live demonstration and find out how 30 minutes can transform your shop at getshopware.com/carm