Industry Leaders Update Right to Repair Act & Discuss AAPEX 2021 [RR 698]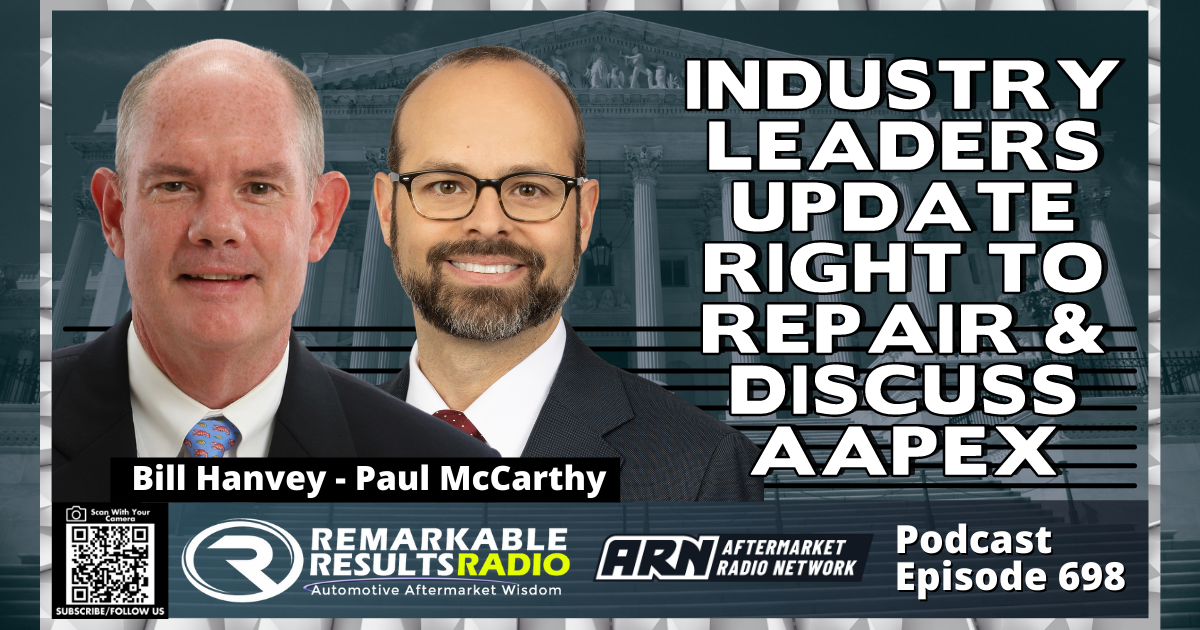 Key Talking Points
Joe's Garage AAPEX 2021- a playground for the automotive industry with lifts and hands-on engagement 

Right to repair- allows for the bidirectional access of data for vehicles in a standardized format. Get the diagnostic information from the vehicle. Lawsuit ensued. A federal bill will push the automotive Right to Repair. It's not the independent vs dealership, it's about equal competition and allowing the consumer to choose

Subaru- disabling Starlink system which is now evidence

Automakers have 270 lobbyists, the automotive aftermarket has  9

Changing driving habits but the miles driven is still increasing- more dependence on the vehicle, automobility 

EV growth- 280 million vehicles in operation, it will take time to shift, EV's still require repairs

Ecommerce- expectations have increased, data and business technology has leveled up and activated the industry to improve

Don't be afraid of the future

Repairact.com allows your signed petition sent to your local representative
Connect with the show:
Check out today's partners:

This episode is brought to you by AAPEX, the Automotive Aftermarket Products Expo. AAPEX represents the $740 billion global automotive aftermarket industry and has everything you need to stay ahead of the curve.  AAPEX 2021 is in the record books and lived up to presenting leading-technical and business management training from some of the industry's best and brightest. Now set your sights on Las Vegas in 2022. Mark your calendar now … November 1-3, 2022, AAPEX – Now more than ever.

This episode is brought to you by Shop-Ware Shop Management. It's time to run your business at its fullest potential with the industry's leading technology. Shop-Ware Shop Management will increase your efficiency with lightning-fast workflows, help your staff capture more sales every day, and create very happy customers who promote your business. Shops running Shop-Ware have More Time and generate More Profit—join them! Schedule a free live demonstration and find out how 30 minutes can transform your shop at getshopware.com/carm
The Panel
Bill Hanvey, President and CEO of the Auto Care Association. Bill is engaging the automotive aftermarket to get involved in letting your legislators know the issue about data. Your help is needed to help in amending the right to repair legislation. Learn everything you can about this fight to amend the right to repair legislation. Ownership of Vehicle Telematic Data Must Flow to the Vehicle Owner. Bill leads the strategic direction of The Auto Care Association's 3,000 members and 150,000 companies representing automotive manufacturers, distributors, and service providers. Find Bill's other episodes HERE.
Paul McCarthy, AASA President.Paul has over 23 years of experience in the automotive industry. Prior to joining MEMA, Paul led the Automotive and Industrial Products Strategy Practice at PricewaterhouseCoopers (PwC). He consulted at dozens of automotive suppliers, eight of the top ten global automakers, and at private equity firms and financial institutions. His past leadership roles include heading PwC Germany's Automotive Strategy advisory practice and leading global forecasting and analysis for a prominent vehicle forecast service, Autofacts. Paul has an MBA from Duke's University's Fuqua School of Business. Find Paul's other episodes HERE.