Three Managers You Need In Your Business- George Zeeks [RR 702]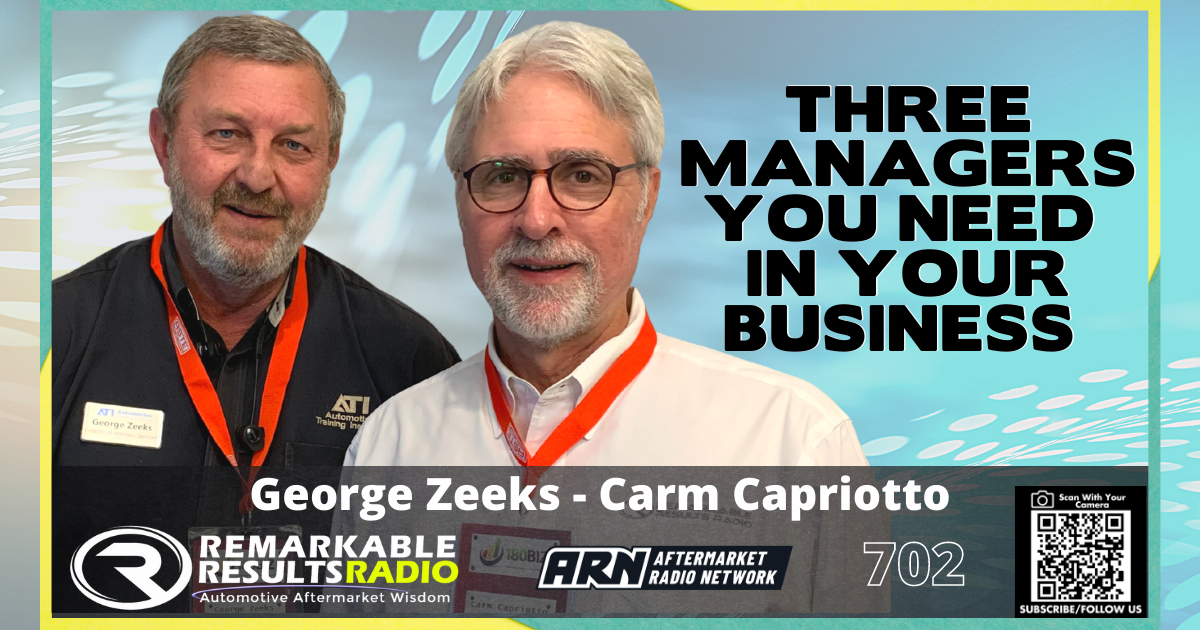 George Zeeks, Director of Member Services, ATI
Key Talking Points
Most shop owners want a manager that will take over everything- how do you groom/grow/mentor that person? What are the traits needed? You can't buy your freedom, you have to grow it.

Potato metaphor- 1 potato can be anything if you know what to do

Manage instead of mentoring- "owners love the thought of the manager." You can't hire the perfect manager. Your business model can be completely different than what they are used to.

Retail Manager (providing the experience for the customers, is the shop clean? Is the coffee ready? High level of attention to detail, the brand of the business), Sales Manager (responsible for sales, scheduling, comebacks, managing the flow during the day), Production Manager (understand capacities of employees and continue to grow them, the chess master, tracking hours and avoid "donkey day/donkey hour")

PPP loan during COVID- upgrade the business

The money is made at the edge of chaos- where is the line before chaos?

You get paid off of what you get done not the sale

Donkey day on Wednesdays- what do you need to do to finish the week before they "donkey down" and lose motivation.
Connect with the show:
Check out today's partners:

This episode is brought to you by AAPEX, the Automotive Aftermarket Products Expo. AAPEX represents the $740 billion global automotive aftermarket industry and has everything you need to stay ahead of the curve.  AAPEX 2021 is in the record books and lived up to presenting leading-technical and business management training from some of the industry's best and brightest. Now set your sights on Las Vegas in 2022. Mark your calendar now … November 1-3, 2022, AAPEX – Now more than ever.

This episode is brought to you by Shop-Ware Shop Management. It's time to run your business at its fullest potential with the industry's leading technology. Shop-Ware Shop Management will increase your efficiency with lightning-fast workflows, help your staff capture more sales every day, and create very happy customers who promote your business. Shops running Shop-Ware have More Time and generate More Profit—join them! Schedule a free live demonstration and find out how 30 minutes can transform your shop at getshopware.com/carm