ASE Board Chairman Brad Pellman [RR 718]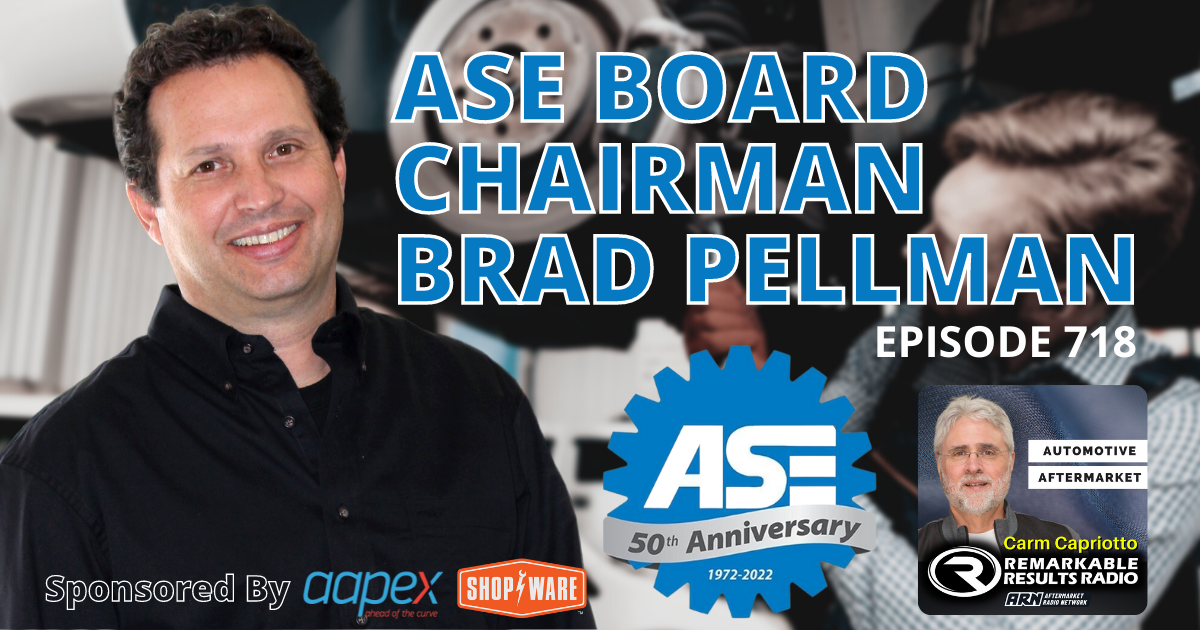 ASE has made a commitment to its certifications and continues to push forward with its own app to make recertifications a learning opportunity. Not only do certifications benefit the technician and business owner, but it is also a tool to educate customers. It's time to promote your business and employees and show your professionalism in the industry as ASE celebrates its 50th year.
Brad Pellman, Pellman's Automotive, Boulder, CO, and ASE Board Chairman. Brad's previous episodes HERE.
Key Talking Points
Brad has been on the ASE board for 10 years

50th anniversary of ASE- made up of a group of directors, and a large body of governors 

Brad started as a technician- was afraid to test his knowledge

Certifications- defines you as a technician, give you pride, designation to customers and employer. 

Promoting your business- shows customers you are high quality and technological advanced 

Working on ADAS and Safety Certifications for hybrid and EV

ASE is meeting the standard for licenses  

ASE Renewal app- for recertification, answer questions on your own timeline, learning opportunity. A business owner can monitor the tests.

Future expansions to L1

Looking for a new job? Has business closed? Certifications help with finding a new job and differentiates yourself from other candidates  

Increase wages based on certifications- technicians are in charge of their own pay
Connect with the show:
Check out today's partners:

Set your sights on Las Vegas in 2022. Mark your calendar now … November 1-3, 2022, AAPEX – Now more than ever.

More Time. More Profit. Transform your shop at getshopware.com/carm