A Life Changing Vision 2022 Scholarship – Eric Dallas [RR 733]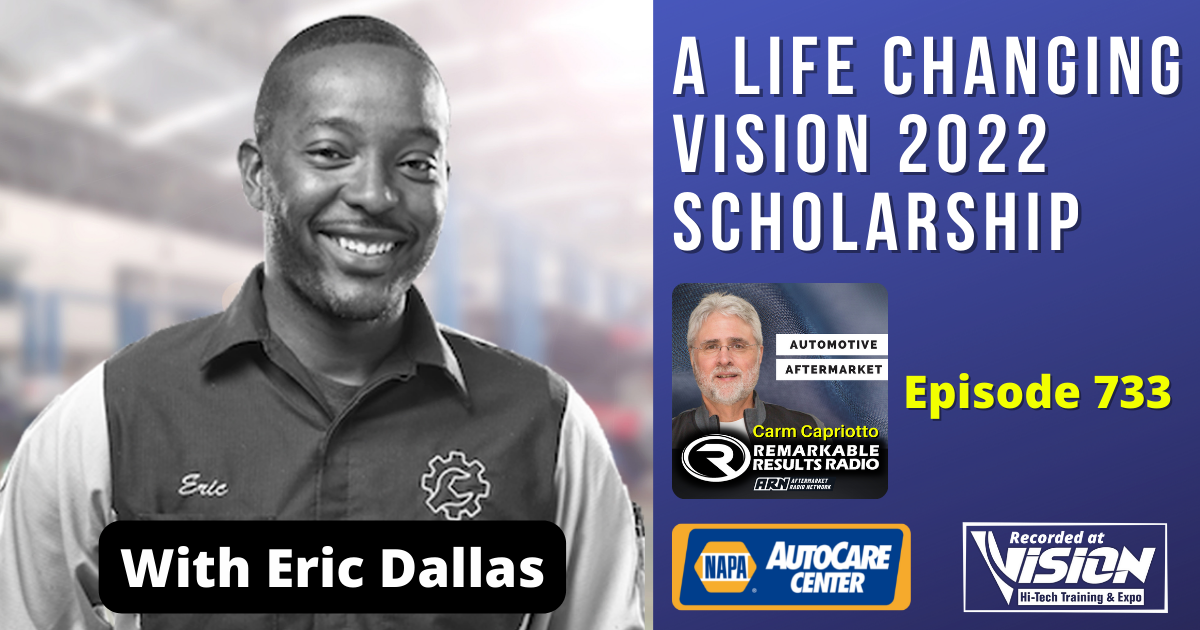 Are you ready for an inspiring story that will leave you with goosebumps? I'm with Eric Dallas at Vision 2022, one of the Technician of Tomorrow scholarship winners, who shares his story about taking a pay cut from a dealership to work for ChangingGears. Their mission is to empower people who are working their way out of poverty by providing affordable transportation. Listen and be inspired and realize the good that scholarship programs are doing to invest in our future.
Eric Dallas, ASE Certified Master Technician, ChangingGears, Cincinnati, OH.
Key Talking Points
ChangingGears in Cincinnati- provide transportation for people breaking out of poverty. Providing freedom by leaving bus lines/public transportation. Volunteer with habitat for humanity with clients. Doner will get the maximum donation possible instead of the vehicle going to auction

Won Vision 4 day all training classes access/meals/hotel scholarship, is ASE mastered certified

Eric Ziegler was providing training in Cincinnati, told him about Vision

The deadline for the scholarship had expired- applied anyway, received an email that he won 3-4 weeks later

In 2009 started working at a dealership- no mentor, new people were "shunned" at first. Didn't have fulfillment/purpose working at the dealership. Found Craigslist ad looking for entry-level technician, applied, and realized it wasn't located in the ideal place but was warmly greeted, learned about the mission, and was fully on board. Took a pay cut.

Eric provides 1 on 1 dialogue and education with clients about their vehicle 

Funding- vehicles not suitable for clients will sell at auction and that money goes to overhead, fundraising, doners
Connect with the Podcast:
Check out today's partner:

Learn more about NAPA AutoCare and the benefits of being part of the NAPA family by visiting www.NAPAAutoCare.com