Are You Offering 'Only' Synthetic Oil Services? [THA 270]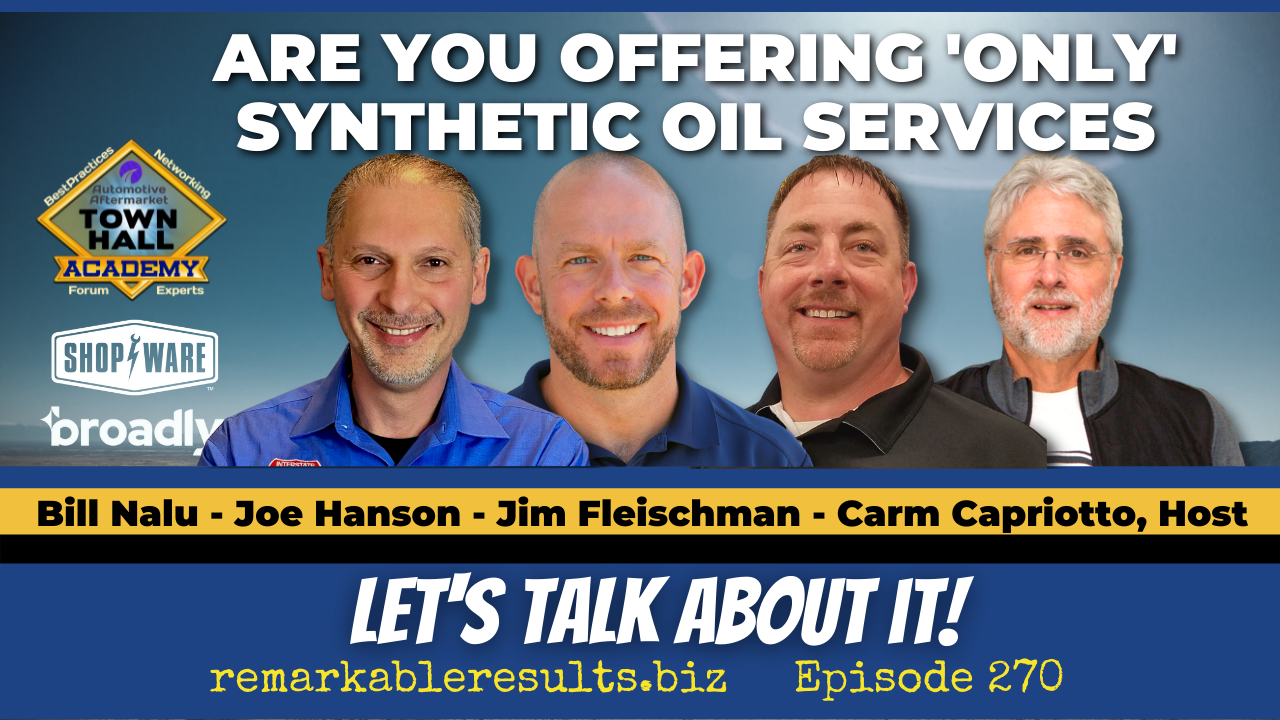 Questions, what is your customer oil change service like?  Have you transitioned to 'synthetic only' oil for your customers? How do you stock all grades and weights? The days of $20 oil changes every 3 months is gone. My panel of shop owners discuss why they have synthetic only oil service and how it's improved their efficiency in the bays and for their customers. If you have not implemented this business strategy learn in this episode why you need to do it.
Watch the Episode on YouTube
Bill Nalu, Interstate Auto Care, Madison Heights, MI. Listen to Bill's previous episodes HERE.
Joe Hanson, Gordie's Garage, Roseville, MI. Listen to Joe's previous episodes HERE.
Jim Fleischman, Automotive Alley, Arcade, NY. Listen to Jim's previous episodes HERE.
Key Talking Points
A $100 synthetic oil change doesn't cost twice as much as a $50 semi-synthetic oil change service

The interview process "how much is an oil change?" gives you an opportunity to highlight your service 

Gain valuable shop floor space by consolidating your bulk oil storage and eliminating unneeded oil grades that do not promote the right customer in the first place.

Oil changes- don't take lightly, $20 oil changes are gone and should be gone

Don't rely on the 'sticker' to check on oil- educating customers 

"Maintenance service" Not due for an oil change? 7,500-mile intervals. 1,000 or 2,000 miles left? For 2x a year maintenance, it's worth changing the oil early. 

Car count goes down, but the average repair ticket is going up

Taking more time during inspections

Shifting into the changing times with EVs- sell maintenance not oil changes

Simplicity and efficiency- eliminating stocking different oils, no bundles

Implementation- shop meeting first for the buy-in with employees, discuss the oil intervals, work with suppliers, what is included, what are you saying to customers and pre-booking customers
Connect with the Podcast
Check out today's partners:

More Time. More Profit. Shop-Ware Shop Management getshopware.com

See how Broadly can help YOU grow your auto shop. getbroadly.com/chat