Celebrating Educators [RR 736]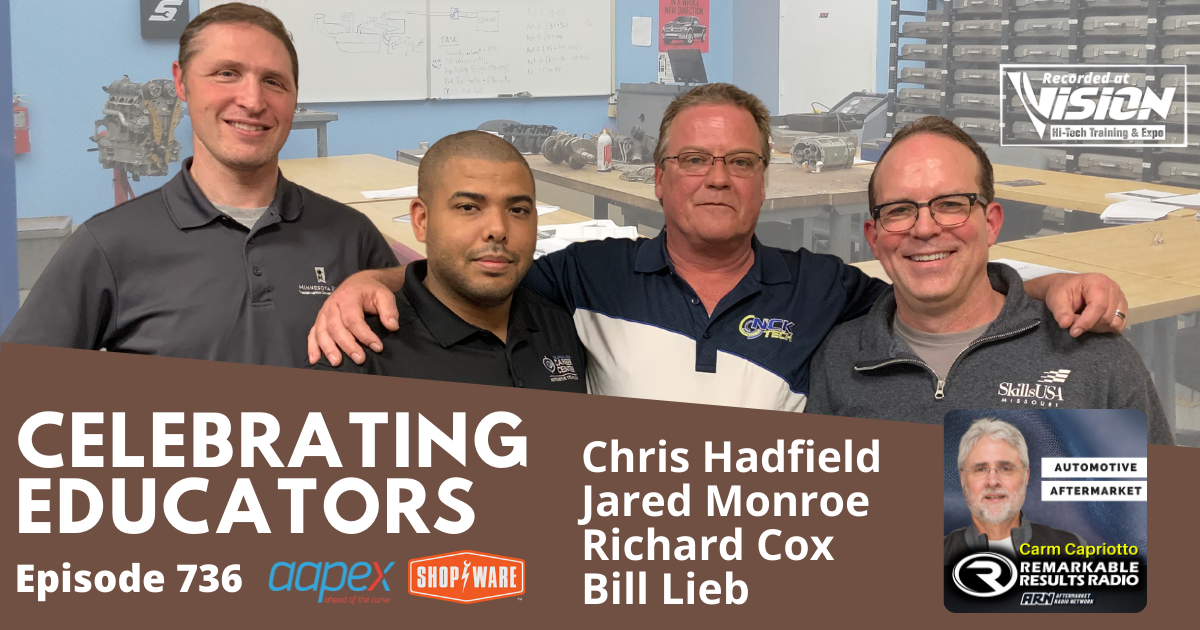 You know I am passionate and committed to education. A very informative discussion to keep you up to date with high school and post-secondary education with these educators who were at VISION KC to keep up with technology.
Chris Hadfield, Executive Director, Minnesota State Transportation Center of Excellence
Jared Monroe, Automotive Technology Instructor, Columbia Area Career Center
Richard Cox, Automotive Technology Instructor, North Central Kansas Technical College
Bill Lieb, Automotive Technology Instructor, Fort Osage School District
Key Talking Points
You can help out besides donating money- growing only happens when you have a solid program, you need members to join

You can't build a house online, you can't fix a car online only- you need hands-on face to face training 

COVID 19- learning how to adapt and train virtually, hybrid training has improved in-person training and revamping how to connect with students. Supporting students besides the training. Also opened dialogue between teachers at different school levels. 

Trends- video pre-recording lectures to rewatch, reduce the amount of time of lecture to increase lab time

Finding more instructors- difficulties with part-time hours available, you need to find the people that want to give back. Can be difficult when someone hasn't taught before. Battling the phrase "those that can't do, teach."

Variance rules for Credentials- hired on a limited basis, being passionate to teach, and hired with terms

You can still make a difference being a mentor in your business

Integrated high school with first-year college students- promotion within students talking about their experiences with friends in school

How can you help- get involved in schools (you don't need to be an owner to go to schools, you can be a service advisor/tech etc), join advisory meetings
Connect with the Podcast:
Check out today's partners:

Set your sights on Las Vegas in 2022. Mark your calendar now … November 1-3, 2022, AAPEX – Now more than ever. And don't miss the next free AAPEX webinar. Register now at AAPEXSHOW.COM/WEBINAR.

More Time. More Profit. Transform your shop at getshopware.com/carm