From the Bays to the Classroom – Brandon Steckler [RR 746]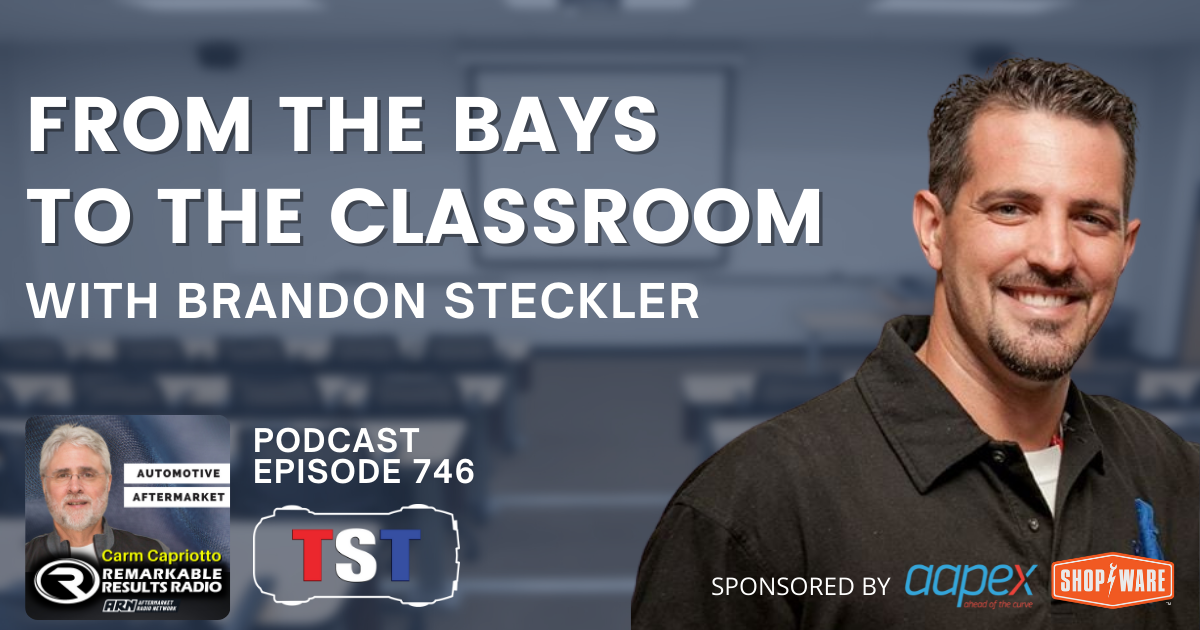 Do you have a passion for teaching others and watching them grow? Is it something you've been interested in doing? I'm with Brandon Steckler at the TST Big Event 2022 and we discuss his path to becoming a trainer and writer for MotorAge Magazine. He also shares a transparent review of one of his classes from a peer. A special episode I did with Brandon on his passion for teaching is Episode 342. Speaking of training, did you know that auto tech colleges need part-time instructors? It is a great way to engage with auto tech students. How about being a high school night school trainer. Let's think outside the box and advance the aftermarket together.
Brandon Steckler, instructor for CarQuest Institute and WorldPAC Training Institute, Technical Editor for MotorAge Magazine, technical support and beta testing for Automotive Test Solutions. Listen to Brandon's previous episodes HERE.
Key Talking Points
Life after being a technician- opportunities to be a trainer/teacher, breaking the ice as part-time instructor at local schools, writers also needed at magazines, start reaching out to the current instructor 

WorldPac- subject matter experts (Honda), Brandon builds curriculum

   

Carquest- a group of subject matter experts that put together classes to train the trainer while having input/case study with the trainer

Training/teaching assessments- an accurate description of the class and not an advertisement

"Teaching a 6 year old is true mastery"
Connect with the Podcast:
Check out today's partners:

Set your sights on Las Vegas in 2022. Mark your calendar now … November 1-3, 2022, AAPEX – Now more than ever. And don't miss the next free AAPEX webinar. Register now at AAPEXSHOW.COM/WEBINAR.

More Time. More Profit. Transform your shop at getshopware.com/carm