Google Reviews – Jimmy Lea [RR 747]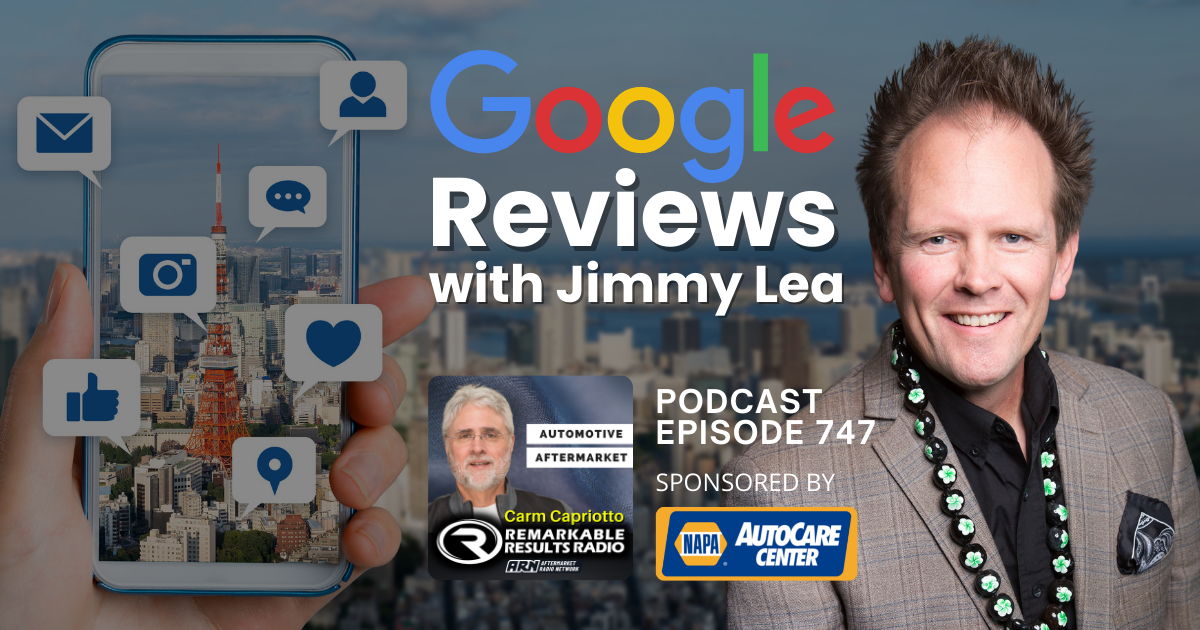 It's time to take a deep dive into Google Reviews. Why is it important to have a variety of star ratings instead of all 5 stars? Why do you need to respond to good and bad reviews? I'm with Jimmy Lea, KUKUI Evangelist. Find out why your business must exist digitally in order to capture customers.
Jimmy Lea, KUKUI Evangelist. Listen to Jimmy's previous episodes HERE
Key Talking Points
Social media is a time suck if you don't have a purpose and a time allotment for social media
Google gives you more creditability for having a variety of Star Reviews. We are human and we make mistakes.  Own it and move on. The ideal rating for a shop is 4.5- 4.9/5.0. Don't incentivize reviews with customers, Google will pull those reviews. 70% of all internet searches are through Google. Motorists are looking for honesty and trustworthiness, which translates to a shop that also owns their Bad News.
A shop must not Gate review responses. There is software available in the industry that will allow you to give a Google Link if it is to be a 4 or 5-star review and a form for upset customers—allowing you the opportunity to correct errors behind the scenes rather than being open with all reviews. This is Gating, and Gating will only hurt the Shop. Google has no ability to go after the software company, only to remove the reviews that have been placed on their platform suspected of Gating.
A shop needs to respond to all reviews both positive and negative. Negative Reviews: Apologize that they feel this way, State the Facts, Apologize again that they feel this way, and then take the conversation offline.
"Key Words" are important in Google Reviews, your website, and your SEO. There are 2 methods for accomplishing this: The client leaves keywords in their review as they tell their story. Or, your response contains the keywords such as Year/Make/Model and services performed.
The methods for removing a Negative Google Review. Each step has a 50/50 chance of getting the review removed. Step 1: Report the review as inappropriate and have 2-3 friends do the same. Step 2: After waiting the 3-day waiting period, report it to the Google Business Profile Forum. Support.Google.com, give just enough information to get a case number and then give all the details to the human. Step 3: Report the profile of the reviewer as inappropriate.
Connect with the Podcast:
Check out today's partner:

Learn more about NAPA AutoCare and the benefits of being part of the NAPA family by visiting www.NAPAAutoCare.com