Prepare for the Future [THA 277]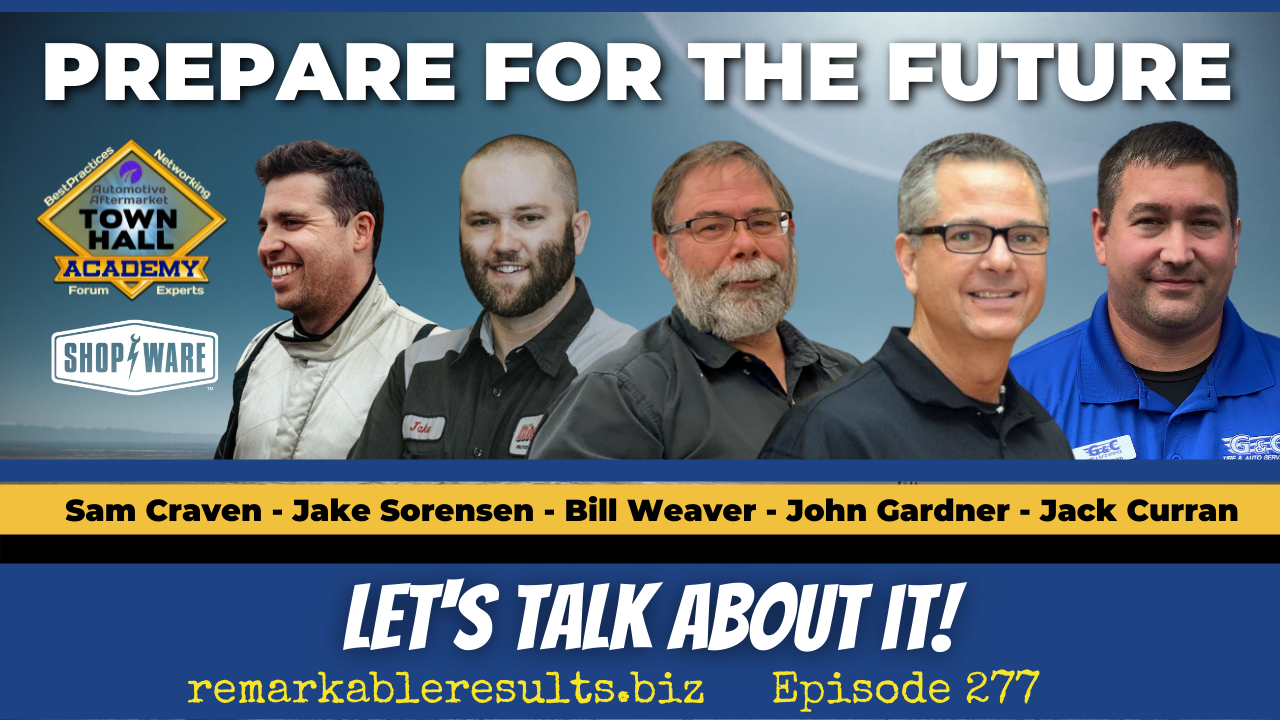 How do we prepare for the future? In this episode listen to the insights from the perspective of a shop owner, technician, instructor, COO, and trainer. Times have changed, so how do we get the younger generation passionate about our industry and our high-tech vehicles? What does the future of ADAS and electric vehicles mean to the aftermarket?
Watch the Episode on YouTube
Sam Craven, The Garagisti, Houston, TX. Listen to Sam's previous episodes HERE
Jake Sorensen, 2019 NAPA ASE Technician of the Year and 2019 Ratchet + Wrench All-Star technician of the year. Shop manager and diagnostic technician at McNeil's Auto Care in Sandy, UT Listen to Jake's previous episodes HERE
Bill Weaver, NAPA Auto Care Trainer
John Gardner, ASE Master Certified Technician & Instructor at Chipola College and is a Television Host on the popular shows Tech Garage & Motorhead Garage.
Jack Curran, G & C Tire and Auto Service, two locations, Chantilly and Manassas, VA. Listen to Jack's previous episode HERE
Key Talking Points
Shops will have to start raising their own entry-level tech…. Shadowing and Mentoring will have to become part of the training program

You must have a relationship with your local schools

"You can't build on sand, you need a foundation" be safe and have integrity with the vehicle. Cleaning bathroom, cleaning the floors etc

How do you get people to fall in love with cars and the process of automotive repair? Less passion for 'cars' but they want to learn and be without debt. It's about relationships and people. 

From fuel injection to ABS. VVT, turbo, and stability control to ADAS technology has always advanced. Can we learn from recent past experiences to prepare (when to purchase equipment, train our people, market to the public)

Keep up to date- w

hat you "know" or have heard in the past may not be true today.

All vehicles have a static calibration process performed when they are manufactured, which will not change.

Dynamic creates a liability concern since vehicles need to be driven when the ADAS systems are not calibrated.

Dynamic calibration can be difficult with weather, and road conditions.
Connect with the Podcast
Check out today's partners:

More Time. More Profit. Shop-Ware Shop Management getshopware.com