From Investment Banker to Shop Owner [RR 752]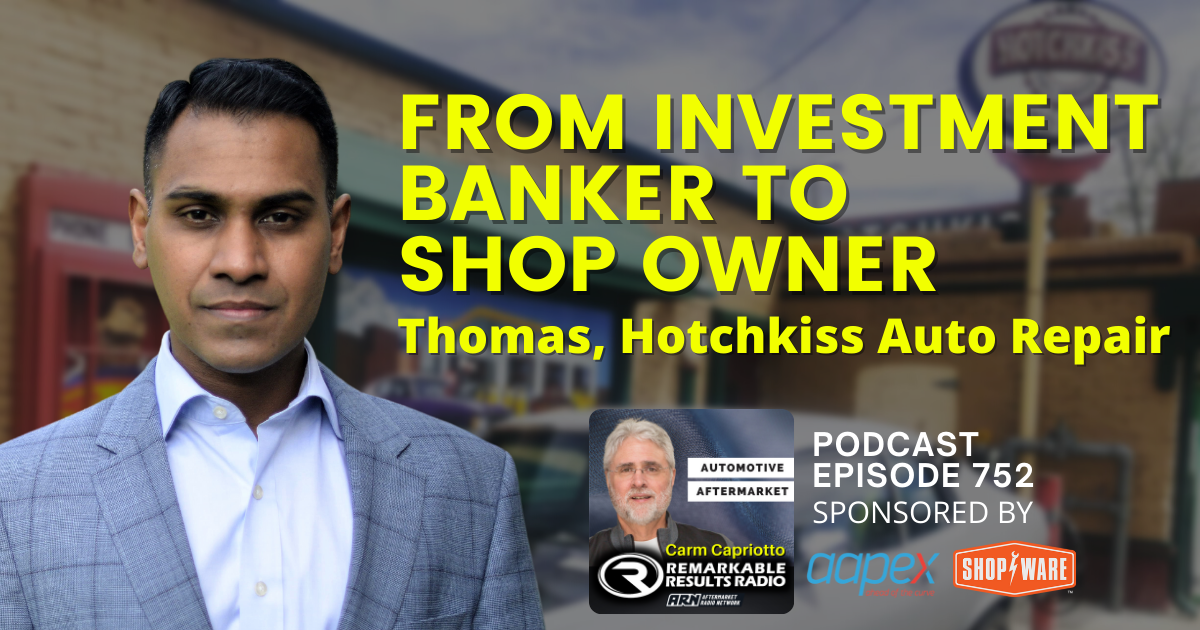 Ready to be inspired by a shop owner that came from the merger and acquisition realm? Why did he choose our industry? What fresh perspective does he have?  I'm with Thomas from Hotchkiss Auto Repair and his passion about people and training is infectious.
Thomas, Hotchkiss Auto Repair, Denver, CO
Key Talking Points
He came from the M & A (mergers and acquisitions) world as an investment banker. Looked into different industries to get into, over 800 small businesses in 1 year. He found automotive is highly segmented and recession-proof. 

Don't be a bank teller- build a relationship

Buying an existing business- what's working? Why do customers already love this business? What can your background/strengths improve the business? The most valuable asset is the people  

Power of people- you can't get a degree for it

Accountability for the owner- do your employees feel like they're making an impact on the workplace? Empowered? Value? 

Monthly meetings- what went well, what didn't go well, and what are you doing to be the best version f yourself? Express positive and negative and be heard. 

Job vs career- training and development and career track. Creating a habit personally and professionally. 

Challenges- losing teamwork as there are more turnover and fewer people developed through their technical careers. Creates labor inflation and competition for talent. National brands with mergers and acquisitions   

Training resumes/libraries

Motivation cannot come from external sources

Joined the NAPA AutoCare Elite Business Development Group (

BDG

) Colorado, for which he hosted its latest Elite Owner Support (EOS) meeting where members gather to support, educate and grow each member's shop through constructive criticism and honest evaluations.
Connect with the Podcast:
Check out today's partners:

Set your sights on Las Vegas in 2022. Mark your calendar now … November 1-3, 2022, AAPEX – Now more than ever. And don't miss the next free AAPEX webinar. Register now at AAPEXSHOW.COM/WEBINAR.

More Time. More Profit. Transform your shop at getshopware.com/carm