Do You Have a 40% Close Rate For Pre Scheduled Appointments? Brett Beachler [RR 758]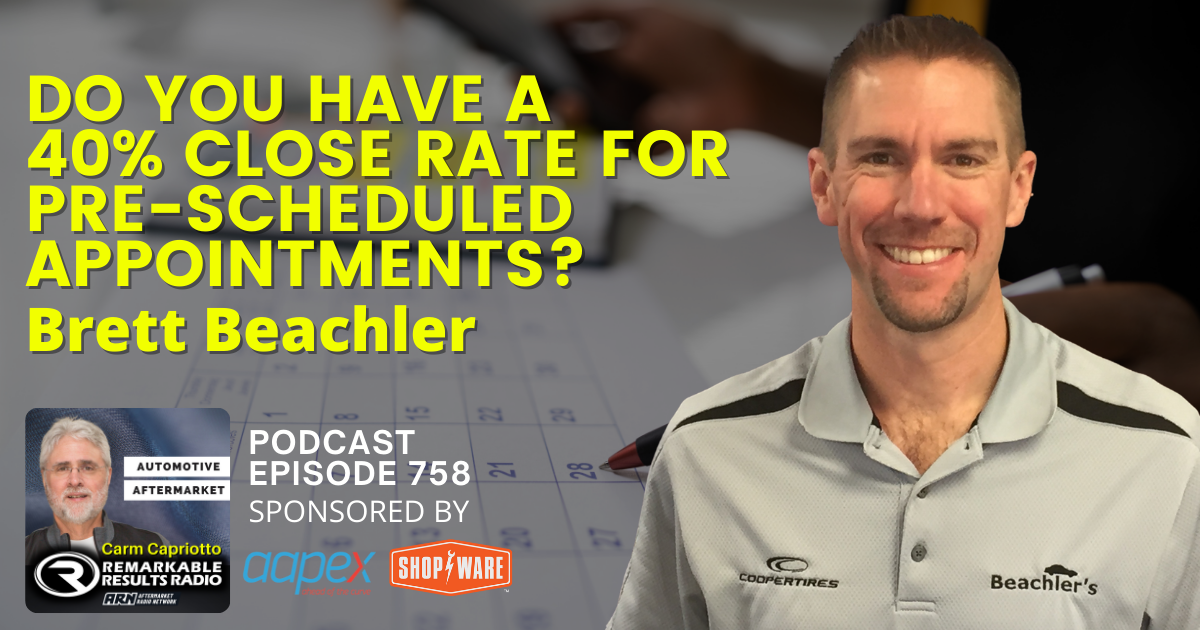 How do your service advisors close their sales with a customer? Are they pre-scheduling for future maintenance appointments? Brett Beachler's business has a 40% close rate for pre-scheduled maintenance appointments. He discusses how to make your current customers, your future customers.  Grab a pen and paper or head to the show notes on this episode. You don't want to miss Brett's closing presentation that can be implemented in your business.
Brett Beachler, Beachler's Vehicle Care & Repair, Peoria, IL. Listen to Brett's previous episodes HERE
Key Talking Points
Customer close procedure/presentation

Try to understand what the other person sees and not just what your shop wants

Factory specified maintenance review on cars- review the history on Carfax, review what the car needs according to the factory maintenance specifications. The system will actually calculate a date when it thinks you'll be due. Ask what are your plans on the car?  Is the car paid for? Review with the customer what your technicians did. Solidify them saying "You guys are my guy."

Lay the groundwork for them to say "You know what? You just gave me all the right reasons to make an appointment 4, 5, 6, 7 months in advance"

Send a text to them about a week ahead 

What you don't want to do- run the actual credit card amount and then try to explain it to the customer the factory maintenance and review etc.. As soon as they run that transaction, they're done. 

You must direct your advisors the best way they will get the highest batting average for pre-scheduling. Don't start with a closed transaction. 

If you don't capture them at that closed sale then the next thing is the email and the text, if we don't catch 'em there, then they call up three weeks later and say, "Hey, I just wanna schedule an oil change. And we go, oh, whoa, whoa, whoa, wait, wait, wait, wait, wait, you got all this factory maintenance dude. You wanna do it?" 
Connect with the Podcast:
Check out today's partners:

Set your sights on Las Vegas in 2022. Mark your calendar now … November 1-3, 2022, AAPEX – Now more than ever. And don't miss the next free AAPEX webinar. Register now at AAPEXSHOW.COM/WEBINAR.

More Time. More Profit. Transform your shop at getshopware.com/carm