Mobile Air Climate Systems Association (MACS) – Peter Coll and Andy Fiffick [RR 774]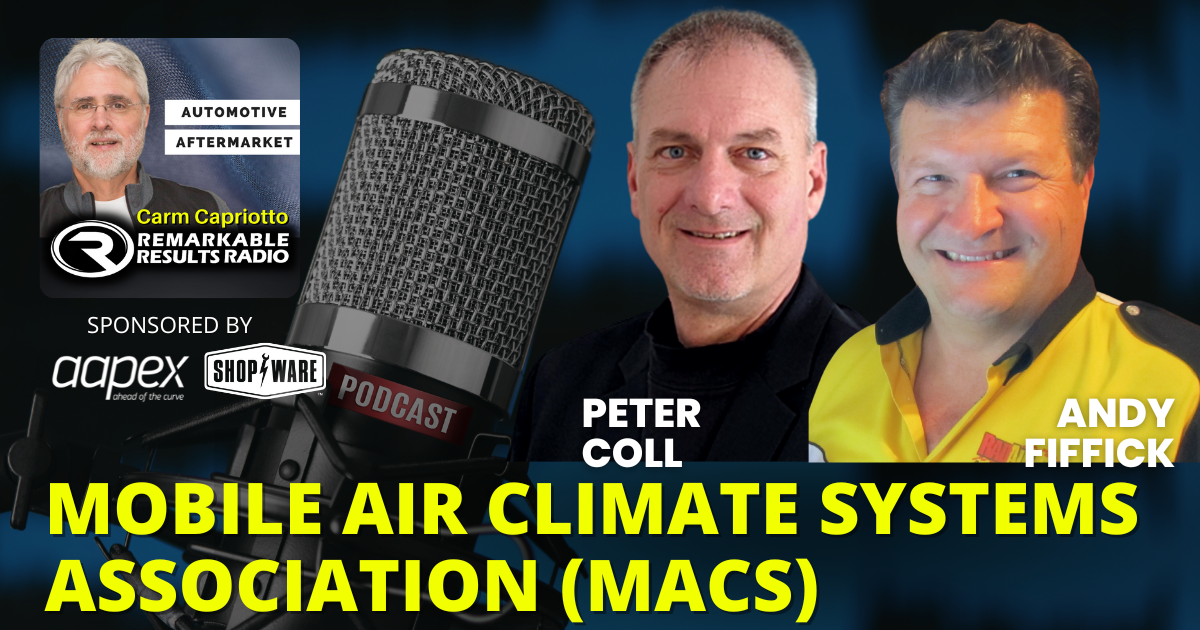 Founded in 1981 as the Mobile Air Conditioning Society (MACS), now called  Mobile Air Climate Systems, its focus is to provide unbiased information to shop owners and technicians, including technical resources and training for automotive air conditioning technicians. Let's dive into MACS together and also learn about the benefits of becoming a member because no matter what the future holds, vehicles will need climate control.
Peter Coll, President and COO, Mobile Air Climate Systems Association (MACS)
Andy Fiffick, CEO Rad Air, 10-locations, franchise. Listen to Andy's other episodes HERE
Key Talking Points
MACS Activities:

 

Act as a resource for the US EPA and foreign regulators on market conditions in the service sector.

Provide guidance to the SAE on best practices for environmentally friendly and effective A/C service procedures.

Provide technical resources to our members for problem vehicles and unique service challenges.

 

Produce eight annual issues of MACS Action magazine with technical articles, A/C system trends and regulatory updates.

Produce nine annual issues of MACS Service Reports offering in-depth diagnosis and repair procedures on everything from compressors to HVAC control units and the tools needed to provide effective A/C system service.

Actively participate in future systems development, including new A/C system designs for future electric vehicles and the new fluids that will be required to operate them.

Did you know that MACS was involved with R-1234yf five years before it appeared in the first vehicle in 2012?

Hold an annual Training Conference and Trade show bringing together many of the industry's brightest minds, decision-makers, trainers, service providers, regulators, OEMs, and suppliers for 40+ hours of training and networking over 3 days.

Provide use of our stadium seating training facility and classrooms for all things automotive or other local meetings within the community.

MACS Member Benefits: MACS ACtion Magazine mailed to their registered address.

MACS Service Reports mailed to their registered address.

 

MACS technical helpline access.

 

Five complementary EPA 609 Certifications annually.

Significant discounts for our annual training event for both attendees and exhibitors.

Discounts on in-person and online training classes.

Discounts on other shop and small business-related items such as uniforms, health insurance, shipping etc.

The most important thing obviously is your service procedures. It starts with understanding what the customer's complaint is 

If you service an air conditioning system for any form of compensation, you're required to have an EPA 6 0 9 certification 

MACS will be leading the way on, in the charge on what's the next problem, what's the next solution to those problems on all this thermal heat transfer.
Connect with the Podcast:
Check out today's partners:

Set your sights on Las Vegas in 2022. Mark your calendar now … November 1-3, 2022, AAPEX – Now more than ever. And don't miss the next free AAPEX webinar. Register now at AAPEXSHOW.COM/WEBINAR.

More Time. More Profit. Transform your shop at getshopware.com/carm