A Plan To Solve The Technician Shortage [RR 786]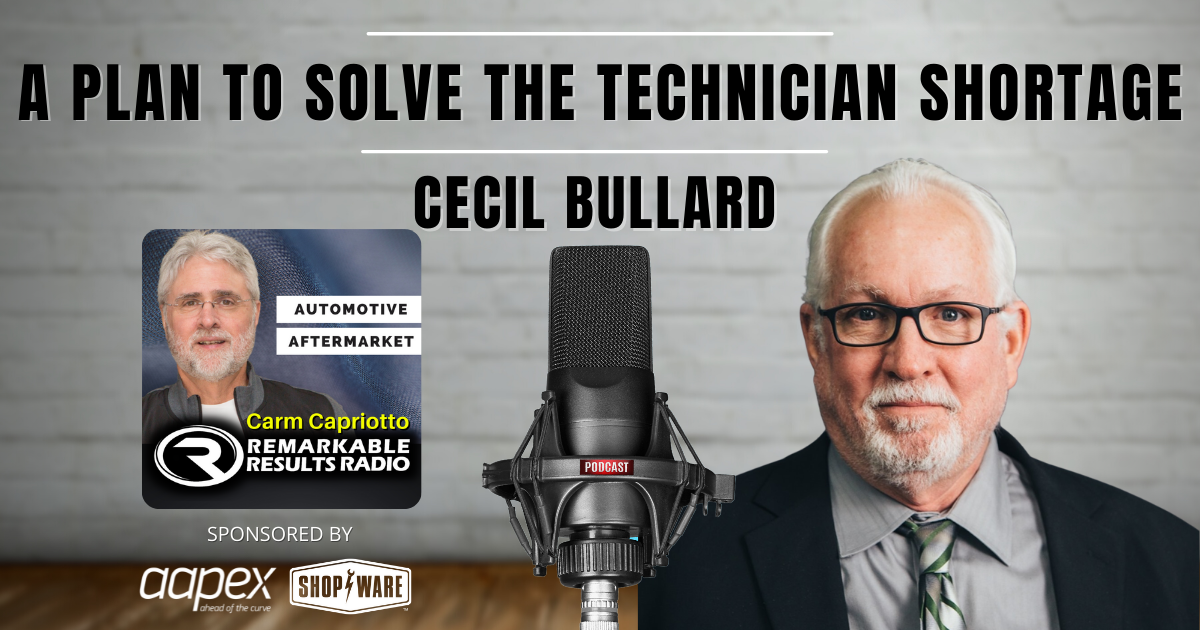 Unless you've been living under a rock, the technician shortage is the hottest topic and challenge in our industry. My guest Cecil Bullard from The Institute, has a plan to solve the technician shortage. It involves a $20 increase in your labor rate and how that money gets distributed. Sounds too good to be true? Good!
Cecil Bullard, President of the Institute for Automotive Business Excellence. Listen to Cecil's previous episodes HERE.
Key Talking Points From Cecil's White Paper
Recent surveys and articles in the industry point to the fact that 73% of shops need to hire one or more employees in the next 12 months and that for 85% of those, it would be a technician

As much as 29% of the technicians are over 55 years old, and they are aging out of the industry

Only 15% of our industry is under 35 while 29% is over 55

Every Automotive Service and Repair Business in North America will move their labor rate up $20 per hour tomorrow. We use $10 of this to increase the pay of every technician and/or mechanic working in our shops immediately.   We make it financially appealing to come into our industry by moving the wages up substantially.  If every shop (or 90% of the shops) do this, it would change our industry for the better dramatically.   We start new technicians that are learning at $25 to $35 an hour or $50K to $70K per year (a real living wage where they can support themselves and buy tools), and we pay veteran A-technicians $45 to $65 per hour or $90K to $130K.

We take $5 of the increase and make sure we have a full benefits package.  Medical, vacation, dental, a reasonable amount of sick days, a good retirement plan, all national holidays off with pay, including Thanksgiving, Christmas and New Year's, as well as anything that other professional jobs offer.

We take the other $5 of the increase and join a non-profit organization that will market to the mothers and fathers out there (and potential technicians) and let them know that being a technician in a modern shop is a cool job, is financially viable and every bit as professional as becoming a lawyer, doctor, dentist, programmer or professor.

Lastly, every shop owner books an appointment at a college, auto tech school, or high school and 'volunteers' their time to talk to the students, teachers, and administrators about our incredible industry.
Connect with the Podcast:
Check out today's partners:

Set your sights on Las Vegas in 2022. Mark your calendar now … November 1-3, 2022, AAPEX – Now more than ever. And don't miss the next free AAPEX webinar. Register now at AAPEXSHOW.COM/WEBINAR.

Shop-Ware: More Time. More Profit. Shop-Ware Shop Management getshopware.com