Fixing Fuel Pump Comebacks – Malcolm Sissmore [RR 796]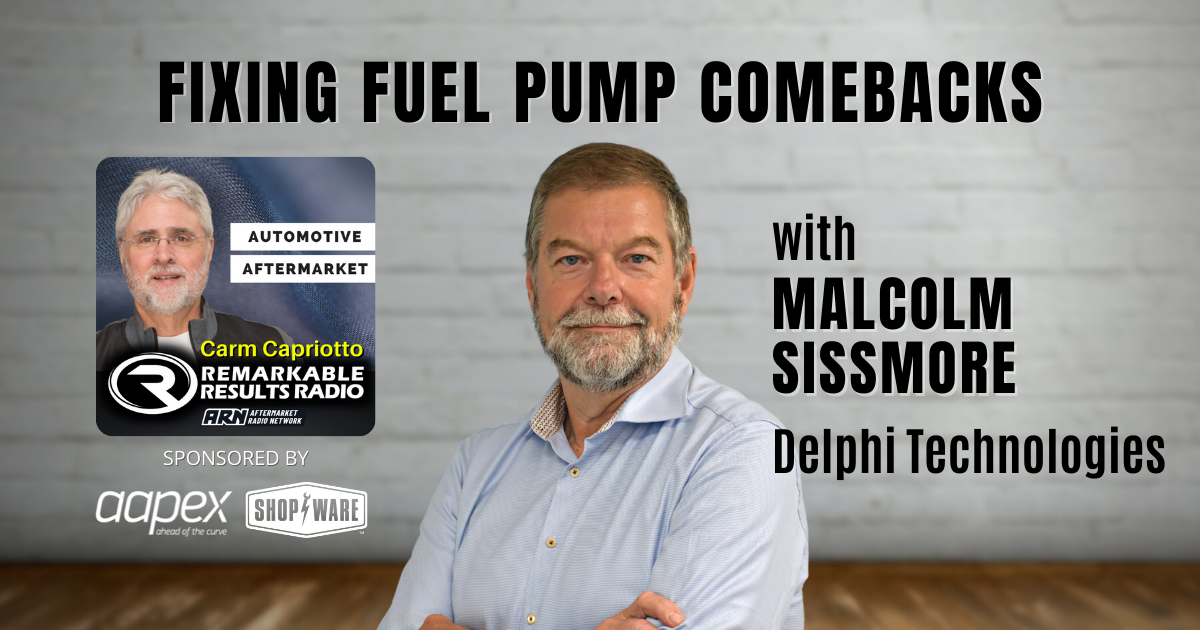 Live at AAPEX 2022, we are in the studio with Malcolm Sissmore, VP of Sales and Marketing for Delphi Technologies. Malcolm discusses aftermarket solutions for the 65 million work trucks on the road in the United States. He also has a simple solution for contaminated fuel tanks. Delphi Technologies has designed a tool to remove metal particles in a fuel tank. Guess what, it is free to the aftermarket!
Malcolm Sissmore, Vice President, Sales and Marketing, North America Independent Aftermarket, Delphi Product and Service Solutions. Malcolm's previous episodes HERE
Key Talking Points
Want a Delphi Fuel Tank Cleaning Tool? Delphi Technologies, a brand of BorgWarner, is offering free samples of their cleaning tool. Supplies are limited, so request one today by emailing:  internalcommunications.aftermarket@borgwarner.com

There are 65 million work trucks on the road in the United States and Canada- a lot of work trucks have been worked hard with the fleet during the past 2 years

"All around the work truck" with Delphi Technologies

Most fleets are less than four vehicles 

We often have to think about the aftermarket part of that. Is it going to be a rebuildable part? Is it gonna be a part that as intellectual property is not available to be sold in the aftermarket? How do we make sure that it's gonna be available when that vehicle comes out of warranty?

The fuel being put in your gas tank today is different than it was 10 years ago

Emission coil for Volkswagon- created a bent in the coil so that the pressure would come up and out and not unseat the coil  

Looking at the failure rates by product category. And starting to predict, what does that look like?

80% of the failures have been caused by contamination in the fuel tank. 

Delphi Technologies has designed a tool that is about 15 inches long and has a swiveling head on the end that has three magnets built into it. It has a replaceable cloth that you put on that. You take this tool, and you drop it straight down into the tank, and you push it around edge to edge, and if there are metal particles stuck to that magnet, your tank is contaminated

Borg Warner purchased Delphi 2 years ago

Fleet telematics
Connect with the Podcast:
Check out today's partners:

Set your sights on Las Vegas in 2022. Mark your calendar now … November 1-3, 2022, AAPEX – Now more than ever. And don't miss the next free AAPEX webinar. Register now at AAPEXSHOW.COM/WEBINAR.

Shop-Ware: More Time. More Profit. Shop-Ware Shop Management getshopware.com