From Training to Triumph: Breathe Leadership Into Your People [RR 868]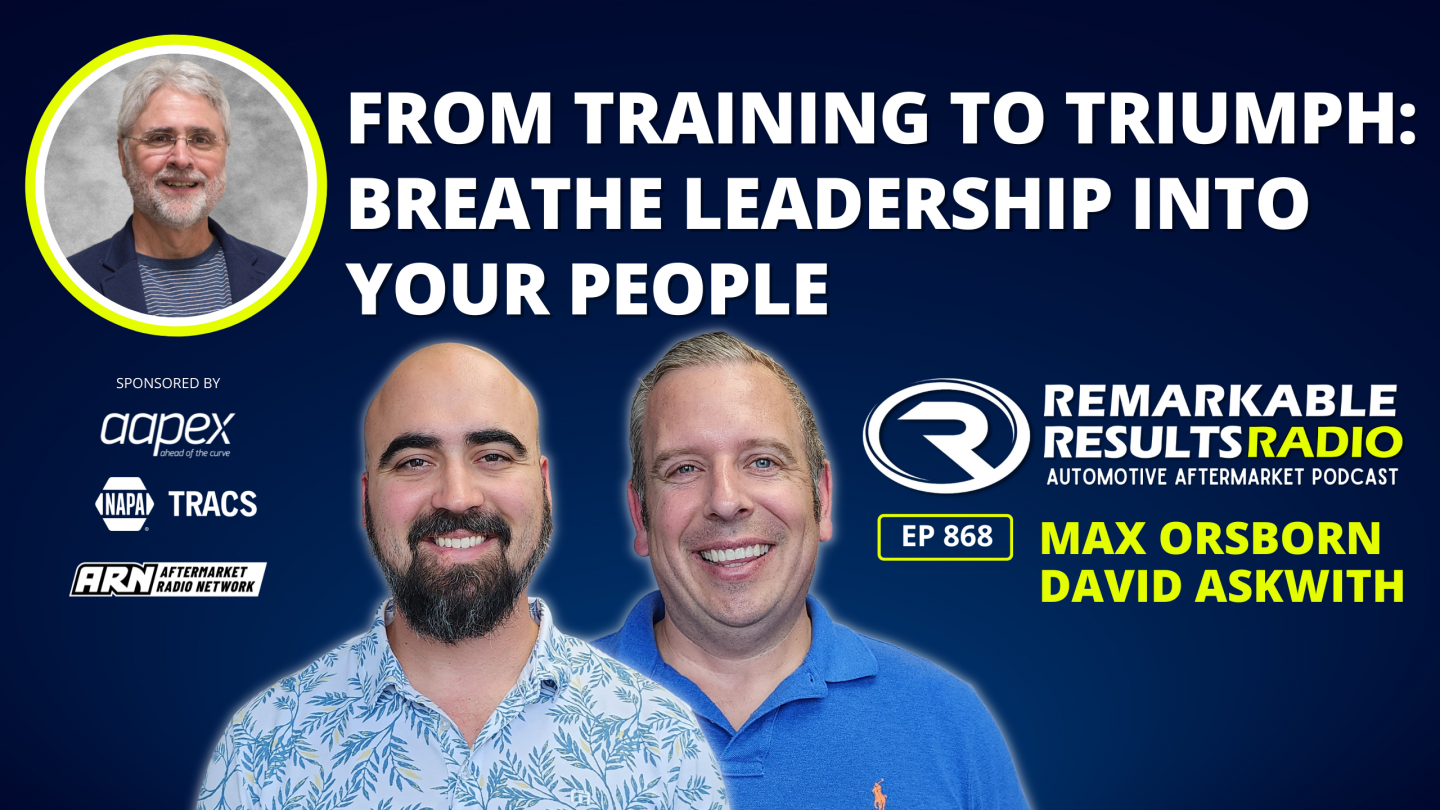 COO'S Max Orsborn and Dave Askwith discuss the importance of training and defined leadership in automotive businesses. They highlight the need for effective training that goes beyond just checking boxes, emphasizing accountability and pressure on individuals who attend training sessions. The conversation also touches on the significance of transparency and communication within organizations, focusing on clear communication during promotions and changes. Max and Dave share their experiences as leaders, with insights on admitting mistakes and making adjustments in hiring, as well as the importance of staying true to one's beliefs and vision.
Max Orsborn, Gateway Automotive, Bavarian Autohaus, Midway Automotive and Tire, WA.
David Askwith, Managing Director, Auto Stream Car Care, MD. David's previous episodes HERE
Show Notes
The importance of training and its effectiveness (00:02:59) Dave Askwith discusses the need for more training and a better understanding of its effectiveness in automotive businesses.
Lack of defined leadership and accountability (00:05:47) Max Orsborn highlights the lack of defined leadership and its impact on accountability and consistent understanding of reporting structures.
The lack of transparency and communication (00:08:30) Discussion on the importance of transparency and communication in leadership roles and the need for clear communication during major changes in the business.
Overcommunicating and addressing discomfort (00:08:55) Importance of overcommunicating and addressing discomfort when making managerial changes and the need to avoid making assumptions.
The responsibility of leaders in communicating changes (00:09:32) Discussion on the responsibility of leaders to communicate changes in the business and the importance of being present and involved in the communication process.
The importance of face time and trust (00:17:13) Discussion on the significance of spending time in the workplace, observing and building trust with employees.
Teaching leadership skills (00:20:42) Exploration of different approaches to teaching and developing leadership skills, including leading by example and promoting responsibility and accountability.
The importance of admitting mistakes (00:25:07) Discussion on the importance of recognizing when you were wrong and making adjustments in hiring decisions.
Accountability in leadership (00:25:59) Exploration of how accountability can go both ways in leadership and the humbling moments of admitting mistakes.
Value of peer groups (00:27:37) The benefits of being part of peer groups and how they can raise expectations and provide insights for success.
Thanks to our Partners, AAPEX and NAPA TRACS.
Set your sights on Las Vegas in 2023. Mark your calendar now … October 31 – Nov 2, 2023, AAPEX – Now more than ever. And don't miss the next free AAPEX webinar. Register now at http://AAPEXSHOW.COM/WEBINAR
NAPA TRACS will move your shop into the SMS fast lane with onsite training and six days a week of support and local representation. Find NAPA TRACS on the Web at http://napatracs.com/
Connect with the Podcast:
-Join our Insider List: https://remarkableresults.biz/insider
-All books mentioned on our podcasts: https://remarkableresults.biz/books
-Our Classroom page for personal or team learning: https://remarkableresults.biz/classroom
-Buy Me a Coffee: https://www.buymeacoffee.com/carm
-The Aftermarket Radio Network: https://aftermarketradionetwork.com
-Special episode collections: https://remarkableresults.biz/collections