Marketing Power Panel: Grow Your Revenue by $1 Million [THA 337]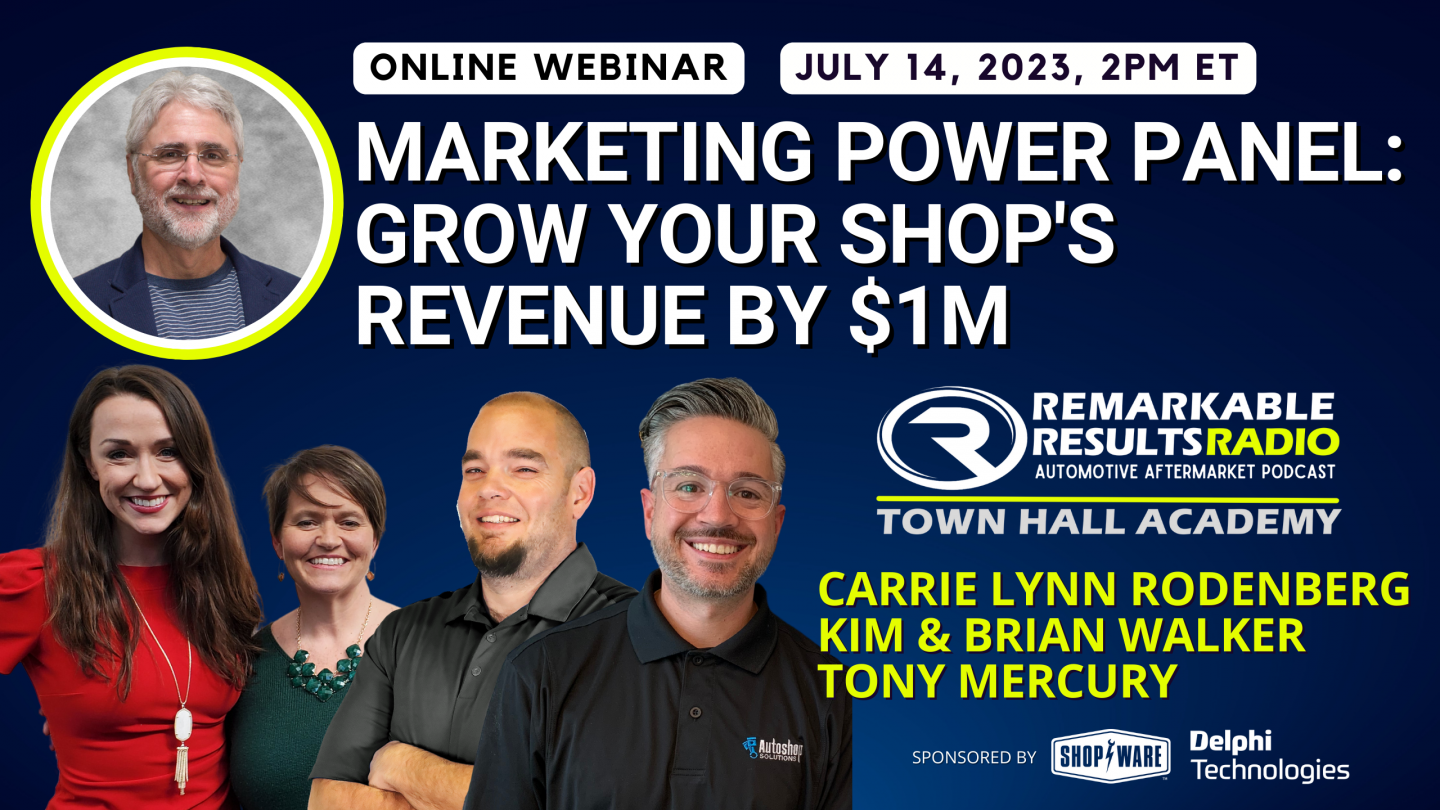 Is it possible to grow your shop's revenue by $1 million? Together, our panel of marketing gurus discuss the importance of marketing for automotive repair shops and provide insights on effective marketing strategies. The panel emphasizes the need to understand the shop's current situation and goals before developing a marketing strategy. They also discuss financial aspects, setting goals for growth, seeking advice from successful shop owners, and creating memorable customer experiences. They stress the importance of strategic and proactive marketing and financial planning to drive business growth in the auto repair industry. Remember, marketing takes time and should be trusted as a process. Always be marketing, and don't stop when business is busy.
Carrie-Lynn Rodenberg, Turnkey Marketing. Carrie's previous episodes HERE
Kim and Brian Walker, Shop Marketing Pros, Auto Repair Marketing Podcast. Kim and Brian's previous episodes HERE
Tony Mercury, VP of Revenue, Autoshop Solutions. Tony's previous episodes HERE
Show Notes:
The importance of setting goals (00:03:21) The importance of setting specific, measurable, achievable, results-oriented, and timely goals for marketing strategies.
Cohesive marketing approach (00:04:17) The importance of having a web of marketing tactics that work together and support each other, rather than relying on a single tactic.
Support systems in marketing (00:06:16) The need for a shop to have strong support systems in place, such as skilled service advisors and technicians, in order to effectively handle the increased business generated by marketing efforts.
The importance of patience in marketing and sales (00:07:16) Discussion on the need for patience in marketing and sales, and the importance of having processes in place for effective hand-off from marketing to sales.
Improving reputation and community involvement (00:08:34) Exploration of strategies to improve reputation, including addressing internal issues, responding to negative reviews, and getting involved in the community.
Coaching and marketing for top tier shops (00:10:59) Discussion on the role of coaches for top tier shops, the need for marketing to support growth, and the benefits of attending trade shows and industry events.
The importance of retained earnings (00:15:38) Discussion on the financial aspects of running a business, including taxes, debt service, and retained earnings.
Setting ambitious growth goals (00:16:18) Encouragement to aim for higher revenue targets and invest more in marketing to achieve growth beyond $1 million.
Importance of marketing strategy (00:17:06) Exploration of the role of marketing in business growth, including hiring in-house marketing personnel or working with external marketing companies.
The importance of seeking advice from successful shop owners (00:24:17) Seeking advice and information from successful shop owners
Building a rock-solid foundation for marketing (00:25:13) The importance of having a strong foundation in place before competing with larger shops and suggests alternative marketing strategies for smaller shops with limited budgets.
Prioritizing retention marketing over acquisition marketing (00:27:43) The significance of focusing on retaining existing customers rather than solely acquiring new ones, and how providing exceptional customer service and personalized experiences can contribute to customer loyalty.
Reality is our friend (00:32:28) Discussion on the importance of accepting the reality of marketing and embracing it as a friend.
Creating memorable customer experiences (00:34:09) Importance of providing exceptional customer experiences to create loyalty and retention.
Investing in marketing for business growth (00:35:54) Exploration of the need to allocate a budget for marketing to achieve business growth goals.
Self-auditing (00:40:59) Understanding the effectiveness of past marketing efforts and seeking advice from other shop owners.
Creating a cohesive marketing message (00:42:04) Ensuring that all marketing materials, including ads and social media, align with the shop's brand and message.
Continuous marketing (00:46:57) Avoiding the mistake of stopping marketing efforts when the shop is busy and investing in infrastructure to handle the increased business.
Thanks to our Partners Shop-Ware and Delphi Technologies
Shop-Ware: More Time. More Profit. Shop-Ware Shop Management https://getshopware.com/
Delphi Technologies: Keeping current on the latest vehicle systems and how to repair them is a must for today's technicians. http://DelphiAftermarket.com
Connect with the Podcast
-Join our Insider List: https://remarkableresults.biz/insider
-All books mentioned on our podcasts: https://remarkableresults.biz/books
-Our Classroom page for personal or team learning: https://remarkableresults.biz/classroom
-Buy Me a Coffee: https://www.buymeacoffee.com/carm
-The Aftermarket Radio Network: https://aftermarketradionetwork.com
-Special episode collections: https://remarkableresults.biz/collections