Exploring the Changing Trends in Engine Oil: From Viscosity Grades to Fuel Efficiency [RR 867]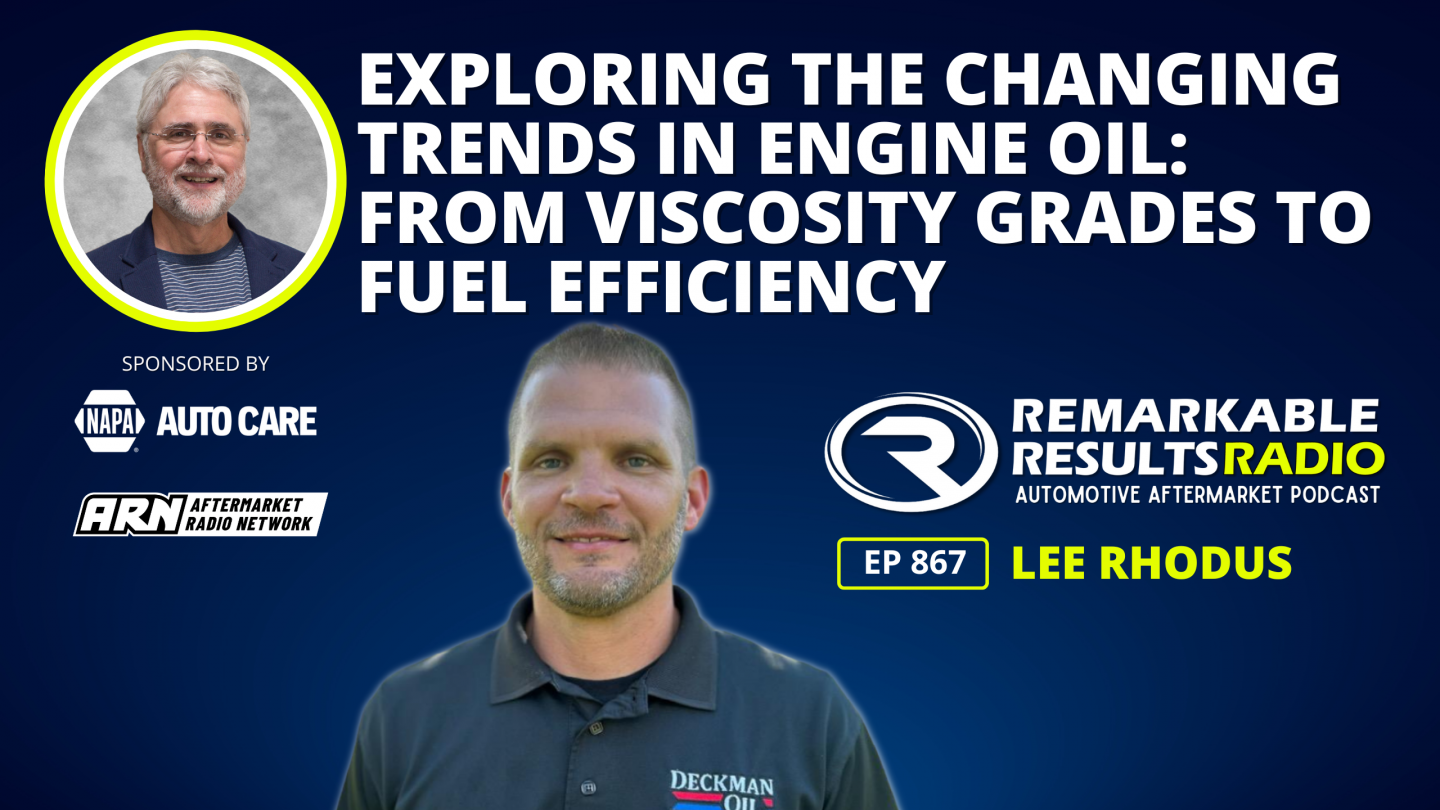 Host Carm Capriotto welcomes Lee Rhodus, Territory Sales Manager for Deckman Oil, to discuss the current state of the oil industry. They delve into the history of Deckman Oil, the importance of oil in various industries, and the different types of motor oil available. They also touch on engine oil viscosity grades, the advancements in additive technology, and the challenges faced by repair shop owners in managing different oil inventories.
Lee Rhodus, Territory Sales Manager, Deckman Oil.
Show Notes
The history of Deckman Oil (00:00:44) Lee Rhodus discusses the origins and history of Deckman Oil, a fuel distributor that started in 1924 and will be celebrating its 100-year anniversary next year.
The science behind synthetic oils (00:01:06) Carm and Lee talk about the creation of synthetic oils after World War II and the fascinating science behind them.
Different types of motor oil and their marketing (00:04:30) Lee explains the differences between synthetic blend, conventional, and full synthetic oils, and how they are marketed in the industry.
The rise of lighter grade oils (00:09:01) Discussion on the shift from 0W-20 to 0W-16 and the increasing popularity of lighter grade oils for fuel economy.
Additive packages and oil quality improvement (00:12:35) Exploration of the advancements in additive technology and the overall improvement in the quality of motor oil over the years.
Managing oil inventory in repair shops (00:15:25) The challenges faced by repair shop owners in managing the increasing variety of oil viscosity grades and the shift towards smaller packaging options.
The lithium supply issue (00:18:23) Discussion on the tight supply of lithium and its impact on the prices of oil and grease.
The use of calcium grease as an alternative (00:20:26) Exploration of calcium grease as a viable alternative to lithium grease due to its competitive pricing and water wash out protection.
Changes in API specifications for motor oil (00:24:39) Explanation of the updated API requirements for motor oil to meet the needs of modern engines, prevent issues like low speed pre-ignition, and ensure turbo and engine integrity.
Oil analysis for automotive fleets (00:27:51) Discussion on the limited use of oil analysis in automotive fleets due to conservative drain intervals.
Thanks to our Partner, NAPA AUTO CARE
Learn more about NAPA AUTO CARE and the benefits of being part of the NAPA family by visiting https://www.napaonline.com/en/auto-care
Connect with the Podcast:
-Join our Insider List: https://remarkableresults.biz/insider
-All books mentioned on our podcasts: https://remarkableresults.biz/books
-Our Classroom page for personal or team learning: https://remarkableresults.biz/classroom
-Buy Me a Coffee: https://www.buymeacoffee.com/carm
-The Aftermarket Radio Network: https://aftermarketradionetwork.com
-Special episode collections: https://remarkableresults.biz/collections