Speaking Greatness Into Your People [RR 889]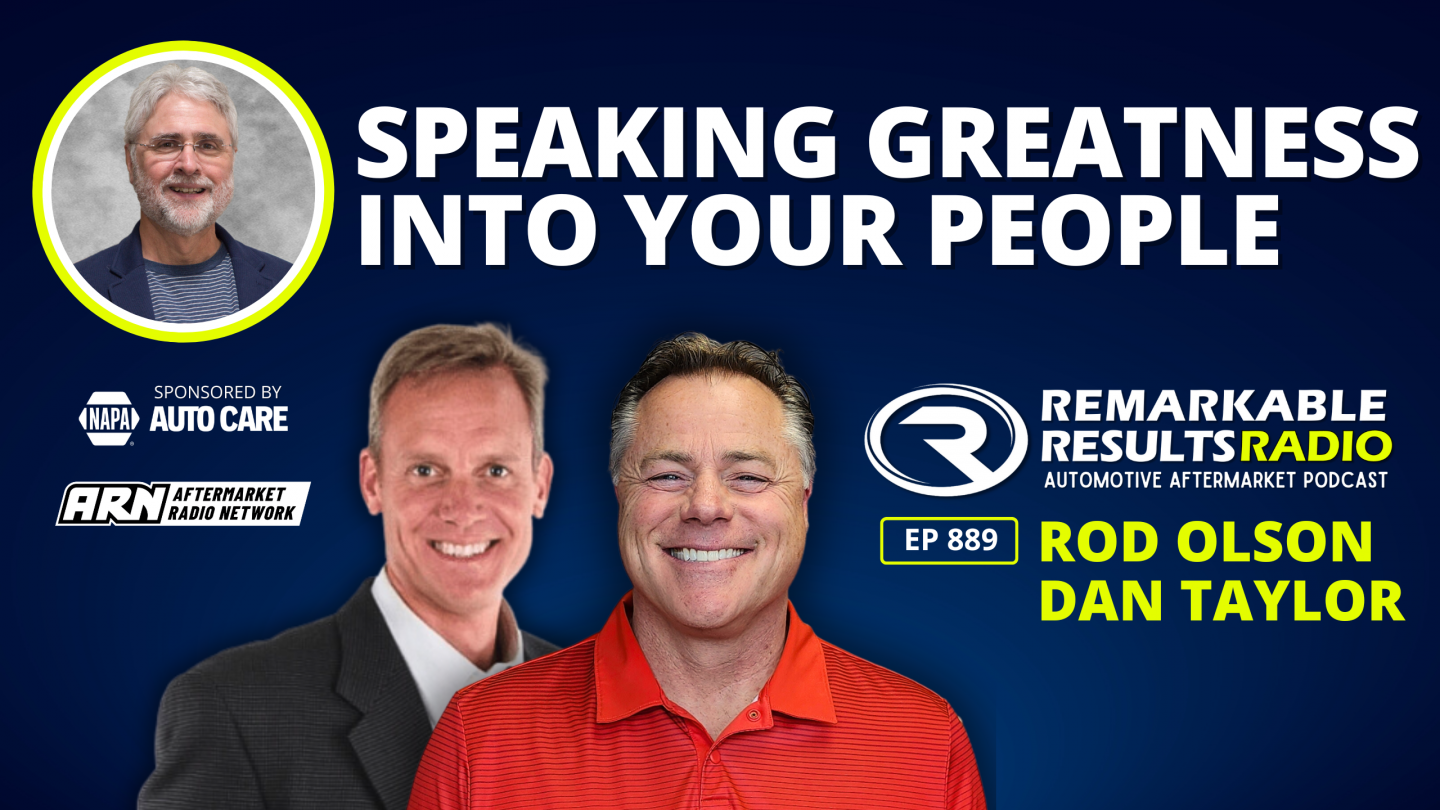 Dan Taylor and Rod Olson discuss leadership principles and creating a culture of recognition in the automotive industry. They emphasize the importance of recognizing and affirming people in the workplace, being sincere and specific in recognition, and creating a psychologically safe environment. They also discuss the impact of positive language, effective communication, and the role of coaches and leaders in helping individuals and teams reach their full potential. Remember, as leaders, our words have the power to inspire, motivate, and shape the culture of our organizations. Let's use them wisely!
Rod Olson is a coach known for his ability to help high-performing leaders see things others don't see and find their 'sweet spot' as they lead and motivate others in the 21st century. He is the founder of the Coaches of Excellence Institute and the Coach O Consulting Group. Rod is also the author of three highly acclaimed leadership fables: The Legacy Builder, Wisdom Lunch Warrior and Greatest Motivational Tool.
After nearly 20 years as a college football coach, Rod has spent the last decade-plus, working with elite teams and organizations while teaching, coaching, and mentoring some of our country's top coaches and leaders. He is a nationally recognized speaker and leadership consultant specializing in high-level leadership coaching and culture development.
Rod has clients in the corporate sector, professional and collegiate sports, and our United States military special forces. Rod is a husband, father, and coach. If you want more information on Rod, how to purchase his books, executive coaching & team consulting, or have him speak to your leaders, he can be reached at coaches@coachesofexcellence.com or CoachOConsulting.org, or message him on Twitter https://twitter.com/CoachRodOlson
Dan Taylor, Senior Business Advisor, Transformers Institute. Dan's previous episodes HERE
Show Notes
Creating a Culture of Recognition (00:02:17) Discussion on the importance of recognizing and affirming employees in the workplace.
The Importance of Specificity in Recognition (00:03:09) Exploration of the impact of being sincere and specific when recognizing someone's achievements.
Using Different Recognition Styles (00:07:57) The significance of understanding individuals' love languages and using a variety of recognition styles to motivate and engage them.
Expanding vocabulary and raising leadership level (00:12:40) Exploration of the negative implications of limited vocabulary and the need for leaders to improve their language skills.
Destroying complacency without destroying confidence (00:15:30) The challenge of motivating employees to reach higher levels of performance without undermining their self-confidence.
The importance of language and feedback (00:16:25) The speaker discusses the impact of language and feedback in coaching and leadership, emphasizing the use of positive language and avoiding negative words like "don't."
Self-awareness and situational awareness in leadership (00:22:00) The need for leaders to have self-awareness and situational awareness, including knowing their own emotional state before giving feedback or critique.
Leadership Principles and Critiquing (00:24:36) Discussion on the importance of critiquing as a leader and the need to balance encouragement and challenge.
Recognizing Peers and Building a Culture (00:25:08) Exploration of how leaders can encourage peers to recognize each other and create a culture of recognition.
Speaking Greatness and Coaching (00:29:27) The significance of speaking greatness into people, projecting their potential, and coaching them towards their future success.
Teachable moments and timing (00:32:55) The importance of looking for teachable moments and having good timing when teaching and providing feedback.
Speaking greatness and changing culture (00:38:02) The effects of speaking greatness on changing and maturing the culture within an organization or family.
Feeling better as a leader (00:39:37) The positive impact of speaking greatness on a leader's inner joy, value, and sense of relevance.
The importance of mentoring and building a legacy (00:40:03) The speaker emphasizes the importance of leaders mentoring their employees and building a legacy for the future.
Creating a culture of recognition (00:40:38) The benefits of recruiting and hiring individuals who have grown up in a shop and know how to act, emphasizing the importance of creating a culture of recognition.
Becoming an encourager and practicing self-awareness (00:41:03) How managers and leaders can celebrate the success of their employees, emphasizing the importance of self-awareness and practicing encouragement rather than criticism.
Free Tip of the Day (00:48:07) Rod Olson encourages listeners to follow him on Twitter for a free tip of the day. https://twitter.com/CoachRodOlson
Thanks to our Partner, NAPA Auto Care
Learn more about NAPA Auto Care and the benefits of being part of the NAPA family by visiting https://www.napaonline.com/en/auto-care
Connect with the Podcast:
-Join our Insider List: https://remarkableresults.biz/insider
-All books mentioned on our podcasts: https://remarkableresults.biz/books
-Our Classroom page for personal or team learning: https://remarkableresults.biz/classroom
-Buy Me a Coffee: https://www.buymeacoffee.com/carm
-The Aftermarket Radio Network: https://aftermarketradionetwork.com
-Special episode collections: https://remarkableresults.biz/collections