Life Calibration: From Burnout to Balance [THA 348]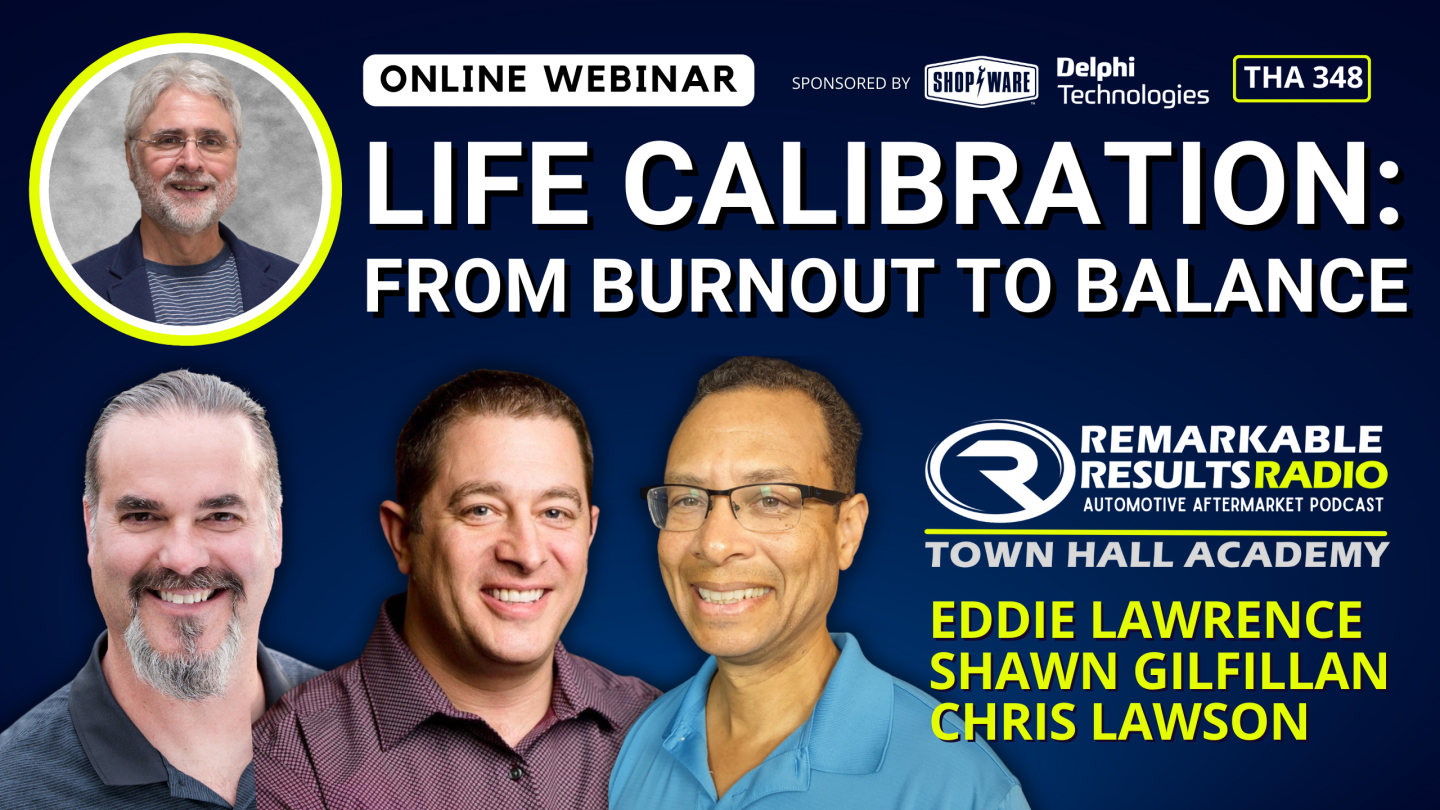 Our panel explores the challenges of achieving work-life balance and how it affects busy professionals and entrepreneurs. The key takeaway was the importance of operating with the mindset of wanting employees' lives to work both inside and outside of the shop. Eddie Lawrence shared his personal story of experiencing a health crisis in 2015, which served as a wake-up call for him. As a business owner, he had been prioritizing his work over his own well-being. This realization led him to create 'Life Calibration,' a framework to help individuals prioritize and improve different areas of their lives, not just for themselves but also for their teams.
Eddie Lawrence, President of Mobile Transport Repair, Colorado Spring, CO.
Chris Lawson, TechnicianFind.Com. Chris' previous episodes HERE
Shawn Gilfillan, Automotive Magic, Kenvil and Lake Hopatcong, NJ. Shawn's previous episodes HERE
Show Notes:
Life Calibration: https://www.lifecalibration.com
The wake-up call (00:04:29) Eddie shares his personal wake-up call after neglecting his own health as a business owner.
The life calibration system (00:06:22) Eddie discusses the Life Calibration system he created to prioritize and improve different areas of life.
The importance of personal growth (00:07:50) The importance of personal growth for business owners and how it affects the growth of their businesses.
Introduction to the Life Calibration program (00:09:35) Explanation of the life calibration program, including the self-diagnostic test, the gears tool, and the workbook for setting baselines and goals.
Positive impact of the life calibration program on team members (00:14:41) Testimonials from shop owners about the positive impact of the life calibration program on their team members, including improved work-life balance and personal growth.
The importance of personal goals in improving employee morale (00:17:19) Discussion on how shops that incorporate personal goals into their quarterly meetings have better employee morale.
The significance of life in the workplace (00:18:00) Exploration of how many shop owners feel like something is missing in their workplace, and the importance of incorporating life into the workplace culture.
The role of accountability and support in life calibration (00:20:55) Explanation of the coaching program within life calibration, including the accountability and support provided through online membership and regular calls.
The technician's success story (00:26:19) Technician's success stories of buying a house and improving their career and life through support from the shop.
Improving lives through personal goals (00:27:16) Stories of employees pursuing personal goals like kickboxing and overcoming PTSD through support from the shop.
Shop owner's role in implementing life calibration (00:29:16) The shop owner's role in starting the journey of self-improvement and bringing life calibration to their employees for better culture and retention.
Life calibration and team building (00:34:12) Discussion on the different ways to conduct team building exercises, including Zoom calls and in-person meetings.
Personal experiences with life calibration (00:36:14) Eddie shares his life-changing experience in 2015 and the compulsion to do something more to help people.
Thanks to our Partners Shop-Ware and Delphi Technologies
Shop-Ware: More Time. More Profit. Shop-Ware Shop Management https://getshopware.com/
Delphi Technologies: Keeping current on the latest vehicle systems and how to repair them is a must for today's technicians. http://DelphiAftermarket.com
Connect with the Podcast
-Join our Insider List: https://remarkableresults.biz/insider
-All books mentioned on our podcasts: https://remarkableresults.biz/books
-Our Classroom page for personal or team learning: https://remarkableresults.biz/classroom
-Buy Me a Coffee: https://www.buymeacoffee.com/carm
-The Aftermarket Radio Network: https://aftermarketradionetwork.com
-Special episode collections: https://remarkableresults.biz/collections