Employee Fraud: Tips to Prevent Fraud and Profit Leaks [RR 890]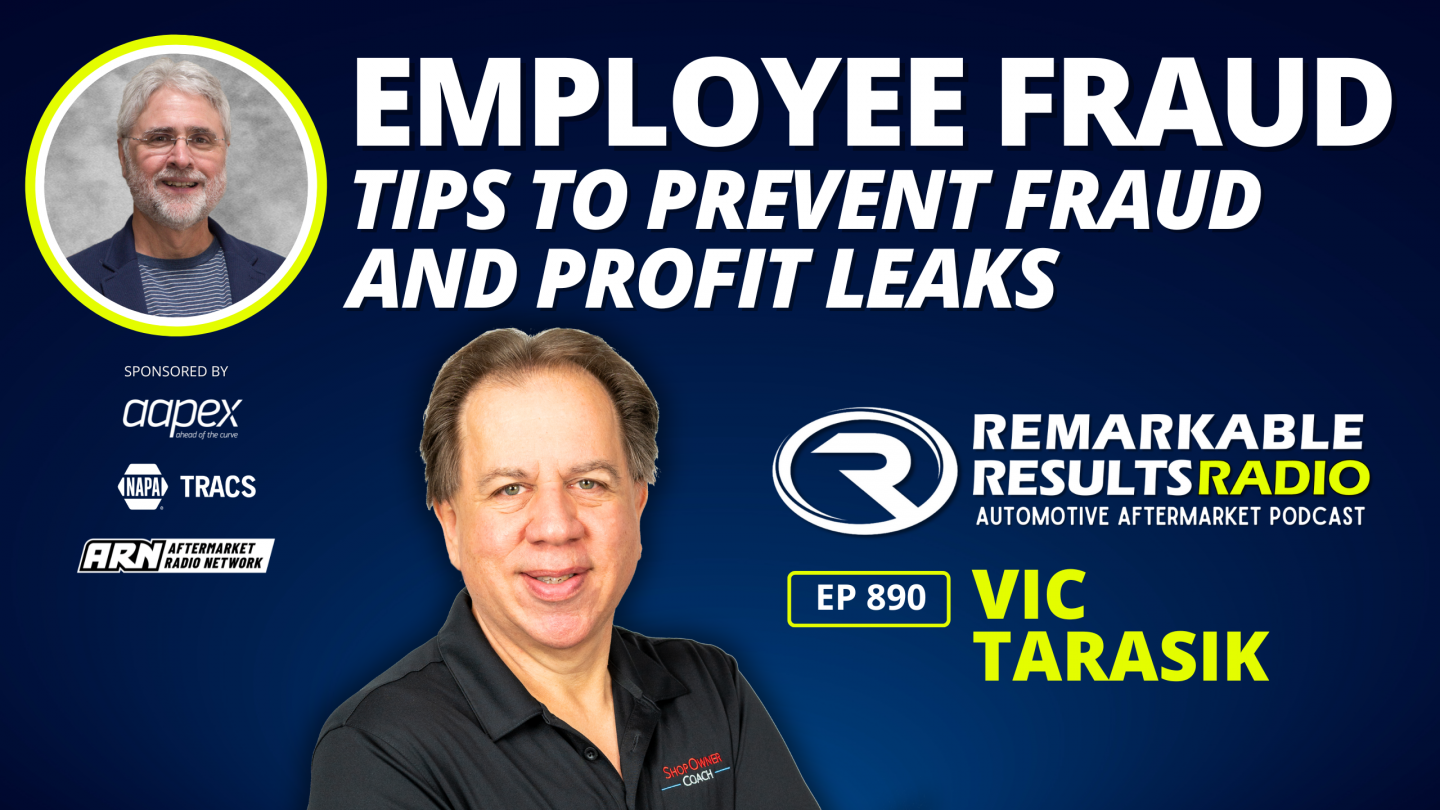 Vic Tarasik is eager to share his insights and personal experiences with fraud, a subject that's not always pleasant but is crucial to address. As Ronald Reagan famously said, "Trust but verify." Trust is vital in business relationships, but so is verification. Vic highlights the need for proper documentation, procedures, systems in place to prevent fraud, cash management and the potential for fraud in parts purchases. He advises shop owners not to assume they are immune to fraud.
Vic Tarasik, CEO of Shop Owner Coach. Vic's previous episodes HERE.
Show Notes
The importance of trust and verification (00:01:49) Discussion on the importance of trust but verify in business relationships and the need for systems to keep people accountable.
Personal experience with fraud in shop ownership (00:02:47) Vic shares his personal experience with fraud in his first four years of shop ownership and the consequences of not having verification systems in place.
Managing cash and verifying deposits (00:06:14) The importance of managing cash, verifying bank deposits, and the responsibility of shop owners to ensure every dime and penny is accounted for.
Fraud by an employee (00:09:34) Vic reveals how one of his employees committed fraud by zeroing out an invoice and pocketing the money, highlighting the need for trust and verification in business.
Importance of consequences (00:16:34) Carm and Vic discuss the importance of having serious consequences, such as jail time or termination, for employees who commit fraud or theft in a company.
The importance of trust and verification (00:17:46) Discussion on the need for employees to sign documents and the importance of trust and verification in business.
The need for a restitution or fraud clause (00:18:31) Importance of having a restitution or fraud clause in the hiring package and the need to act on it if fraud occurs.
The importance of purchase orders (00:26:36) The value of implementing a system that requires purchase orders for all sales transactions to ensure accountability.
Returning unopened rolls of stamps (00:28:01) The story of a young employee who stole unopened rolls of stamps from the shop and how the lack of systems and accountability contributed to the situation.
The importance of controlling losses (00:34:55) Discussion on how shop owners can control losses and the impact of not doing so.
Taking action to prevent fraud (00:36:20) Encouragement to take proactive measures to prevent fraud and the importance of discussing the topic openly.
Thanks to our Partners, AAPEX and NAPA TRACS
Set your sights on Las Vegas in 2023. Mark your calendar now … October 31 – Nov 2, 2023, AAPEX – Now more than ever. And don't miss the next free AAPEX webinar. Register now at http://AAPEXSHOW.COM/WEBINAR
NAPA TRACS will move your shop into the SMS fast lane with onsite training and six days a week of support and local representation. Find NAPA TRACS on the Web at http://napatracs.com/
Connect with the Podcast:
-Join our Insider List: https://remarkableresults.biz/insider
-All books mentioned on our podcasts: https://remarkableresults.biz/books
-Our Classroom page for personal or team learning: https://remarkableresults.biz/classroom
-Buy Me a Coffee: https://www.buymeacoffee.com/carm
-The Aftermarket Radio Network: https://aftermarketradionetwork.com
-Special episode collections: https://remarkableresults.biz/collections