Search results for: "vic tarasik"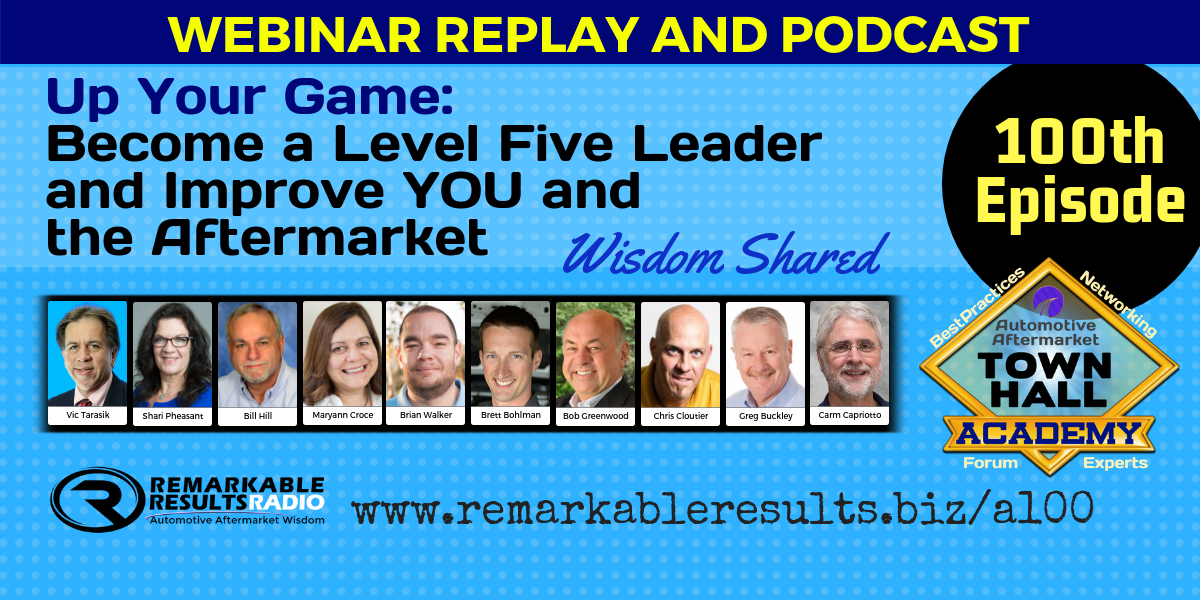 Up Your Game: Become a Level Five Leader and Improve You and the Aftermarket
Think of this podcast like 9 five minute Ted Talks. Here are the topics covered, Listening, Resilience, Learn to be a CEO, Perseverance, Invest in your Staff, Delegate and Get Out of the Way, Be Your Word, Have High Expectations of your Team and Train Within.
My guests each chose their topic and were given five minutes to present a succinct narrative for you.
Vic Tarasik, Major Accounts Director with RLO Training, Maryann Croce of Croce Transmissions in Norwalk, CT and smallbizvantage.com, Bob Greenwood, AMAM, is President and CEO of Automotive Aftermarket E-Learning Centre, Greg Buckley is the CEO Buckley's Personalized Auto Care in Wilmington, DE, Shari Pheasant and her husband Jeff own A Master Mechanic, and she is known as the Queen of Horsepower, Chris Cloutier is co-owner of Golden Rule Auto Care and CEO of AutoText ME, Brian Walker is the founder and CEO of 5 Stones Media, a marketing agency and former shop owner, Bill Hill owner of Mighty Auto Pro from Medina, OH and Brett Bohlmann of HWY 7 Service Center, Newel, IA
Listen and view episode notes