THA 145: The Extreme Value of Shop Tours Part 2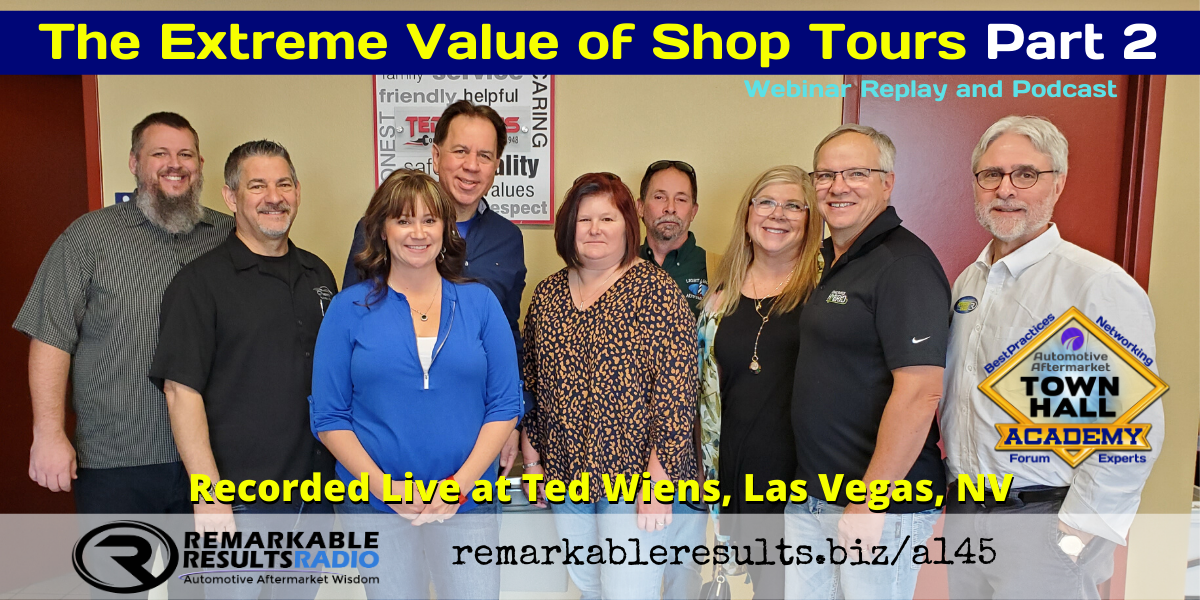 In the photo, left to right: John Long, Frank Scandura, Jennifer Wiens, Vic Tarasik, Jeannie and David Light, Jammie and Eric Carlson, Carm Capriotto
You'll learn the value of shop tours from this Remarkable Panel:
Our host, Jennifer Wien, Ted Wiens Tire and Auto, Host, Las Vegas, NV
John Long, Shertz Automotive, Shertz, TX
David and Jeannie Light
Eric and Jammie Carlson, Ervine's Auto Repair and Grand Rapids Hybrid
Frank Scandura, Franks European, Las Vegas. 
Vic Tarasik, Shop Owner and Coach. Vic's Previous Episodes HERE.
Key Talking Points
Take care of our business so we can take care of you
We are too close to see what is wrong or out of place or even not working
R & D does not mean Research and Development it means RIP-OFF AND DUPLICATE

Some of your best ideas will come from peers. Make them your own and design them to fit your world

Best way to participate in shop tour is via a twenty-group
Shop tours can provide you good constructive criticism that great opportunities for change
Some shop tours will have you interview their people to gain knowledge for the owner who is hosting the tour
When you do a tour you can provide
Jennifer Wiens discovered, on a shop tour, a baby changing table. She implemented.
When you travel consider calling ahead and asking a shop owner if you could stop by and get a shop tour
John Long has had 30 shop owners at his shop this year so far
Learn from the observations of ideas of others
Top three strategies to improve your company

Coaching
Twenty-Group (networking group)
Shop Tours

Components of Shop Tours an Excellent Peer Review

Repair Order Review/Audit
Employee Interviews

Amazing discovery for the shop owner
The premise is to make the company better
The owner picks the people in advance and tells them we are looking for way to improve the company. A casual talk. Some people do not want to talk to their bosses
Ask about expectations, if they like working there, know about the process, do you have the opportunity in the company, what things would you change

Work Flow (shop)
Curb Appeal
Show Room
Vehicle Re-Inspection

Bring your power of observation to every shop tour
An outcome of doing shop tours can be the improvement of your facility by learning from others. It can be remodeling, process improvement, additional bays, different software and marketing ideas to grow the business

Invest in your appearance
Resources:
A special thanks to Jennifer Wien, John Long, Frank Scandura, Vic Tarasik, David and Jeanie Light, and Eric and Jammie Carlson for their contribution to the aftermarket.
Shop Tours Part One HERE.
Books Page HERE
Leave me an honest review on iTunes. Your ratings and reviews really help and I read each one of them.
Facebook   Twitter   Linked In   Email
Subscribe to a mobile listening app HERE.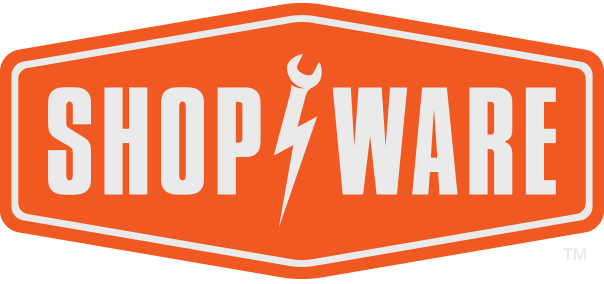 This episode is brought to you by Shop-Ware Shop Management. It's time to run your business at its fullest potential with the industry's leading technology. Shop-Ware Shop Management will increase your efficiency with lightning-fast workflows, help your staff capture more sales every day, and create very happy customers who promote your business. Shops running Shop-Ware have More Time and generate More Profit—join them! Schedule a free live demonstration and find out how 30 minutes can transform your shop at shop-ware.com

This episode is brought to you by Jasper Engines & Transmissions. When a car's engine or transmission fails, it's not the end of the road. A re-manufactured drive-train product from Jasper Engines & Transmissions will give your car a new lease on life. JASPER has over 2000 Associates, three manufacturing facilities, two distribution centers, and 45 branch offices across the country. They're all working to produce, transport and deliver the perfect product. That's what they do best… keep customers happy. Visit jasperengines.com