Why Dressing Professionally Matters in the Shop and Beyond [THA 324]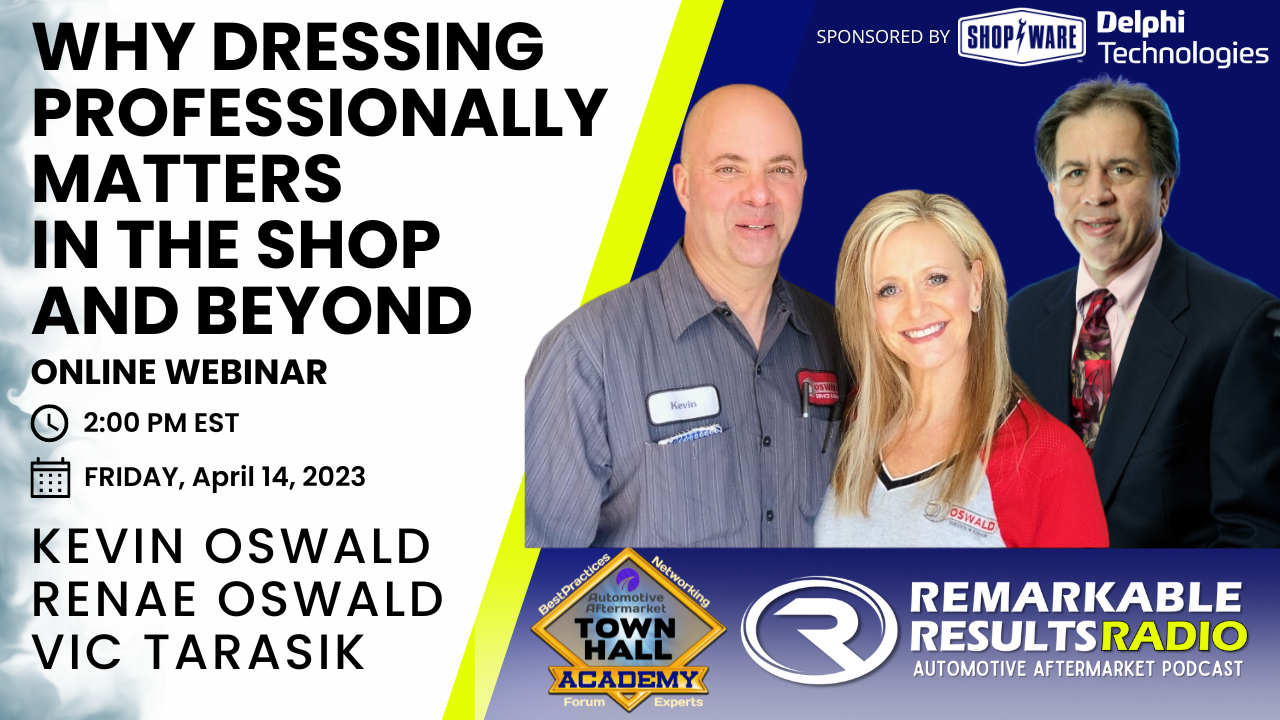 As a customer, have you ever walked into a business and been put off by the unkempt appearance of the employees or the disarray of the business? If so, you're not alone. Join our panel as they discuss the importance of professionalism in the automotive industry and how it can impact customer trust, employee morale, and overall success. We should expect nothing less than a professional appearance and attitude from those in the automotive industry, and we should continue to project that image to the public.
Kevin and Renae Oswald, Oswald's Service, Idaho Falls and Rexburg, Idaho.
Vic Tarasik, CEO of Shop Owner Coach. Vic's previous episodes HERE.
Show Notes:
Watch Video Episode HERE
(00:03:19) The panel discusses the importance of dressing professionally in the automotive industry, both at conferences and in the shop, and the impact of a professional image on customers and the public in terms of the Importance of Professional Image.
(00:05:07) Kevin Oswald talks about having all employees in uniform, including technicians, service advisors, and managers, and the importance of maintaining a professional look
(00:00:01) Carm Capriotto introduces the topic of dressing for success and the importance of representing your brand professionally, both at conferences and in the public eye
(00:09:21) The panel talks about the importance of dressing professionally to be treated professionally and the impact of a professional appearance on customers i
(00:11:28) The panel discusses how a professional appearance impacts customer perception of the quality of work and the importance of having a professional-looking shop to attract customers in Customer Perception.
(00:19:28) The benefits of participating in networking groups outside of the automotive industry
(00:21:40) The importance of having a dress code policy and maintaining a professional appearance, including facial hair.
(00:29:05) The importance of dressing for success by creating a brand through uniforms
(00:39:05) Renae Oswald encourages more women to be involved in the industry and to give their perspective, especially as consumers and owners
Thanks to our Partners Shop-Ware and Delphi Technologies
Shop-Ware: More Time. More Profit. Shop-Ware Shop Management getshopware.com
Delphi Technologies: Keeping current on the latest vehicle systems and how to repair them is a must for today's technicians. DelphiAftermarket.com
Connect with the Podcast
-Join our Insider List: https://remarkableresults.biz/insider
-All books mentioned on our podcasts: https://remarkableresults.biz/books
-Our Classroom page for personal or team learning: https://remarkableresults.biz/classroom
-Buy Me a Coffee: https://www.buymeacoffee.com/carm
-The Aftermarket Radio Network: https://aftermarketradionetwork.com
-Special episode collections: https://remarkableresults.biz/collections