Are You Really Overbooked? [THA 339]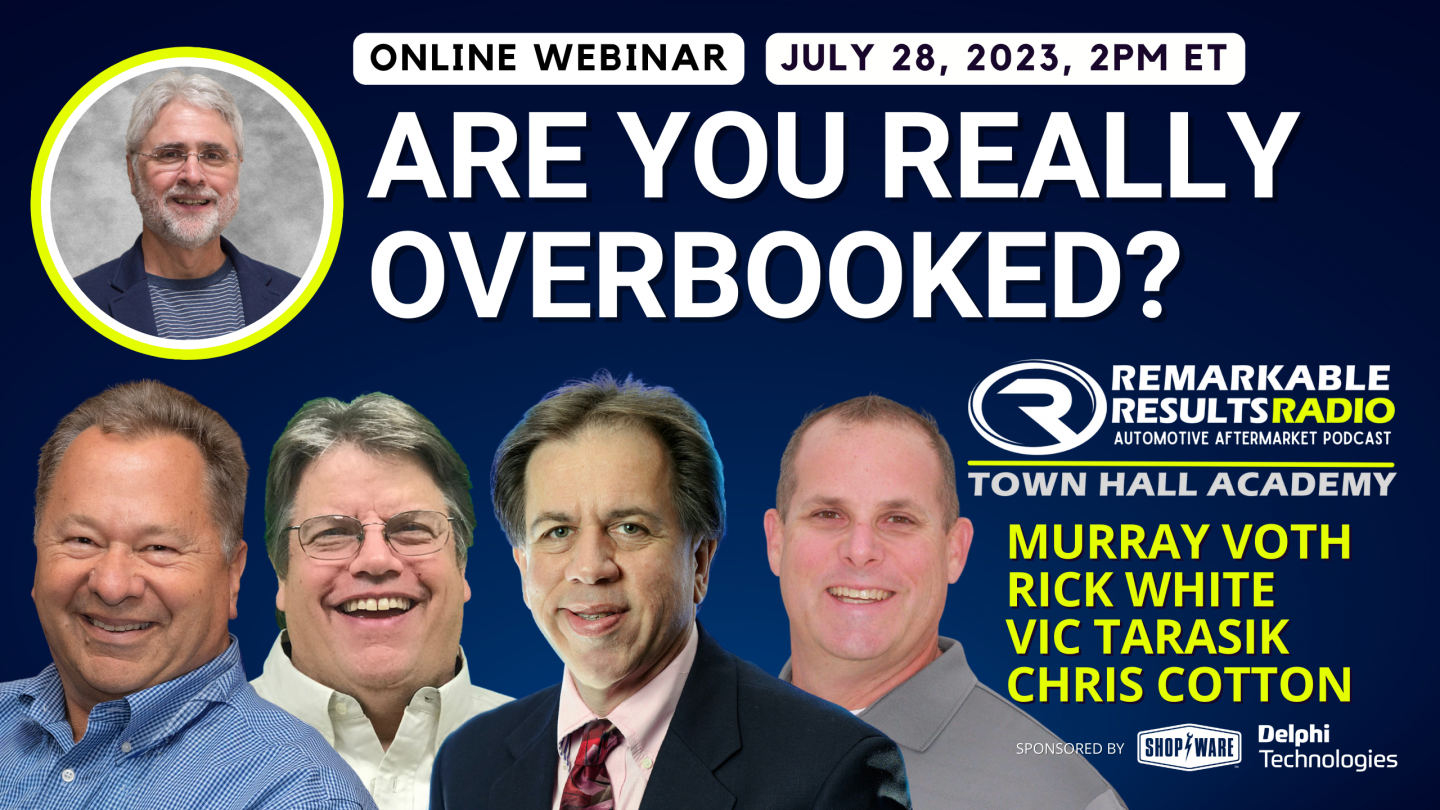 Being overbooked doesn't necessarily equate to higher productivity or profitability. In this episode, our panel discusses the challenges and impact of being overbooked in the automotive repair industry. They emphasize the importance of understanding productivity numbers, managing customer expectations, avoiding burnout for the team, optimizing scheduling, and utilizing technicians' strengths. Think twice before you boast about being overbooked!
Murray Voth, RPM Training. Listen to Murray's previous episodes HERE
Rick White, President and Lead Coach for 180BIZ, Listen to Rick's previous episodes HERE.
Vic Tarasik, CEO of Shop Owner Coach. Vic's previous episodes HERE.
Chris Cotton, AutoFix Auto Shop Coaching, Chris Cotton Weekly Blitz Podcast. Listen to Chris' previous episodes HERE
Show Notes:
Understanding Overbooking (00:00:01) Discussion on the meaning of being overbooked and the importance of understanding productivity numbers.
Avoiding Burnout for the Team (00:01:08) Exploration of the impact of being overbooked on the team and strategies to avoid burnout.
Charging for Inspections (00:05:22) Highlighting the importance of charging for inspections and not undervaluing the work done.
Customer Expectations and Scheduling (00:09:24) Discussion on the difference between shop expectations and customer expectations regarding scheduling and timelines.
Under Promising and Over Delivering (00:12:09) Setting realistic timelines and managing customer expectations to avoid overpromising and underdelivering.
The need to close open tickets and manage invoices (00:19:06) Encouragement to close open tickets and start new ones to avoid losing money and track customer follow-through.
Shortening the timeline through effective dispatch (00:21:47) Suggestion to improve dispatch processes to maximize assets and shorten the timeline for completing jobs.
The importance of understanding productivity numbers (00:21:54) Discussion on the need to focus on productivity rather than just increasing the number of cars in the shop.
Managing customer expectations and avoiding burnout (00:22:40) The importance of having a comfortable booking schedule and avoiding sudden drops in workload.
Dispatching and scheduling to strengths (00:26:46) Discussion on the need to assign jobs to technicians based on their strengths and expertise to maximize efficiency and productivity.
The importance of managing stops and starts (00:30:25) Discussion on how interruptions in a technician's work can decrease productivity and the need for proper management of technician schedules.
Facility utilization and bay management (00:31:39) The impact of adding more bays to a shop and the importance of considering facility utilization when expanding.
Moving away from standalone oil changes (00:34:51) The benefits of booking cars for comprehensive services instead of just oil changes, and the need for better training for general service technicians.
The importance of proactive inspections (00:37:39) The benefits of conducting thorough inspections and identifying potential work to be done during a customer's visit.
Managing customer expectations (00:39:20) Exploring the concept of honoring the customer's time and offering them the option to have additional work done while their vehicle is in the shop.
Taking control and guiding the customer (00:40:14) Emphasizing the need for shop owners to guide customers through the repair process and not assume they have the same knowledge, in order to provide better service and avoid potential issues in the future.
The ethical and moral standards in auto repair (00:45:12) The ethical dilemma faced by shop owners in balancing customer service and avoiding unnecessary repairs.
Thanks to our Partners Shop-Ware and Delphi Technologies
Shop-Ware: More Time. More Profit. Shop-Ware Shop Management https://getshopware.com/
Delphi Technologies: Keeping current on the latest vehicle systems and how to repair them is a must for today's technicians. http://DelphiAftermarket.com
Connect with the Podcast
-Join our Insider List: https://remarkableresults.biz/insider
-All books mentioned on our podcasts: https://remarkableresults.biz/books
-Our Classroom page for personal or team learning: https://remarkableresults.biz/classroom
-Buy Me a Coffee: https://www.buymeacoffee.com/carm
-The Aftermarket Radio Network: https://aftermarketradionetwork.com
-Special episode collections: https://remarkableresults.biz/collections