From Mom and Pop to Multi Shop Owners [RR 671]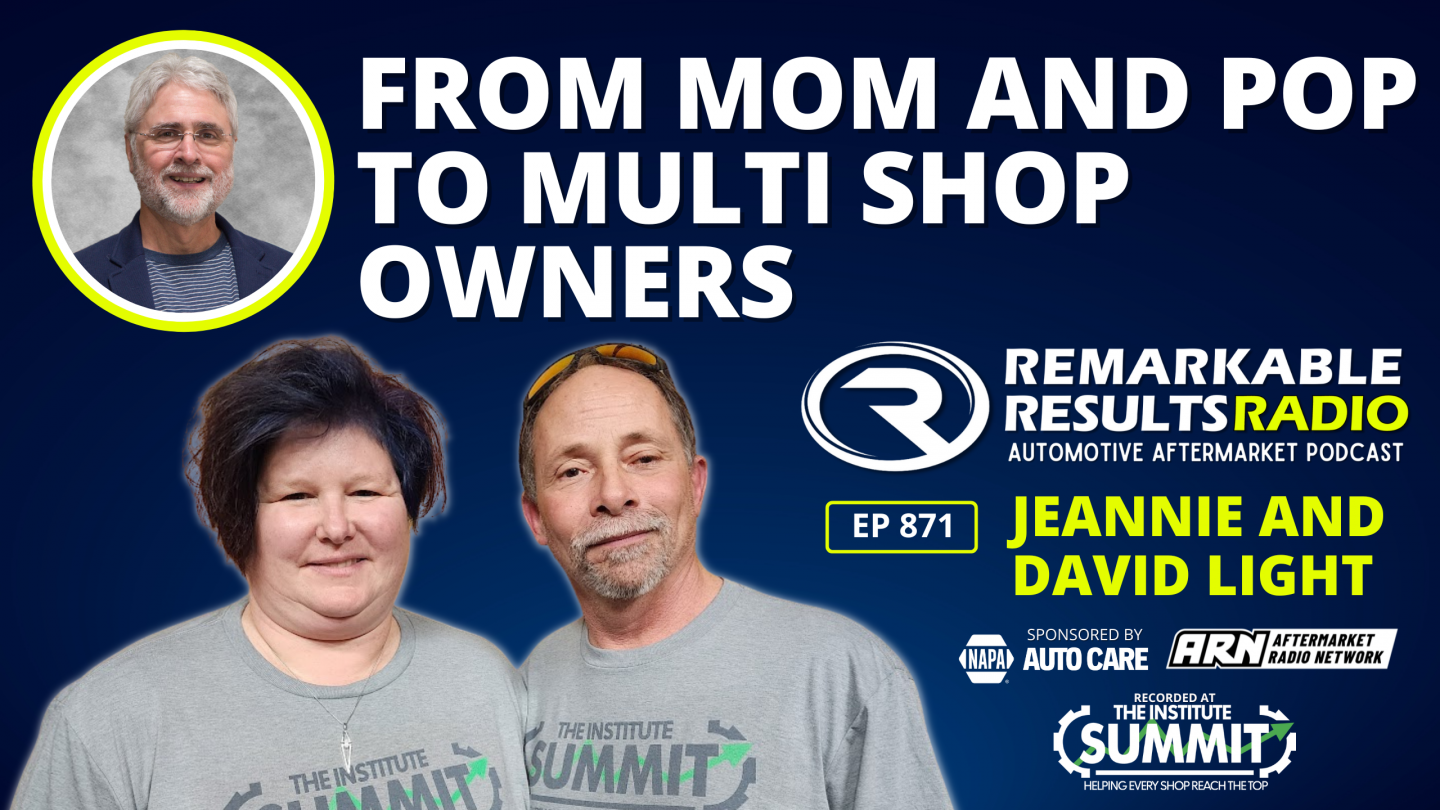 Recorded Live at the 2023 Institute Summit in St Petersburg, Florida, Jeannie and David Light, the dynamic duo behind Lighthouse Auto Repair in Manteo, North Carolina, discuss their business, challenges they face, and their recent expansion to a second shop. They also share their experience with joining a coaching program. The coaching program had a significant impact on their sales, with their revenue nearly doubling in the year after joining. Find out how they transitioned from a 'mom and pop' shop to successful multi shop owners.
Jeannie and David Light, Lighthouse Auto Repair, Manteo, NC. Jeannie and David's previous episode HERE
Show Notes
The husband and wife relationship (00:03:27) Discussion about the dynamics of working together as a married couple and the trust that comes with it.
Opening a second shop (00:03:37) The process of opening a second shop and the challenges they faced, including finding technicians and affordable housing.
The parking lot renovation (00:08:14) The Lights want to redo their parking lot to improve its condition and complete the look of their shop.
Hiring a specialist for Euro cars (00:08:39) They are excited about hiring a new technician who specializes in Euro cars to alleviate their workload.
Considering expansion to the beach (00:12:25) The Lights express interest in moving their business to the beach area, as they see it as a potential market to approach.
The benefits of joining a coaching program (00:16:56) Discussion about the decision to join a coaching program and the positive impact it had on their business.
The importance of coaching and continuous learning (00:19:09) Emphasizes the value of having a coach and the impact it had on their business, as well as the importance of ongoing training and education.
The superpower of being level (00:25:51) Discussion about how David Light is known for being level-headed and steady in his approach, even in challenging situations.
The superpower of numbers (00:26:31) Jeanie Light's superpower is her ability to analyze and understand numbers, which is valuable in running the business.
The recharge of attending conferences (00:27:58) The Lights discuss how attending conferences like the Institute Summit helps them recharge, gain perspective, and tackle new projects.
Thanks to our Partner, NAPA AUTO CARE
Learn more about NAPA AUTO CARE and the benefits of being part of the NAPA family by visiting https://www.napaonline.com/en/auto-care
Connect with the Podcast:
-Join our Insider List: https://remarkableresults.biz/insider
-All books mentioned on our podcasts: https://remarkableresults.biz/books
-Our Classroom page for personal or team learning: https://remarkableresults.biz/classroom
-Buy Me a Coffee: https://www.buymeacoffee.com/carm
-The Aftermarket Radio Network: https://aftermarketradionetwork.com
-Special episode collections: https://remarkableresults.biz/collections