Why is Mission Strategy Crucial in the Automotive Industry? [RR 872]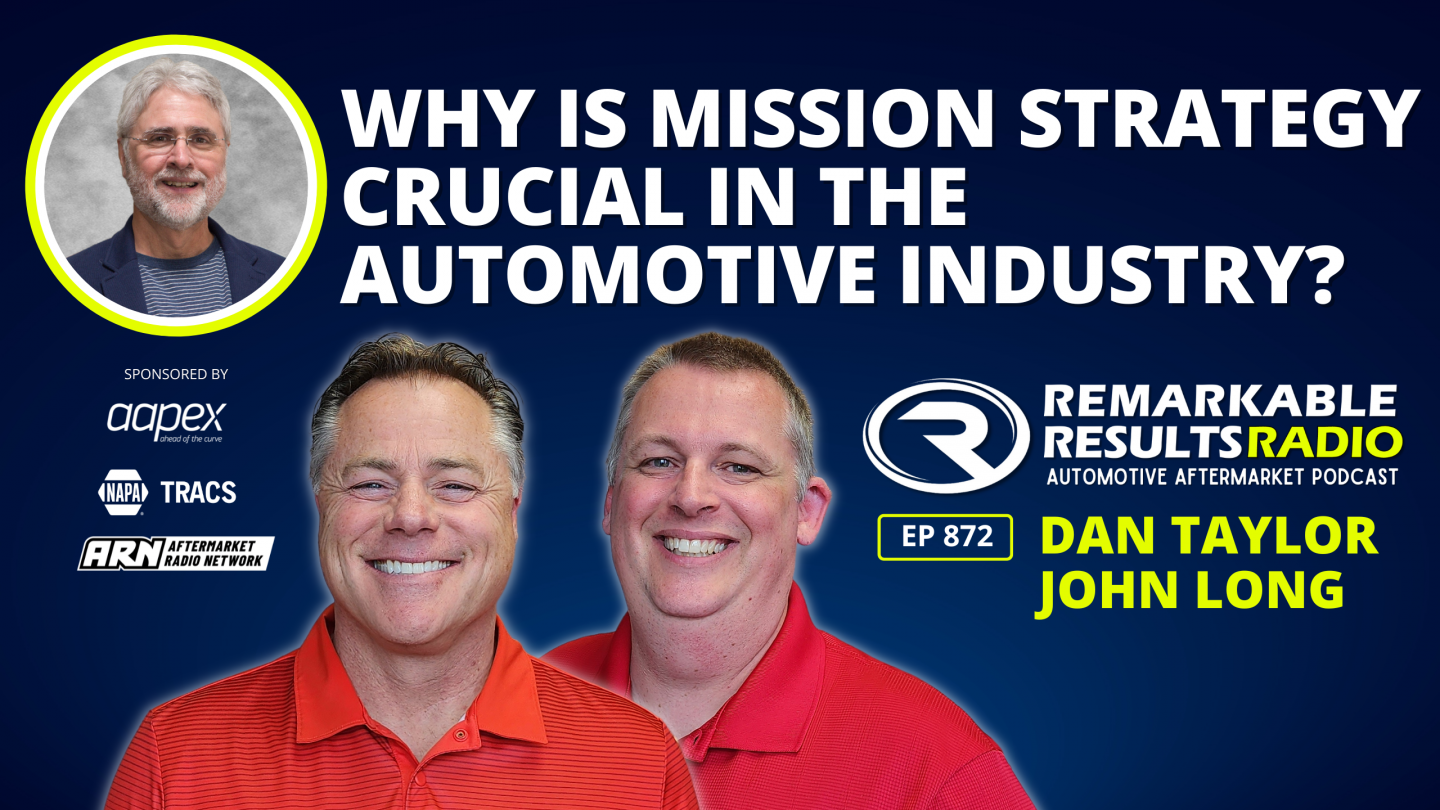 "Do our technicians, when they close the hood, take the rag, you know, they rub the hood, make sure there's no fingerprints? Do they really think about the role that they had in that customer's life? Most of them don't."
Dan Taylor shares a personal experience where his technician played a crucial role in getting his wife to the hospital in a life-threatening situation. This incident made Dan realize the importance of our mission in ensuring the safety and reliability of vehicles. What is the 'why' behind someone's work and why is that important?
Show Notes
The mission concept (00:01:53) The concept of mission and how it can be applied to the automotive industry, using examples from the construction industry.
The importance of knowing the mission (00:02:53) The importance of every team member knowing the mission and how it goes beyond the individual tasks they perform.
The role of automotive professionals (00:05:23) The passion and professionalism of automotive professionals and the impact they have on people's lives, guiding them through important moments.
The role of repetition in training (00:13:16) The significance of repetition in training and the need for constant reinforcement to ensure understanding and retention.
Mission accomplished never done (00:15:48) The concept of "mission accomplished never done" as a reminder to continuously strive for improvement and growth in leadership and training.
The importance of defining a win (00:18:02) Discussion on the need for organizations to define what winning looks like and the challenges of setting unattainable goals.
The impact of tough conversations (00:20:14) Exploration of the aftermath of a difficult conversation with a team member and how it led to improved performance.
The positive outcomes of peer reviews (00:22:40) Insights into the significant changes and improvements seen in businesses after undergoing peer reviews, with a focus on weaknesses and opportunities for growth.
Workflow Management (00:25:19) Discussion on the importance of workflow management in the automotive industry and its continuous improvement.
Thanks to our Partners, AAPEX and NAPA TRACS.
Set your sights on Las Vegas in 2023. Mark your calendar now … October 31 – Nov 2, 2023, AAPEX – Now more than ever. And don't miss the next free AAPEX webinar. Register now at http://AAPEXSHOW.COM/WEBINAR
NAPA TRACS will move your shop into the SMS fast lane with onsite training and six days a week of support and local representation. Find NAPA TRACS on the Web at http://napatracs.com/
Connect with the Podcast:
-Join our Insider List: https://remarkableresults.biz/insider
-All books mentioned on our podcasts: https://remarkableresults.biz/books
-Our Classroom page for personal or team learning: https://remarkableresults.biz/classroom
-Buy Me a Coffee: https://www.buymeacoffee.com/carm
-The Aftermarket Radio Network: https://aftermarketradionetwork.com
-Special episode collections: https://remarkableresults.biz/collections