From Idea to Product: Dorman's Process of Developing Products [AW 178]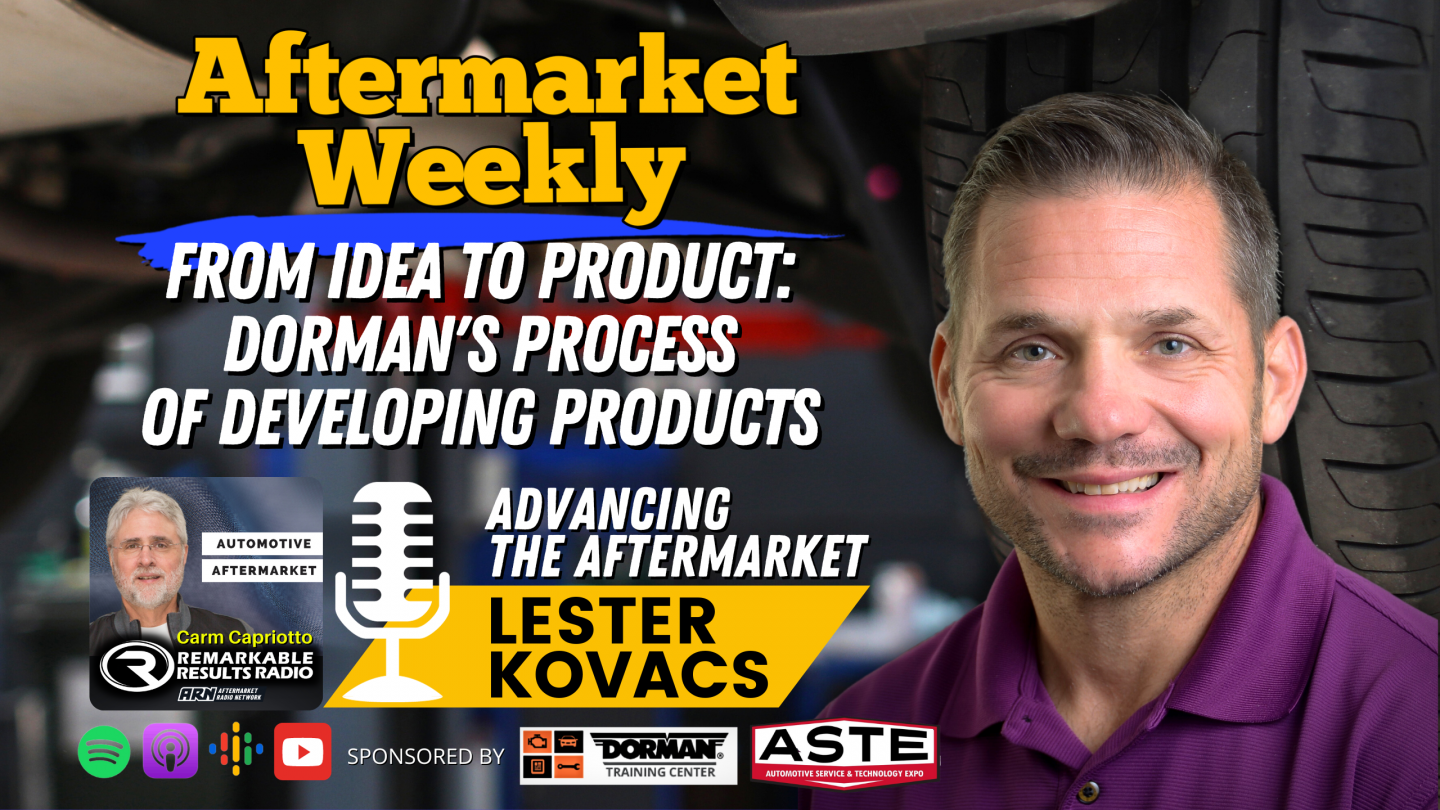 Recorded Live at ASTE 2023, Lester Kovacs, Director of Ideation at Dorman Products, explains Dorman's unique approach to product development, including working closely with technicians, searching through junkyards for challenges, and conducting extensive testing. He also discusses supply chain issues, reaching out to their network for feedback, and upcoming products at Dorman.
Lester Kovacs, Director of Ideation, Dorman Products
Show Notes:
Uncovering Technician Challenges (00:04:02) Discussion on how Dorman works with technicians to uncover their challenges and develop solutions.
Part Availability and Supply Chain Issues (00:05:31) Conversation about supply chain issues and challenges with part availability for older vehicles.
The discovery of a new product category (00:08:31) Discussion about finding a new product category and the process of developing that particular product.
The challenge of developing new products (00:11:00) Exploration of the challenges faced in developing new products and the need to work against the clock.
Testing and validation of new products (00:12:58) Explanation of the testing and validation process for new products, including material testing, dimensional testing, and trial and test on actual vehicles.
The incubator analogy (00:15:54) Discusses the role of the incubator in finding and developing ideas, identifying bottlenecks, and resource decisions.
Percentage of ideas that make it (00:16:58) Discusses the percentage of ideas that make it through the validation process and the importance of a tight funnel to meet customer expectations.
Lester's career journey (00:18:04) Explores Lester's background, starting from his love for cars as a kid.
Changing Habits and Customer Perception (00:23:01) Discussion on the challenge of changing habits in the aftermarket industry and the need to shift customer perception of certain parts.
Improving Marketing Strategy and Relaunching Products (00:23:25) Exploration of the relaunch of a product line after initial poor sales, including collaboration with customers and counter professionals to improve marketing and sales strategies.
Suggestion for Website Enhancement (00:24:32) A suggestion to add a tab on the website to address why customers are not buying certain products, with testimonials and repair pictures to encourage sales.
Thanks to our Partner, Dorman Products.
Dorman gives people greater freedom to fix vehicles by constantly developing new repair solutions that put owners and technicians first. Take the Dorman Virtual Tour at www.DormanProducts.com/Tour
Connect with the Podcast:
-Join our Insider List: https://remarkableresults.biz/insider
-All books mentioned on our podcasts: https://remarkableresults.biz/books
-Our Classroom page for personal or team learning: https://remarkableresults.biz/classroom
-Buy Me a Coffee: https://www.buymeacoffee.com/carm
-The Aftermarket Radio Network: https://aftermarketradionetwork.com
-Special episode collections: https://remarkableresults.biz/collections