Overcoming the Challenges of Apprenticeship Programs [RR 891]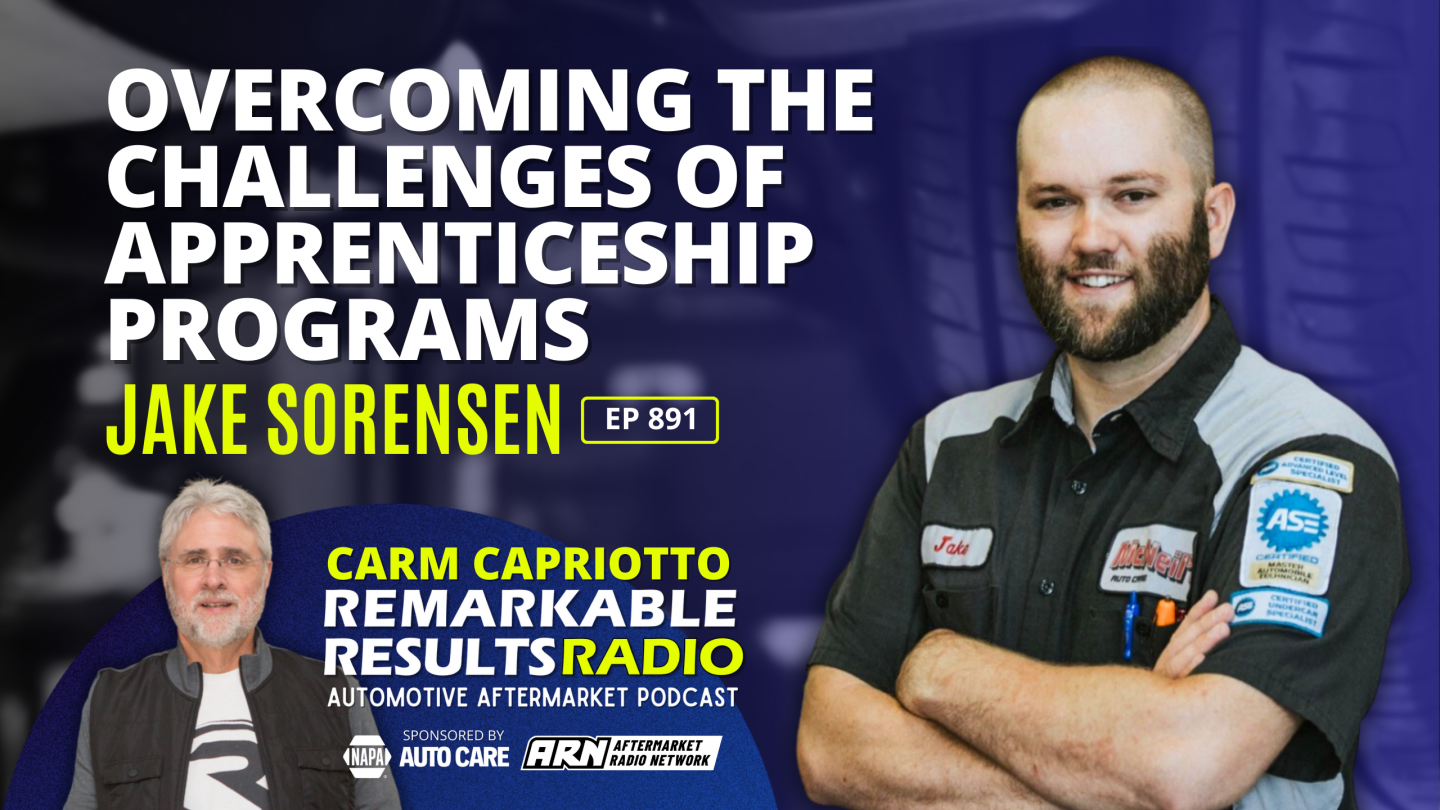 Jake Sorensen shares his experiences with running an apprentice program at McNeil's Auto Care. Initially, they were able to find suitable applicants easily, but as time went on, they faced challenges in finding the right candidates.  Jake also talked about the practical skills gap he has observed in the younger generation. He shared an anecdote about an apprentice who had never drilled a hole in a wall or hung anything before. Despite this knowledge gap, Jake believes that with the right attitude and willingness to learn, the right apprentices can become great technicians in the future.
Jake Sorensen,
2019 NAPA ASE Technician of the Year and 2019 Ratchet + Wrench All-Star technician of the year. Shop manager and diagnostic technician at 
McNeil's Auto Care
in Sandy, UT. Listen to Jake's previous episodes 
HERE
Show Notes
The challenges of finding qualified applicants (00:03:33) Jake discusses the difficulties his shop faced in finding suitable applicants for their apprentice program.
The importance of communication skills (00:05:24) Jake talks about the struggle with communication and the need to adapt to the communication style of the younger generation.
The strength of written skills in the younger generation (00:07:26) Jake highlights the writing skills of the younger generation and how they excel in written communication compared to verbal communication.
The challenges of practical skills (00:08:35) The lack of practical skills among the younger generation and the need to walk them through basic tasks.
The lengthened early stages of apprenticeship (00:10:54) The early stages of apprenticeship now take longer due to the need to teach every step from the ground up.
Knowing when to let go of the wrong fit (00:14:12) The importance of recognizing within 30 to 60 days if an apprentice is the right fit and being willing to let go if they are not.
Recruiting through word of mouth (00:17:23) Discussion on the challenges of recruiting individuals interested in working with their hands and fixing cars.
Teaching soft skills in apprenticeship programs (00:18:37) Exploring the need to incorporate soft skills training into apprenticeship programs and bridging the gap between technical and communication skills.
Breaking the barrier to entry for tools (00:21:26) Explaining how McNeil's Auto Care helps apprentices with tool acquisition through providing a shop cart, toolbox, tool credits, and a tool allowance.
The challenges of apprenticeship programs (00:26:43) Discussion on the time and effort required to build a technician through an apprenticeship program.
Apprenticeship vs College (00:27:05) Comparison of the value and hands-on experience gained through an apprenticeship program versus attending college.
The role of a mentor in the shop (00:28:10) The difficulties and balancing act of being a mentor while still working on cars in the shop.
Thanks to our Partner, NAPA Auto Care
Learn more about NAPA Auto Care and the benefits of being part of the NAPA family by visiting https://www.napaonline.com/en/auto-care
Connect with the Podcast:
-Join our Insider List: https://remarkableresults.biz/insider
-All books mentioned on our podcasts: https://remarkableresults.biz/books
-Our Classroom page for personal or team learning: https://remarkableresults.biz/classroom
-Buy Me a Coffee: https://www.buymeacoffee.com/carm
-The Aftermarket Radio Network: https://aftermarketradionetwork.com
-Special episode collections: https://remarkableresults.biz/collections