Conference Planning Musts! [894]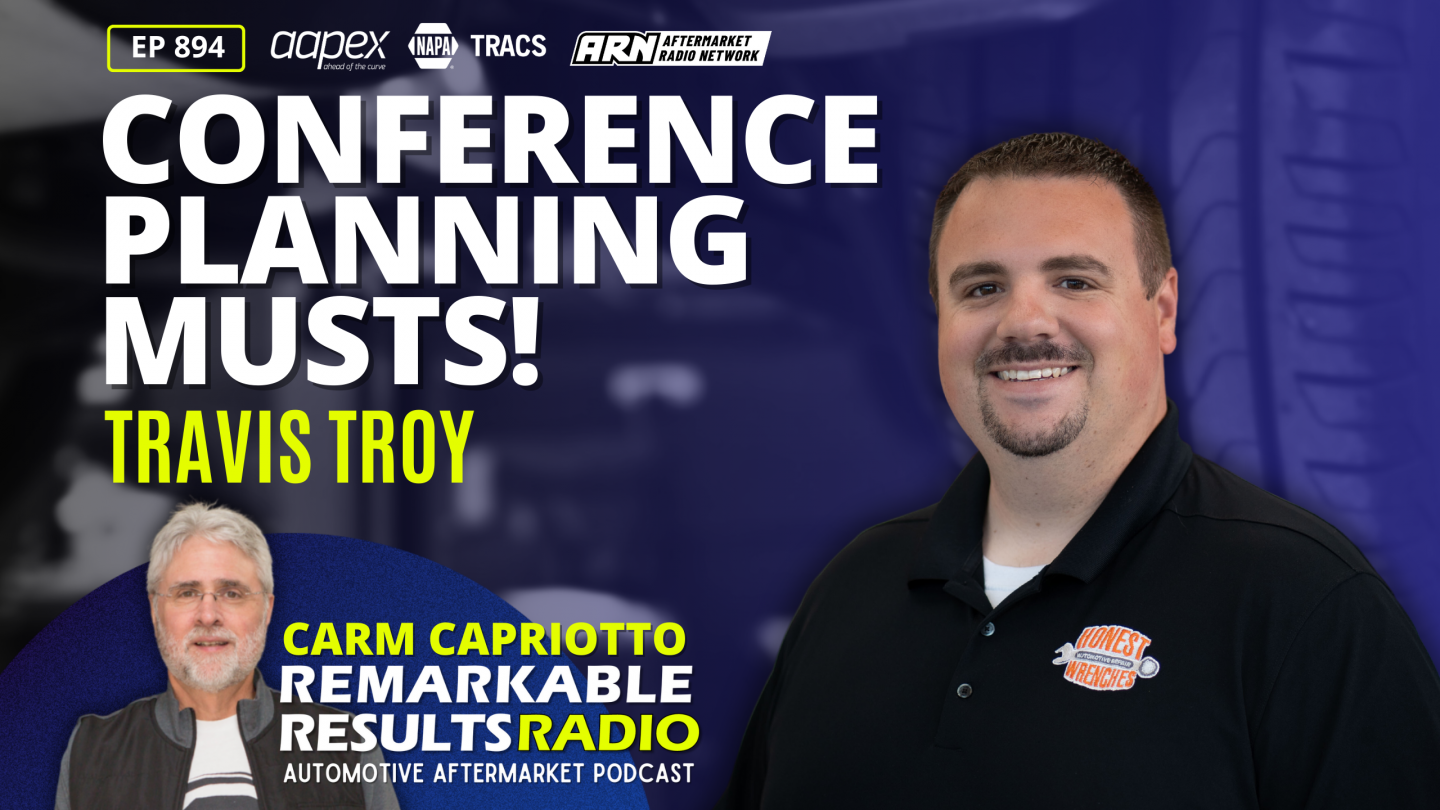 Travis Troy, owner of Honest Wrenches, discusses the importance of conference planning and attendance for team development. He dives into the process of selecting classes, professionalism at conferences, and the significance of investing in training and planning for the future.
Travis Troy, Honest Wrenches, Akeny and Des Moines, IA. Listen to Travis' other episodes HERE
Show Notes
Conference planning and the value of attending conferences (00:01:58) Discussion on how conferences are planned, who picks the classes, and the importance of conferences for the entire team.
Determining class choices and creating a class structure (00:02:39) Exploring how classes are chosen for technicians, considering individual needs and opportunities, and creating a balanced class structure.
The importance of professionalism at conferences (00:07:34) Emphasizing the importance of maintaining a professional image and behavior at conferences.
The value of service advisor training (00:11:30) Importance of training service advisors for better customer interaction and improved shop performance.
Making a commitment to attend future conferences (00:14:13) Encouragement to plan ahead and register for future conferences, highlighting the variety of training topics available.
The power of networking (00:19:13) Discussion on the importance of networking at conferences and the benefits of connecting with other attendees.
Recruiting at training events (00:20:14) Addressing the issue of recruiting employees from other shops during training events and the negative impact it can have on the industry.
General Service Technician Academy (00:24:43) Announcement of the plans for the second round of the General Service Technician Academy at Vision, and the positive feedback received from the first event.
The value of attending conferences (00:26:21) Discussion on the importance of bringing new people into the industry and supporting their growth.
Encouraging team members to attend training (00:29:02) Suggesting a method of gauging interest in training classes and creating opportunities for team members to express their desire to attend.
Thanks to our Partners, AAPEX and NAPA TRACS
Set your sights on Las Vegas in 2023. Mark your calendar now … October 31 – Nov 2, 2023, AAPEX – Now more than ever. And don't miss the next free AAPEX webinar. Register now at http://AAPEXSHOW.COM/WEBINAR
NAPA TRACS will move your shop into the SMS fast lane with onsite training and six days a week of support and local representation. Find NAPA TRACS on the Web at http://napatracs.com/
Connect with the Podcast:
-Follow on Facebook: https://www.facebook.com/RemarkableResultsRadioPodcast/
-Follow on LinkedIn: https://www.linkedin.com/in/carmcapriotto/
-Follow on Instagram: https://www.instagram.com/remarkableresultsradiopodcast/
-Follow on Twitter: https://twitter.com/RResultsBiz
-Visit the Website: https://remarkableresults.biz/
-Join our Insider List: https://remarkableresults.biz/insider
-All books mentioned on our podcasts: https://remarkableresults.biz/books
-Our Classroom page for personal or team learning: https://remarkableresults.biz/classroom
-Buy Me a Coffee: https://www.buymeacoffee.com/carm
-The Aftermarket Radio Network: https://aftermarketradionetwork.com
-Special episode collections: https://remarkableresults.biz/collections