Transparency is the New Trust: Bridging the Gap Between Technology and Client [RR 903]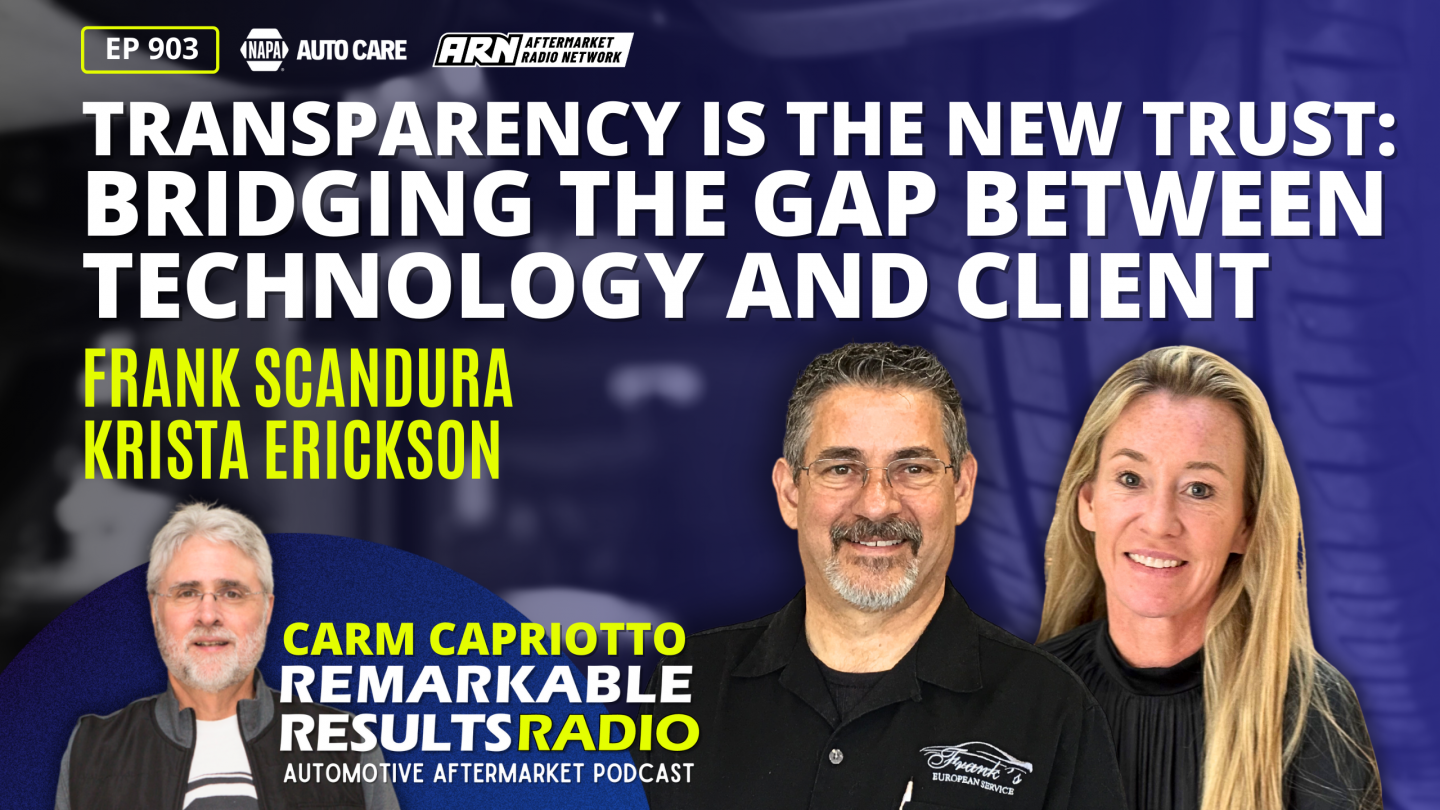 "AutoTechIQ helps car and truck owners identify problems their vehicles are having. We provide proven auto repair work that has solved similar issues thousands of vehicle owners have faced. We also recommend auto repair shops in your area based on trust, customer education, and quality of work. These shops inspect your car using a courtesy Digital Vehicle Health Inspection and create a state of health report with symptom information and necessary fixes."
Frank Scandura and Krista Erickson discuss how AutoTechIQ aims to bridge the gap between shops and customers by creating better relationships through technology and transparency. The goal is to empower customers with knowledge and build trust.
Frank Scandura, Frank's European Service, Las Vegas, NV. VP of Certified Shop Relations and Member of the Board of Directors, AutoTechIQ. Frank's previous episodes HERE.
Krista Erickson, VP of Client Services and Marketing, AutoTechIQ
Show Notes
AutoTechIQ: https://www.autotechiq.com/
AutoTechIQ Certification: https://bit.ly/47P478i
Transparency is the New Trust (00:01:02) Discussion on the importance of transparency in building trust with customers and how it relates to online reviews and consumer behavior.
Using Data to Inform Customers (00:03:52) Explanation of how AutoTechIQ utilizes data from repair shops to provide customers with relevant information and help them make informed decisions about their automotive repairs.
The Power and Carefulness of AI (00:08:55) Exploration of AI as a smart algorithm and a powerful search engine that requires careful questioning to avoid getting incorrect answers.
Transparency and Expertise in Automotive Services (00:10:33) Explanation of how AutoTechIQ aims to connect customers with expert shops that provide transparency, digital inspections, and communicate in a language that customers understand.
The disruptors (00:15:16) Discussion on the impact of disruptors in various industries and the need for new solutions.
Vetting process for certified shops (00:16:30) Explaining the requirements and process for certifying shops, including reputation, online reviews, and digital inspections.
Driving consumers to shops (00:17:54) The importance of bringing consumers to shops through technology and creating a bridge between customers and shops.
The digital vehicle inspection revolution (00:23:06) Discussion on the importance of digital vehicle inspections and the need to educate shops and customers about its benefits.
The percentage of shops doing digital vehicle inspections (00:23:33) Exploration of the industry-wide adoption of digital vehicle inspections and the varying definitions of what constitutes a digital inspection.
Disrupting business directories with transparency (00:25:22) The potential impact of AutoTechIQ on business directories, focusing on transparency and high-quality service.
Thanks to our Partner, NAPA Auto Care
Learn more about NAPA Auto Care and the benefits of being part of the NAPA family by visiting https://www.napaonline.com/en/auto-care
Connect with the Podcast:
-Follow on Facebook: https://www.facebook.com/RemarkableResultsRadioPodcast/
-Follow on LinkedIn: https://www.linkedin.com/in/carmcapriotto/
-Follow on Instagram: https://www.instagram.com/remarkableresultsradiopodcast/
-Follow on Twitter: https://twitter.com/RResultsBiz
-Join our Insider List: https://remarkableresults.biz/insider
-All books mentioned on our podcasts: https://remarkableresults.biz/books
-Our Classroom page for personal or team learning: https://remarkableresults.biz/classroom
-Buy Me a Coffee: https://www.buymeacoffee.com/carm
-The Aftermarket Radio Network: https://aftermarketradionetwork.com
-Special episode collections: https://remarkableresults.biz/collections