Up Close and Personal with Brett Beachler [AW 184]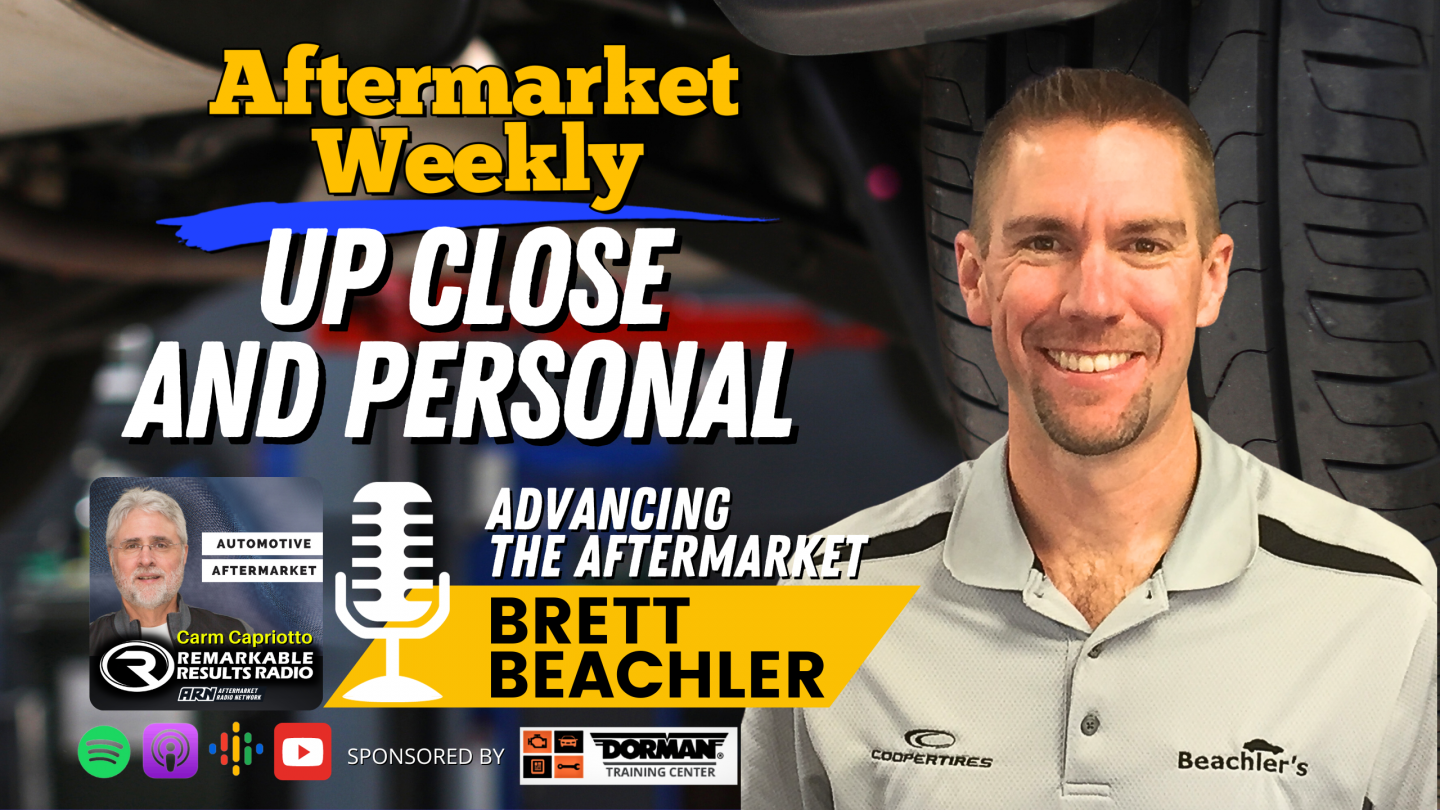 Brett Beachler shares the history of his business, the impact of closing on Saturdays, and the importance of creating a positive work environment. He also discusses the significance of customer trust and his future goals for his business.
Brett Beachler, Beachler's Vehicle Care & Repair, Peoria, IL. Listen to Brett's previous episodes HERE
Show Notes:
Closing Saturdays and its Impact (00:03:20) Brett discusses the significant impact of closing Saturdays on their business operations and the positive response from their customer database.
Increased Revenue and Team Morale (00:04:37) Brett shares how their decision to close Saturdays resulted in a 20% increase in revenue and improved team morale.
Distinguishing Factors of the Business (00:07:19) Brett explains the factors that make their business different, including providing honest advice, focusing on cost per mile, and attracting a more educated demographic of customers.
The Light Atmosphere and Customer Experience (00:08:21) Discussion about the importance of creating a positive atmosphere and delivering exceptional customer experience.
Forward Thinking and Setting Dental Style Appointments (00:10:24) Conversation about the benefits of proactive maintenance and the importance of scheduling appointments in advance.
The importance of people skills (00:15:31) Discussion on the significance of understanding and managing the different personalities and needs of employees for successful business operations.
Benefits of being part of a 20 group (00:17:07) Exploring the advantages of joining a 20 group for business owners, including the opportunity to learn from others and receive support.
Updating Processes and SOPs (00:22:34) Discussion about the importance of managing processes and standard operating procedures (SOPs) properly, transitioning from paper to digital form, and using Microsoft server for storing SOPs.
Refining Digital Vehicle Inspection (00:23:25) Focus on improving the efficiency and effectiveness of the digital vehicle inspection process and making it seamless for both customers and technicians.
Equipment Upgrades and Expansion (00:23:59)
The impact of daily training (00:29:45) Discussion on the importance of daily training for personal and professional growth, comparing it to sporadic training every few months.
Views on smartphones and idle time (00:32:46) Discussion on the negative impact of excessive smartphone use and the importance of utilizing time effectively.
Thanks to our Partner, Dorman Products.
Dorman gives people greater freedom to fix vehicles by constantly developing new repair solutions that put owners and technicians first. Take the Dorman Virtual Tour at www.DormanProducts.com/Tour
Connect with the Podcast:
-Follow on Facebook: https://www.facebook.com/RemarkableResultsRadioPodcast/
-Follow on LinkedIn: https://www.linkedin.com/in/carmcapriotto/
-Follow on Instagram: https://www.instagram.com/remarkableresultsradiopodcast/
-Follow on Twitter: https://twitter.com/RResultsBiz
-Join our Insider List: https://remarkableresults.biz/insider
-All books mentioned on our podcasts: https://remarkableresults.biz/books
-Our Classroom page for personal or team learning: https://remarkableresults.biz/classroom
-Buy Me a Coffee: https://www.buymeacoffee.com/carm
-The Aftermarket Radio Network: https://aftermarketradionetwork.com
-Special episode collections: https://remarkableresults.biz/collections