Congressional Testimony: Right to Repair Update [RR 902]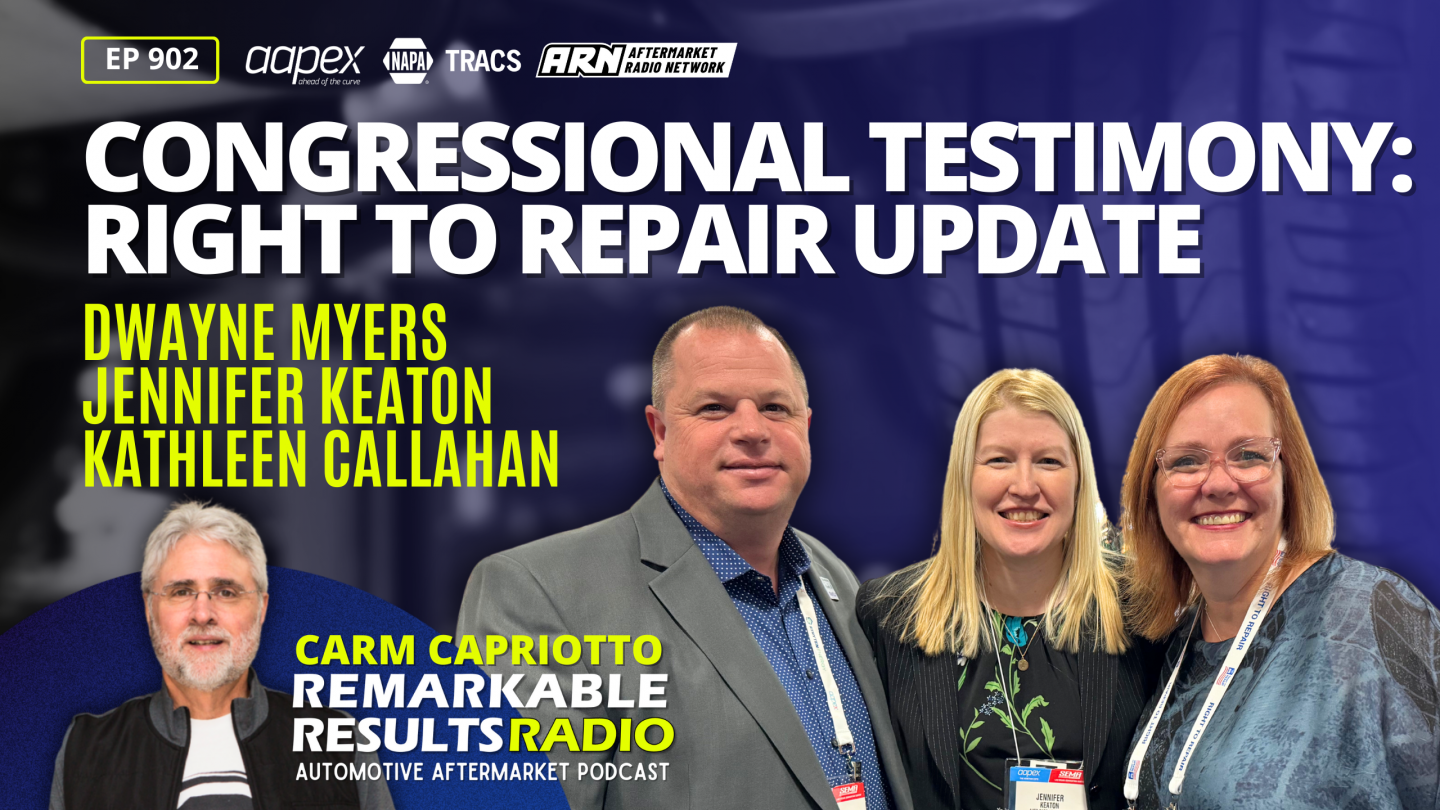 Recorded Live at AAPEX 2023, our panel dives into the progress of the Right to Repair bill that could potentially reshape our industry. Without the Right to Repair Act, our industry could face a staggering $93 billion hit by 2035. Kathleen Callahan, who testified in front of Congress, shared her experience and the momentum it created for the bill. It's crucial for industry professionals to understand the bill, advocate for it, and engage with their communities and legislators.
Dwayne Myers, Dynamic Automotive, 6 locations, Maryland. Dwayne's previous episodes HERE.
Jennifer Keaton, Director of Government Affairs, Auto Care Association
Kathleen Callahan, Xpertech Auto Repair, Englewood, FL
Show Notes
IDC Hearing: "Proposals To Enhance Product Safety And Transparency For Americans: https://www.youtube.com/live/AU1vg7Xsw88?feature=shared
The testimony before Congress (00:02:01) Kathleen Callahan's testimony in front of a congressional subcommittee and her experience preparing for it.
Magic Johnson's keynote speech (00:04:38) Discussion about Magic Johnson's speech at the event, his support for small businesses, and the request for his support for right to repair.
Getting a bill in front of Congress (00:08:13) The process and hard work involved in getting a bill, specifically the Repair Act (HR 906), in front of Congress.
The legislative process and subcommittee hearing (00:08:36) Discussion about advancing a bill through the legislative process, the importance of the subcommittee hearing, and the next steps of getting the bill to a markup.
The significance of markup (00:09:35) Explaining what markup means in the legislative process and how it signifies that the bill is moving forward.
The importance of right to repair legislation (00:12:53) Highlighting the potential impact of not passing right to repair legislation, including the loss of market share and the negative consequences for the industry and consumers.
Kathleen's Confident Testimony (00:17:27) Kathleen's confident and professional testimony, her preparation, and the positive feedback received.
The Importance of Questions (00:17:59) The importance of paying attention to the questions asked during testimony and the impact of facial expressions.
Strategic Selection of Kathleen (00:20:05) The strategic selection of Kathleen as the only woman shop owner from Florida to represent the industry.
The importance of marketing and being active in advocacy (00:25:49) Dwayne emphasizes the importance of continuous marketing efforts and being proactive in advocating for the industry.
Telematics as the new right to repair (00:26:24) Tthe significance of telematics and the potential challenges it poses for gaining access to vehicle data.
Equitable access to repair and diagnostic data (00:26:47) Kathleen highlights the need for repair shops to have equal access to repair and diagnostic data as dealerships, and the importance of showing legislators the impact of the industry.
Thanks to our Partners, AAPEX and NAPA TRACS
Set your sights on Las Vegas in 2024. Mark your calendar now … November 5th-7th, 2024. AAPEX – Now more than ever. And don't miss the next free AAPEX webinar. Register now at http://AAPEXSHOW.COM/WEBINAR
NAPA TRACS will move your shop into the SMS fast lane with onsite training and six days a week of support and local representation. Find NAPA TRACS on the Web at http://napatracs.com/
Connect with the Podcast:
-Follow on Facebook: https://www.facebook.com/RemarkableResultsRadioPodcast/
-Follow on LinkedIn: https://www.linkedin.com/in/carmcapriotto/
-Follow on Instagram: https://www.instagram.com/remarkableresultsradiopodcast/
-Follow on Twitter: https://twitter.com/RResultsBiz
-Visit the Website: https://remarkableresults.biz/
-Join our Insider List: https://remarkableresults.biz/insider
-All books mentioned on our podcasts: https://remarkableresults.biz/books
-Our Classroom page for personal or team learning: https://remarkableresults.biz/classroom
-Buy Me a Coffee: https://www.buymeacoffee.com/carm
-The Aftermarket Radio Network: https://aftermarketradionetwork.com
-Special episode collections: https://remarkableresults.biz/collections