Deferred Work: A Sales Growth Tactic [THA 354]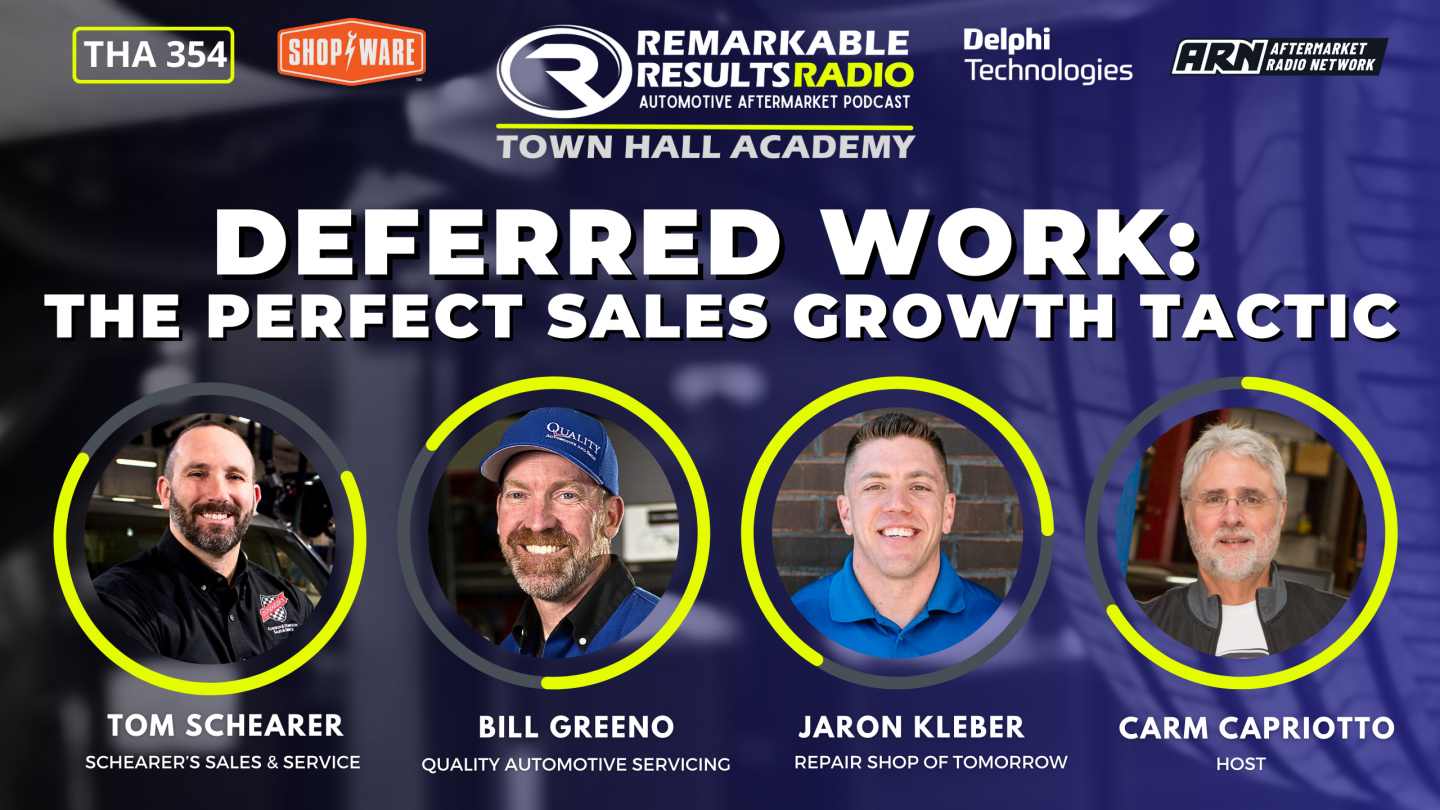 Join our panel as they discuss the use of deferred work as a sales growth tactic. They share their insights on the importance of effective communication, customer education, and creating a positive exit experience. They also highlight the role of CRM systems, DVI's, and proactive maintenance. Remember, the key to success in selling deferred work lies in discipline, process, and repetition.
Tom Schearer, Schearer's Sales and Service, Allentown, PA. Tom's previous episodes HERE
Bill Greeno, Quality Automotive Servicing, Truckee, CA. Bill's previous episodes HERE
Jaron Kleber, Repair Shop of Tomorrow, National Sales Manager. Jaron's previous episodes HERE
Show Notes:
The discovery conversation and setting expectations (00:04:03) The importance of having a conversation with clients to set expectations about the service process and timeline.
The exit experience and creating a positive lasting impression (00:04:49) The significance of providing a positive exit experience for customers to encourage repeat business and referrals.
Bringing back the personal touch after the touchless experience (00:06:57) The need to reintroduce personal interactions with customers after the touchless experience during the COVID-19 pandemic.
The importance of asking questions (00:08:49) The importance of having a conversation with customers and asking them questions to understand their concerns and needs.
Deferred work as a liability (00:10:16) The potential risks of deferred work, emphasizing that shop owners are responsible for ensuring the safety of customers' vehicles and can be held liable for any accidents or issues related to deferred maintenance.
Transitioning to proactive maintenance (00:13:39) The need for shops to transition from a reactive mindset to a proactive maintenance approach, using digital inspections and technology to educate customers about the maintenance needs of their vehicles.
The importance of vehicle inspections and customer involvement (00:18:30) Discusses the significance of conducting vehicle inspections and involving customers in understanding how they use their vehicles.
Managing and leading deferred work (00:21:39) Explores strategies for managing and leading deferred work, including the frequency of contacting customers and offering incentives to schedule repairs.
The importance of CRM and phone calls (00:26:07) Discussing the effectiveness of CRM systems and the percentage of customers responding to phone calls and utilizing coupons.
Building trust and scheduling future appointments (00:30:10) The significance of human interaction in building trust and the potential for scheduling future appointments based on client history and vehicle data.
The importance of complete inspections (00:35:01) Discusses the significance of providing a complete inspection to customers and educating them on its importance.
Consequences of not addressing issues (00:36:00) Talks about the consequences that customers may face if they don't address the issues in a timely fashion.
Setting expectations and building relationships (00:36:54) Highlights the importance of reminding customers that they are valued clients and explaining how the shop operates, including follow-ups and addressing deferred work.
Thanks to our Partners Shop-Ware and Delphi Technologies
Shop-Ware: More Time. More Profit. Shop-Ware Shop Management https://getshopware.com/
Delphi Technologies: Keeping current on the latest vehicle systems and how to repair them is a must for today's technicians. http://DelphiAftermarket.com
Connect with the Podcast
-Follow on Facebook: https://www.facebook.com/RemarkableResultsRadioPodcast/
-Follow on LinkedIn: https://www.linkedin.com/in/carmcapriotto/
-Follow on Instagram: https://www.instagram.com/remarkableresultsradiopodcast/
-Follow on Twitter: https://twitter.com/RResultsBiz
-Join our Insider List: https://remarkableresults.biz/insider
-All books mentioned on our podcasts: https://remarkableresults.biz/books
-Our Classroom page for personal or team learning: https://remarkableresults.biz/classroom
-Buy Me a Coffee: https://www.buymeacoffee.com/carm
-The Aftermarket Radio Network: https://aftermarketradionetwork.com
-Special episode collections: https://remarkableresults.biz/collections