Creating Psychological Safety For Your Employees [RR 901]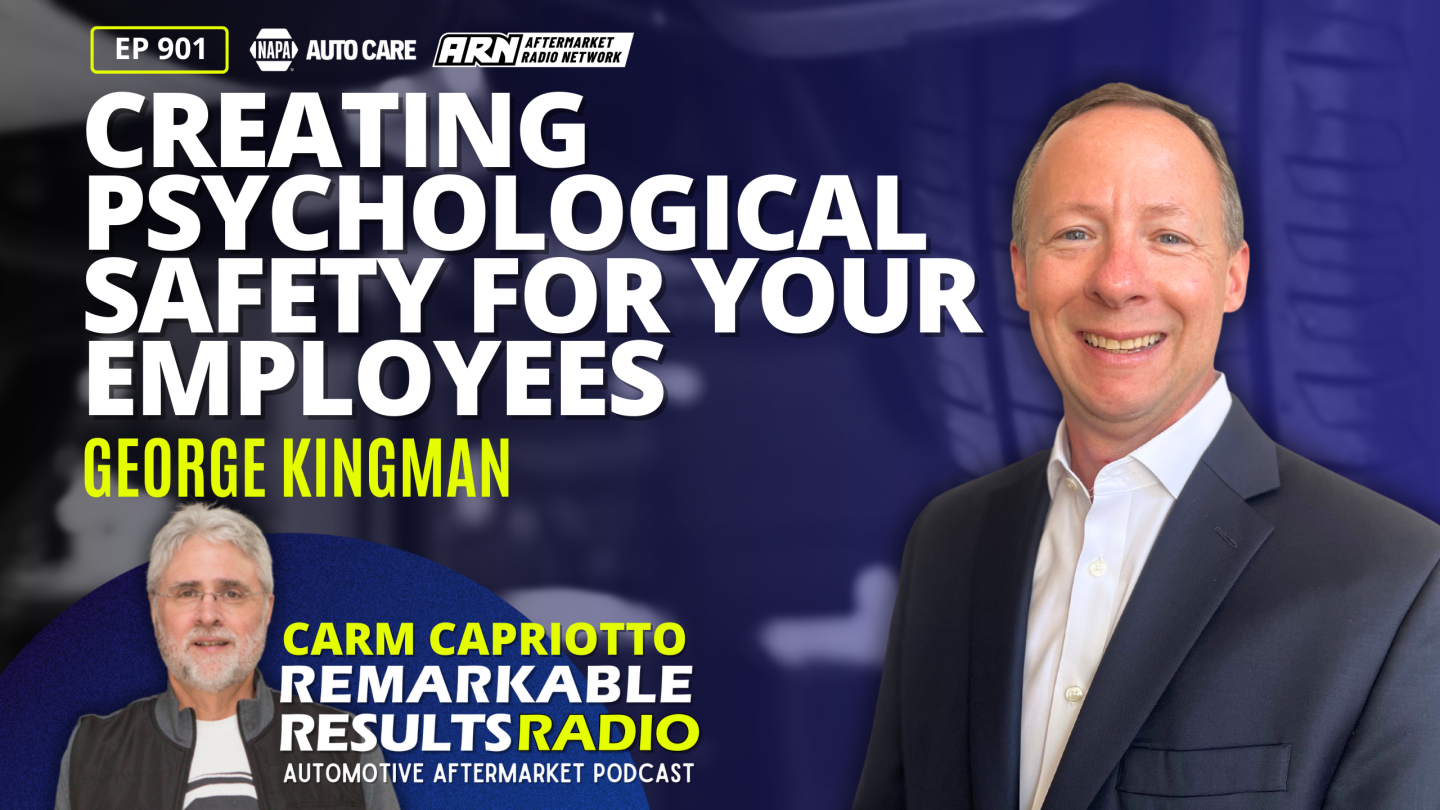 George Kingman discusses the importance of work-life balance, psychological safety, and cultivating a positive work environment. He shares personal experiences and lessons learned from his journey in the automotive industry, emphasizing the need for passion and positivity. Kingman also discusses leadership strategies inspired by George Washington and how they can be applied in modern businesses. He stresses the importance of making employees feel valued and connected to their work.
Show Notes
Advanced Shop Leadership Group https://www.advancedshopleadership.com/
Safety and the Importance of Passion (00:02:18) The role of safety in fostering passion at work, both in terms of physical safety and psychological safety.
The Contagion of Passion and Negativity (00:03:35) How passion is contagious and can uplift others, while negativity can also have an impact on the work environment.
Finding Passion and Building a Team (00:06:44) The importance of finding the right people (the "who's") to support and complement your skills and passions in order to build a successful team.
The importance of learning from mistakes (00:09:57) The value of allowing employees to make mistakes and the learning opportunities that come from them.
Creating a positive work culture for work-life balance (00:12:09) The importance of fostering a positive work culture to achieve a proper work-life balance and how it affects employees' motivation and happiness.
Psychology articles and work-life balance (00:22:15) Discussion on the importance of work-life balance and the misconception that more time off is the solution.
Creating psychological safety at work (00:23:21) Exploration of the significance of making employees feel happy and safe at work, rather than solely focusing on time off or monetary compensation.
Building a positive culture and purpose (00:24:54) Importance of creating a positive work culture and purpose, and the role of leaders in mentoring and improving the attitudes of team members.
The power of bringing something extra (00:35:48) The importance of going above and beyond in order to achieve success, both personally and professionally.
George Washington's Leadership (00:36:53) George Washington's ability to motivate his troops and redefine their purpose during difficult times.
Building Positivity in the Workplace (00:38:31) Using George Washington's methods to motivate employees by sharing success stories and creating a positive culture.
Taking Care of Each Other (00:41:17) The importance of taking care of teammates and spreading joy in the workplace to create a successful business.
Thanks to our Partner, NAPA Auto Care
Learn more about NAPA Auto Care and the benefits of being part of the NAPA family by visiting https://www.napaonline.com/en/auto-care
Connect with the Podcast:
-Follow on Facebook: https://www.facebook.com/RemarkableResultsRadioPodcast/
-Follow on LinkedIn: https://www.linkedin.com/in/carmcapriotto/
-Follow on Instagram: https://www.instagram.com/remarkableresultsradiopodcast/
-Follow on Twitter: https://twitter.com/RResultsBiz
-Join our Insider List: https://remarkableresults.biz/insider
-All books mentioned on our podcasts: https://remarkableresults.biz/books
-Our Classroom page for personal or team learning: https://remarkableresults.biz/classroom
-Buy Me a Coffee: https://www.buymeacoffee.com/carm
-The Aftermarket Radio Network: https://aftermarketradionetwork.com
-Special episode collections: https://remarkableresults.biz/collections