Personal Development in Sales Training: Pushing Boundaries for Growth [AW 183]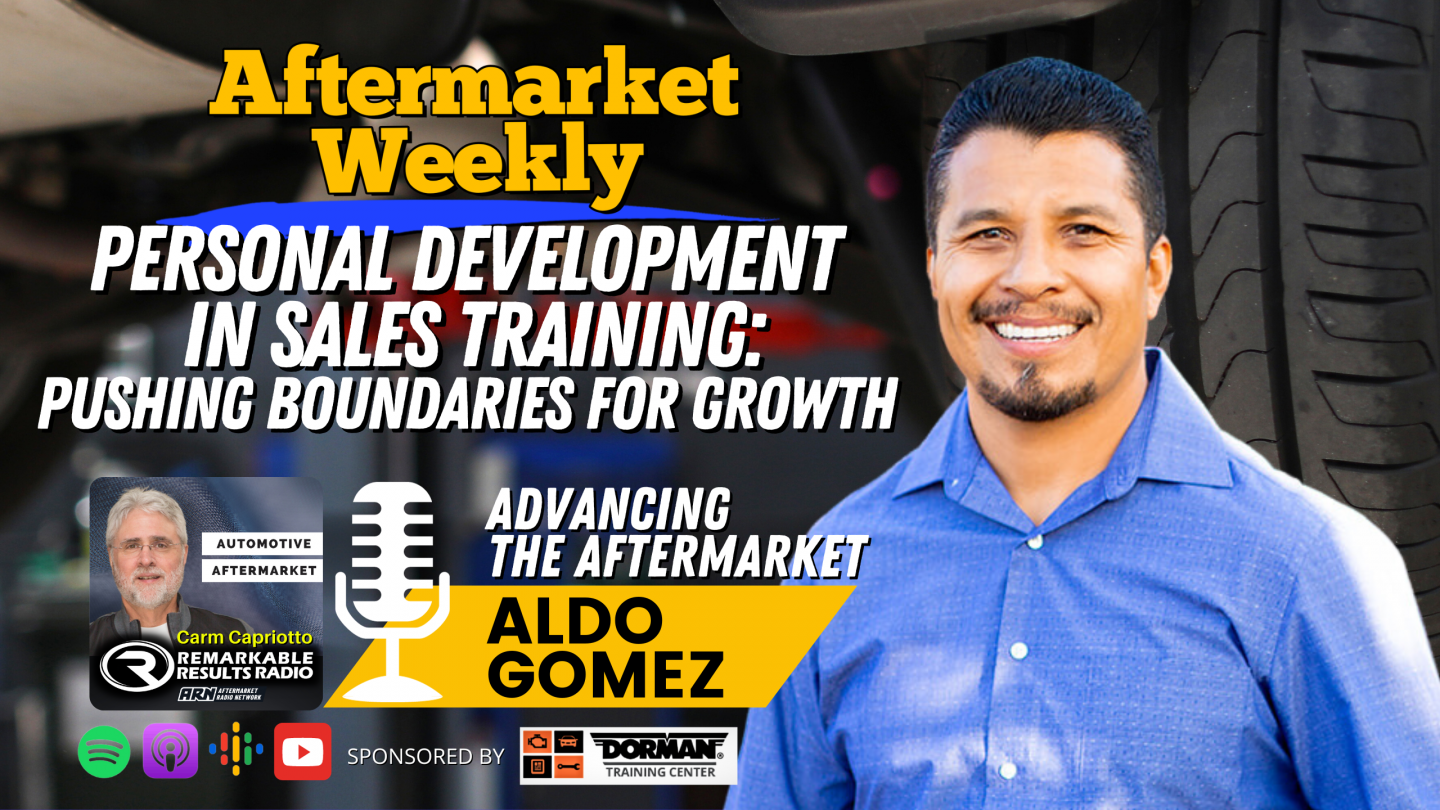 Aldo Gomez discusses the significance of self-understanding and acceptance in improving sales performance. Aldo shares his journey from being a service advisor to a sales trainer, emphasizing the importance of practicing presentation scripts and handling customer responses. He also differentiates between coaching for performance and development, highlighting the value of personal growth. Aldo reassures introverted individuals that they can be successful in sales and stresses the importance of a strong work ethic.
Aldo Gomez, Business With Purpose, Sales Trainer, http://www.bwpcoach.com
Show Notes:
Understanding and Accepting Yourself (00:01:48) Aldo discusses the importance of understanding and accepting oneself in sales training, particularly when it comes to delivering presentations and scripts.
Practicing the Presentation (00:03:59) Aldo shares his personal experience of practicing the sales presentation in various locations, such as in front of a mirror and in the car, to become comfortable and natural with the script.
Being a Better Listener (00:04:48) The script is not meant to oversell or undersell, but to give confidence and allow the salesperson to focus on being a better listener during interactions with customers.
The struggle that got you to where you are (00:09:57) Aldo shares his experience of starting as a service advisor and the challenges he faced.
The importance of being a good student (00:13:16) Carm and Aldo discuss the significance of being a good student and learning from experienced mentors.
Reading and its benefits (00:16:18) Aldo talks about the importance of reading, how it develops the mind, and the impact it has on vocabulary and personal growth.
The importance of being a better person for better performance (00:19:15) Coaching for performance focuses on making salespeople better individuals to improve their motivation and job performance.
Embracing introversion in sales (00:20:06) Being an interesting introvert can be advantageous in sales, and it is better to focus on listening skills rather than being an exciting extrovert.
The value of personalized and interactive training (00:21:16) The training provided by Aldo Gomez and Barry Barrett is unique because it is tailored to individuals or small groups, allowing for more personalized attention and overcoming shyness. They also use role play and review actual phone calls with customers for effective learning.
The importance of being grateful for your job (00:28:04) Discussion on working as a service advisor and the benefits of the job.
Aldo's journey from service advisor to sales trainer (00:28:57) Aldo's background and experience working in various jobs before becoming a sales trainer.
Training for development and changing perspectives (00:31:08) The approach to sales training, focusing on personal development and changing perspectives to improve performance.
Thanks to our Partner, Dorman Products.
Dorman gives people greater freedom to fix vehicles by constantly developing new repair solutions that put owners and technicians first. Take the Dorman Virtual Tour at www.DormanProducts.com/Tour
Connect with the Podcast:
-Follow on Facebook: https://www.facebook.com/RemarkableResultsRadioPodcast/
-Follow on LinkedIn: https://www.linkedin.com/in/carmcapriotto/
-Follow on Instagram: https://www.instagram.com/remarkableresultsradiopodcast/
-Follow on Twitter: https://twitter.com/RResultsBiz
-Join our Insider List: https://remarkableresults.biz/insider
-All books mentioned on our podcasts: https://remarkableresults.biz/books
-Our Classroom page for personal or team learning: https://remarkableresults.biz/classroom
-Buy Me a Coffee: https://www.buymeacoffee.com/carm
-The Aftermarket Radio Network: https://aftermarketradionetwork.com
-Special episode collections: https://remarkableresults.biz/collections