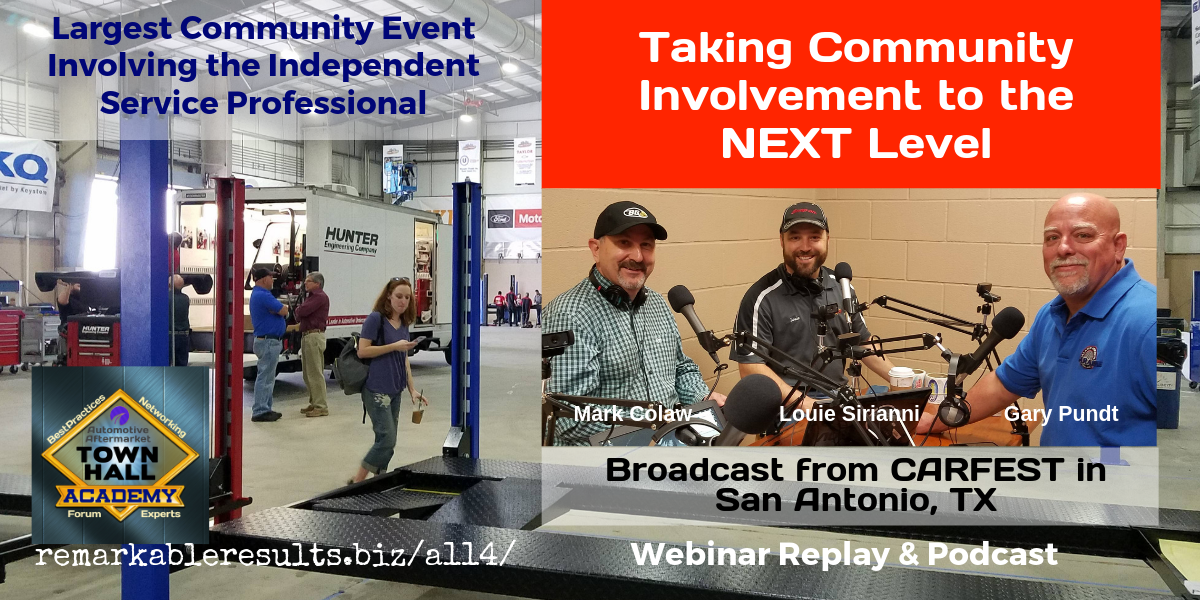 Taking Community Involvement to the Next Level – CarFest – Philanthropy on Steroids
CarFest is an event unlike any others in the US that connect the independent service provider together with the community. All the while you are listening think how you can start, on a small scale, to do more in your community. CarFest is aptly subtitled: "Unity in the Community".
I first want to congratulate every North American service professional for all that you do in your community. There are so many of you that support Veterans, battered women and many outreach non-for profits with your kindness.
CarFest takes it to a whole new level. This is a higher calling of community that I've ever seen. With me is CarFest Founder Mark Colaw from Seymour's Garage, joining us is Gary Pundt from Alamo Heights Garage and Louie Sirianni from Sirianni Automotive.
They do share with you the events that are going on with this two day, free to the public event. CarFest will give away 13 vehicles, provide funds to area post-secondary education and donate automotive repair for 25 vehicle owners that need safe and reliable transportation.
Coordinating the logistics of this event is a monumental task and it has grown into utilizing 200,000 square feet of space. Get some of the details and listen to Mark, Gary and Louie share their passion for this event that has provided over $1,000,000 in service, vehicles and donations within their San Antonio community in the last three years
Listen and view episode notes