THA 004: Preparing Your Business For Sale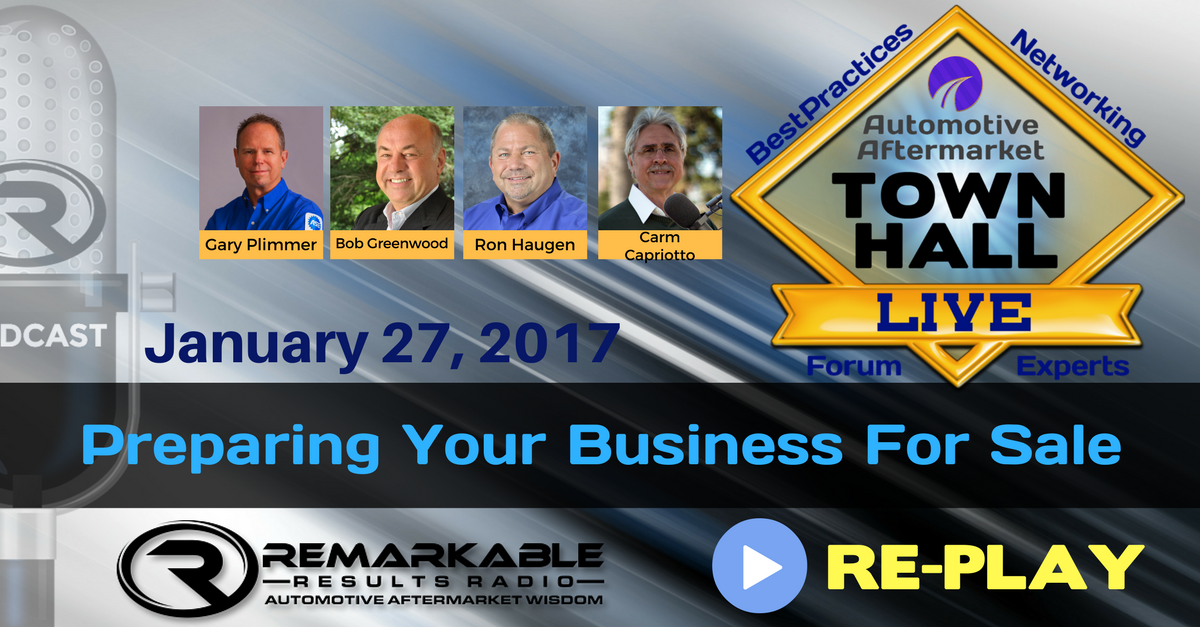 Learn from your industry peers in a round-table forum. Get new ideas, perspectives, trends, insights, best-practices and expertise from aftermarket professionals.
Watch like a DOCUMENTARY … Learn like a SEMINAR.
Helping automotive aftermarket professionals improve; one lesson at a time.
Academy Panel:
Ron Haugen owns and operates Westside Auto Pros in Des Moines Iowa. Celebrating their 20th year in business this year, having started with one employee they are now at a staff of 25. Ron is an ASE Master Technician, has his AAM certification is an AMI Certified instructor. Ron also provides coaching and consulting for auto shops across the country. Ron is  Co-Chair of Vision, President of the Des Moines ASA chapter and wants to be in Puerto Morelos Mexico whenever he is not in Des Moines. You can hear Ron is episode 107 and 204.
Bob Greenwood, AAM, is President and CEO of Automotive Aftermarket E-Learning Centre Ltd has over 40 years' experience working with Independent shops developing their business to maximize business net income.
Bob writes management articles for ASA's magazine Auto Inc as well has developed live business management classes for ASA , writes monthly management articles for Motor Age magazine in the USA and – effective Feb 1st writes semi-monthly shop management articles for CARS magazine and monthly management articles for the wholesale side of the industry in Jobber News magazine, both in Canada  as well as writes management articles for Auto & Truck Atlantic magazine located in the Maritime (Eastern) region of Canada
Nov 2012 Bob was one of 37 Canadians out of 400,000 people in the Canadian Automotive Industry awarded the Queen Elizabeth 2nd Diamond Jubilee Medal by the Governor General of Canada for significant contribution and achievements to Canada.  EPISODE 49
Garry Plimmer Is consultant and former owner of Garry's Automotive in Boise, ID. His wife Jerilyn and Garry sold the business on January 24th of this year after an 8 yearlong succession plan with two of their employees, John and Jared.
Gary had a successful 2016 with $2 Million in sales with a net profit of 25%. We have been an RLO Training, Bottom Line Impact Group member for the last 6 years, and besides other awards, Garry also won the NAPA/ASE National Technician of the year for 2013. Gary and I shared an interview on the podcast #135.
Gary looks forward to sharing with you his and Jerilyn's trip to financial freedom!
Talking points:
Best candidate may just be an internal candidate to sell your business to.
Greenwood: "90% of sales he's been involved with have been internal candidates."
According to SBA they will need 20% down and the owner need to help make that happen.
Would you buy your own business? If you say no, then you'll never sell it.
A succession plan gives you time to put a sale together.
The person who is buying your business needs to have the money, experience and training to sustain the business.
Succession plans may take up to four to seven years to complete.
If you had $400,000 to put down on a business, would you buy an auto repair business?
You must make yourself replaceable and not irreplaceable.
How to transfer ownership to an internal candidate.
You may not get one big fat check.
Must have operating procedures and systems.
You must have a learning culture top to bottom in your business.
Build your succession team. Accountant, Banker, Lawyer and possibly a business broker to help with an evaluation.
Find a local bank who is an SBA preferred lender.
SBA does care about relevant experience as one criteria to lend to a potential buyer.
Lenders don't look at assets they look at cash flow.
Garry shares his bonus program that brought his candidate up to a down payment number. He also asked his candidates to save up the same amount personally so that at the time of transaction there was a 20% down payment.
Ron Haugen, 'SBA will consider a percent of ownership as a down payment."
Discussion on multiples.
Family succession discussion.
Greenwood, "If you are ready; start now and update your will."
Sign up to be in the live Academy audience on Friday's at Noon EST here.
Be socially involved and in touch with the show:
Facebook   Twitter   Linked In   Email