THA 009: ASE Value Proposition -Consumer -Shop Owner -Technician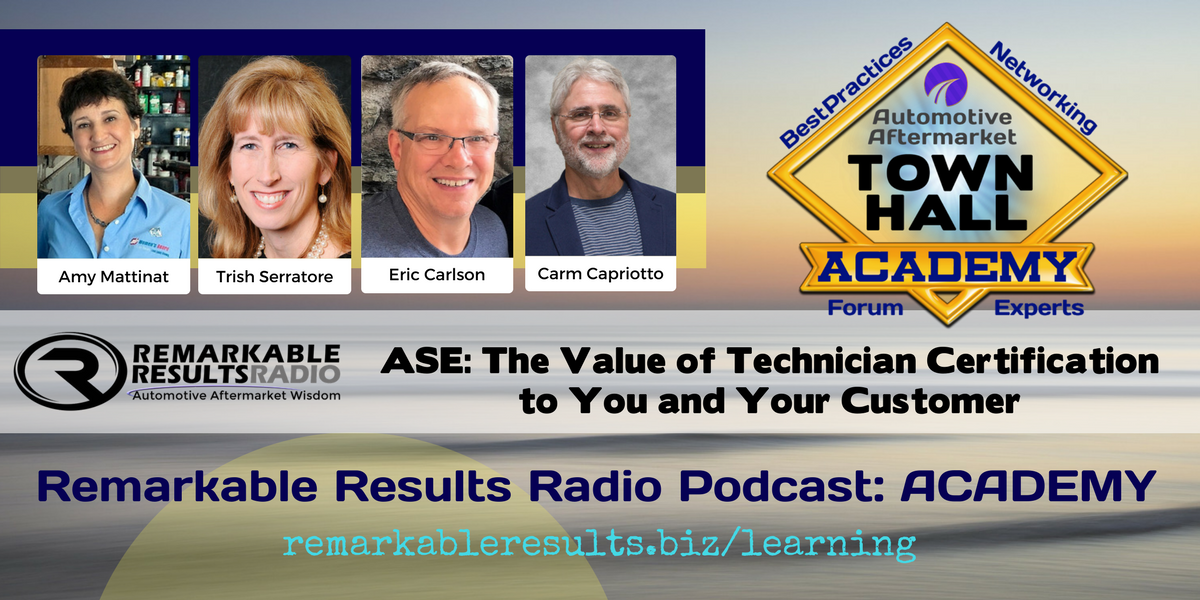 >
Learn from your industry peers in a round-table forum. Get new ideas, perspectives, trends, insights, best-practices and expertise from aftermarket professionals.
Watch like a DOCUMENTARY … Learn like a SEMINAR.
Helping automotive aftermarket professionals improve; one lesson at a time.
Academy Panel:
Amy Mattinat
Amy Mattinat of Auto Craftsmen in Montpelier, VA had the good fortune to combine her love of cars with a career in the automotive industry. Whether going on ride-and-drives, teaching car care clinics or running her independent repair shop she is able to combine her two passions: educating the public, especially women, about car care so they can make informed decisions and educating young women about the many career opportunities available in the auto care industry.
Amy was awarded the National Women in Auto Care's  'Top Female Shop Owner of the Year' in 2012 and served as President of the Women in Auto Care 2014 through 2016.
Trish Serratore
Trish Serratore is the President of the National Automotive Technicians Education foundation (NATEF) and Automotive Youth Educational Systems (AYES) and Senior Vice President at ASE.  She works closely with all of the organizations within the ASE Industry/Education initiative, which also includes ASE and the Automotive Training Managers Council, to help provide the qualified automotive professionals the industry needs today and tomorrow.
Among many honors, in 2010, Trish was named one of the "Top 100 Women in the Automotive Industry" by Automotive News.
Eric Carlson
Eric has been a technician for over 40 years. His formal automotive education came from Ferris State University where he took all 8 ASE tests prior to graduation in 1977.  Eric has re-certified every 5 years since. He took the L1 when it was introduced and is now L3 hybrid certified. Full disclosure: Eric is a subject matter expert for ASE and has participated in writing test questions, in the past 2 years, for the L3 test.
Eric and his wife Jamie bought Ervine's in 1994 and added Grand Rapids Hybrid to the family in 2013 after Eric became the first Master Hybrid Service Technician in Grand Rapids, MI.  Eric has been interviewed by several local television stations and publications seeking his expertise on everything from basic maintenance to the ramifications of "Right to Repair" legislation.   Ervine's Auto Repair and Grand Rapids Hybrid became an ASE Blue Seal of Excellence shop when it was introduced and have been since.
Talking Points:
Eric Carlson will only hire technicians that are ASE Certified. His position is to be sure that every technician was going to become a Certified Master Automotive Technician. All his current technicians are CMAT.
The messaging from the top down has a big factor if the technicians will keep up their certifications and become a Master Technician.
We need to educate the consumer on where to find ASE certified technicians.
Amy promotes the value that ASE certifications mean to her customer.
300,000 ASE certified technicians as of this interview.
Eric is a subject matter expert and has worked on the creation of ASE test questions.
Amy suggests if you have stayed away from ASE because you are not a good test taker, start with your Brake certification first, because you know brakes so well. Gain the confidence.
ASE has a new consumers web presence:

ase.com/drivers

Being ASE certified builds a technicians knowledge that is important to our industry.
ASE began in 1972. They are the only industry driven credentials in the industry.
"There is a lack of qualified technicians in the industry." Trish Serratore. "We need a student pipeline."
ASE is reaching out to shop owners to get their technicians certified.
"We don't tell the consumer how good we are at what we do." Eric Carlson
"My techs are proud to be ASE certified.", Eric Carlson
"If a shop owner requires ASE certification for technicians it shows a very positive business culture." Amy Mattinat.
What does the patch mean on the uniform of a ASE certified technician?

Is it difficult to get them sewn on from your uniform provider? Eric Carlson says no! Because of the high degree of competition uniform companies will do anything to get your business.
Techs stand a little taller with their patch on.

ASE Blue Seal recognition demonstrates to the consumer a shops commitment to technician certification.
Has the word 'certified' been overused in our industry?
We are trying to change the image and attract people to our industry.
ASE can provide logo's. Go to ASE.com to find out how to best promote your shops certification milestones.
See episode 122 for an ASE Roundtable: "ASE Test Uncovered"
Sign up to be in the live Academy audience on Friday's at Noon EST here.
Be socially involved and in touch with the show:
Facebook   Twitter   Linked In   Email