THA 008: Concierge Service – The Next Frontier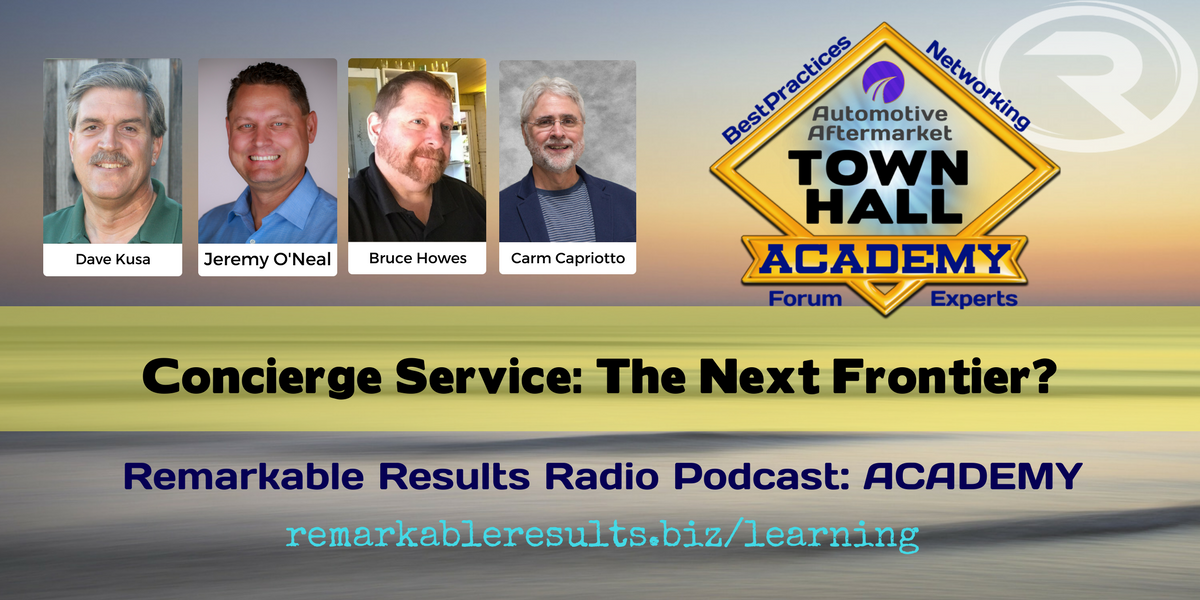 >
Learn from your industry peers in a round-table forum. Get new ideas, perspectives, trends, insights, best-practices and expertise from aftermarket professionals.
Watch like a DOCUMENTARY … Learn like a SEMINAR.
Helping automotive aftermarket professionals improve; one lesson at a time.
Academy Panel:
David Kusa established, Autotrend Diagnostics in 1989 and is in Campbell, California (San Francisco Bay Area). Dave is a AAA-approved auto repair facility that provides general maintenance services for foreign and domestic vehicles, including heating and air conditioning systems, engines, emissions, fuel injection, transmissions and tune-ups.
Dave is president of ASCCA, the California Shop Association and works hard building customer relations and home town value in a city of 2.5 million people. Listen to his episodes: 127, 226
 Bruce Howes has specialized in the service of European automobiles since he was 21 years old. He is a Bosch Trained technician, with extensive experience in BMW, Mercedes and Volvo. Bruce's business background began with his family business, his grandfather owned an automotive repair shop during the 1920s.
In 2003 he opened the Atlantic Motorcar Center in Wiscasset, ME. Bruce leads a team of highly trained and certified technicians. His business takes a rather unique approach to customer service, focusing on relationships with customer and car. Bruce shares "When a customer comes in and spends more time sharing their son's baseball game, or showing us photos from their last vacation, then I know I've done my job."
Bruce is also a Dale Carnegie graduate and former volunteer with Junior Achievement.
 Jeremy O'Neal is President and lead sales trainer for Advisorfix, began his career as a Service Advisor and quickly moved into Service Management at the dealership level for VW, Audi, and Porsche. His strong customer satisfaction scores and ability to increase sales consistently placed him in the top 3% of Service Advisors across the nation.
Talking Points:
What is Concierge Service?
Jeremy O'Neal, "True Concierge Service is not a company policy. It is a code of conduct that everyone in your company adopts."
True Concierge Service is anticipating the needs of your customer before they ask for it.
We are in the transportation business. Are we fixing the car or the patient?
Are customers demanding a higher level of convenience?
Is our time bound world making demands on your customer service level?
Can Concierge Service create a more loyal customer?
Can Concierge Service create more required work or better maintenance numbers?
The power of differentiation?
Why is convenience important?
Customers want to feel important, know that they are heard and their needs are understood.
Cleanliness if key for female friendly and employee morale.
How deep should Concierge Service go? What are the minimum thresholds. Here is the clinic as discussed on the Academy.

Clean Loaner Cars is differentiation.

High miles to show my maintenance is so important.
Convenience of Uber, Lyft.
Run properly is has a positive ROI.

If you wash cars don't put a service limit. If you commit do them all. Be sure you provide a clean car back to the customer.
Car is done on-time at the promised time.
Customers will judge us at time of delivery.

Provide a token of appreciation inside the car.

Treat car delivery as a celebration. High Fives.

Pickup and delivery service of the vehicle?

Shuttle service/Uber, Lyft service.

Wash and vacuum car.
Bruce Howes sends a box of brownies one week after a repair.
Bruce Howes also has a strategy called 'One Free Thing'. They look for these opportunities.

A Door Squeak, Light Out.
Will tell customer at time of delivery.

Walk out with customers and take out the seat cover and floor mat. Don't let the customer do this.
Sign up to be in the live Academy audience on Friday's at Noon EST here.
Be socially involved and in touch with the show:
Facebook   Twitter   Linked In   Email