THA 006: Managing a Negative On-Line Review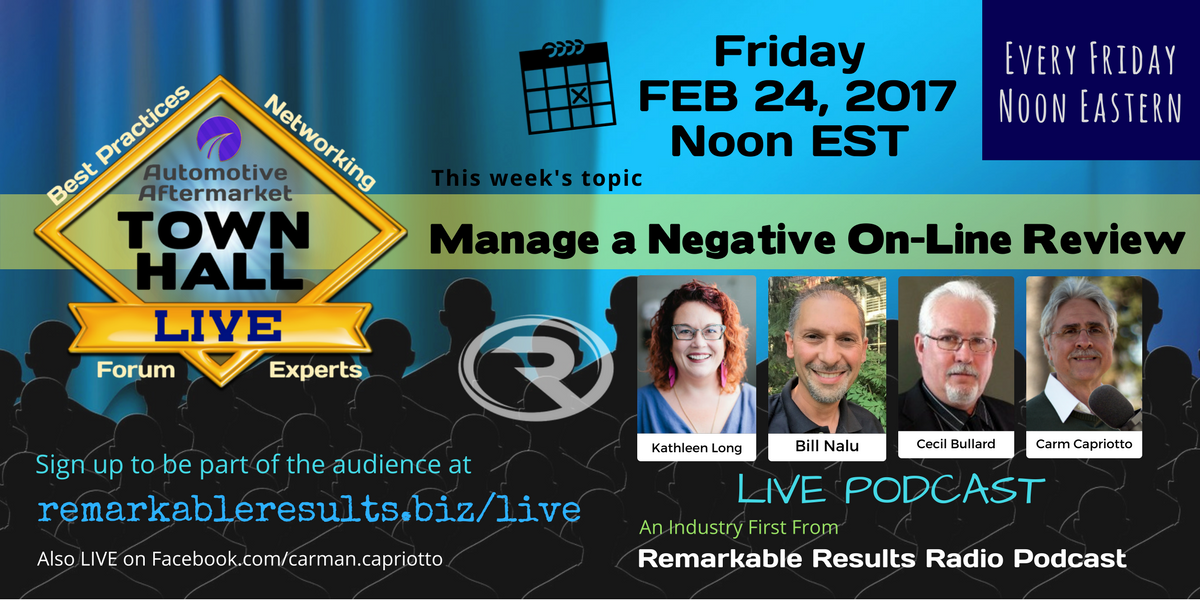 >
Learn from your industry peers in a round-table forum. Get new ideas, perspectives, trends, insights, best-practices and expertise from aftermarket professionals.
Watch like a DOCUMENTARY … Learn like a SEMINAR.
Helping automotive aftermarket professionals improve; one lesson at a time.
Academy Panel:
Kathleen Long the VP of Customer Success and GM of the Shop Network at RepairPal. One of Kathleen's focuses is sharing results of their constant surveying of the automotive consumer. Liten to Kathleen in episode 156.
Cecil Bullard is President of the Institute for Automotive Business Excellence. He is a trainer and business coach in the automotive aftermarket working closely with service professionals. Listen to Cecil in episode 86.
Bill Nalu is President of Interstate Auto Care in Madison Heights, Michigan and has been in business for 30 years.  Bill collaborates with industry professionals, in building today's "high-tech/old-fashioned" customer service system.
Bill has been a big contributor to the podcast and he currently serves on several industry and educational advisory councils including AutoValue/Bumper to Bumper, Dorman Industries and Cardone. Listen to Bill in episode 39, 69, 100, 200, 118, and 226
Talking Points:
Bad reviews Happen Is it necessarily a bad thing.
Is it Really a Bad Review.
Determine who your customer is so you'll know when they walk in the door. If you do business with discount people you will pay over and over in many ways including a negative review.
How can you shine from a Bad Review.
How much is attributed to the in store customer experience?
Will you know if you're about to get a bad review?
Is it important to have a cooling off period?
Solve the problem if you can.
How do you respond to a bad review?
How to counteract bad reviews.
What really happened and can it be fixed. Is it internal or external?
Does Sorry work?
Practice aggressive hospitality.
What about bogus reviews?
Sign up to be in the live Academy audience on Friday's at Noon EST here.
Be socially involved and in touch with the show:
Facebook   Twitter   Linked In   Email