THA 005: Must Attend Training Conferences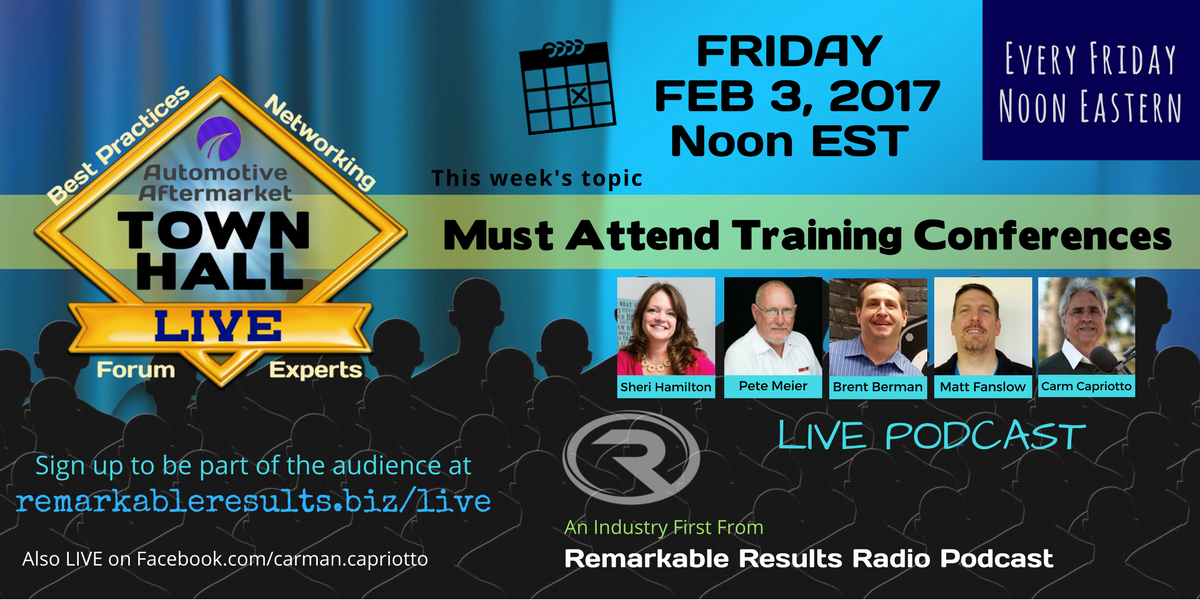 Learn from your industry peers in a round-table forum. Get new ideas, perspectives, trends, insights, best-practices and expertise from aftermarket professionals.
Watch like a DOCUMENTARY … Learn like a SEMINAR.
Helping automotive aftermarket professionals improve; one lesson at a time.
Academy Panel:
Sheri Hamilton is ASA Midwest Executive Director. She not only leads the shop owners in six Midwestern states, Sheri is also the Conference Manager of the VISION Hi-Tech Training and Expo in Kansas City. Sheri and her team are the driving force behind this event held every March. Her passion for education and training is also shown through her service as the Chair of AMi – the Automotive Management Institute. You can hear Sheri in podcast episode 84 and 204.
Pete Meier is the Director of Training for the UBM Advanstar Automotive Group, which includes the training event NACE/Automechanika, Motor Age, ABRN, and Aftermarket Business. His primary goal is to bring working technicians the information they need to succeed. Pete is an ASE certified Master Technician and sponsoring member of iATN. He has over 35 years practical experience as a technician and educator, covering a wide variety of makes and models. You can hear Pete in eppisode 36, 59, and 90.
Matt Fanslow  is the diagnostic tech/shop manager at Riverside Automotive in Red Wing, MN. His primary responsibilities are to diagnose drive-ability and electrical/electronic issues, and perform most all programming, coding, initializing, adaptions, etc. Basically, if it needs to be figured out or has wires, it goes to Matt. He's been a tech since 1996. Matt is also a subject matter expert for ASE. Matt has participated on 18 ASE technical committees for the ASE Practice Test, A6, A7, A8, and L1 tests. He's also done case studies for Standard Motor Products.You can hear Matt in episodes 122, 146, 200, 206, and 230.
Brent Berman has been involved in the Automotive Industry for over 25 years primarily in the technical field evolving from mechanical to digital.  In his eighteen years at Federal-Mogul, Brent has held roles of increasing responsibility in technical training then marketing and now manages the Garage Gurus training group that include Gurus ON-Call, Gurus On-Demand, Gurus On-Line Learning and the On-The Go product technology vans.
Brent also leads the Catalog and Research team, overseeing critical activities from training, tech support, cataloging, e-Data and digital media. Brent also oversees the company's "Tech First" initiative that seeks to simplify and improve the many touch points it has with all levels of customers.  You can hear Brent in episode 110.
Highlights:
Training budgets must be established in every professional shop so technicians don't have to pay for these top events out of their own pocket.
Training policies need to be established for every technician educational program.
What needs to change is the culture in the shops themselves. Too many shop owners won't support their technicians in getting the training that, in the end, benefits them too.
How to get the most out of training events.
Pete Meier, "The best training event is the one you can get to."
Sponsoring vendors at these training events need to be supported. They help keep the costs low.
And more!
Sign up to be in the live Academy audience on Friday's at Noon EST here.
Be socially involved and in touch with the show:
Facebook   Twitter   Linked In   Email